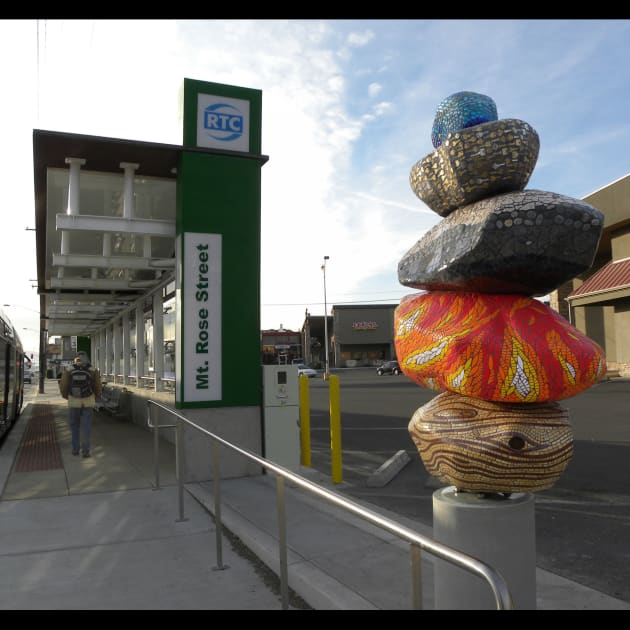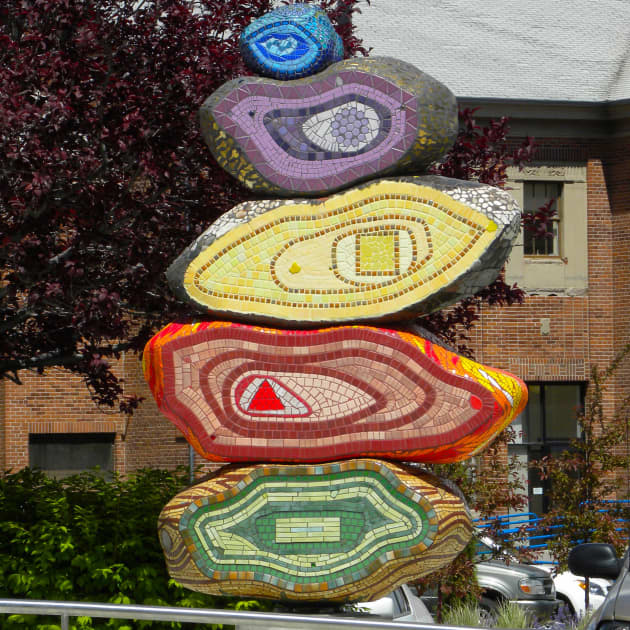 Photo: Eileen Gay, Artist
Photo: Eileen Gay, Artist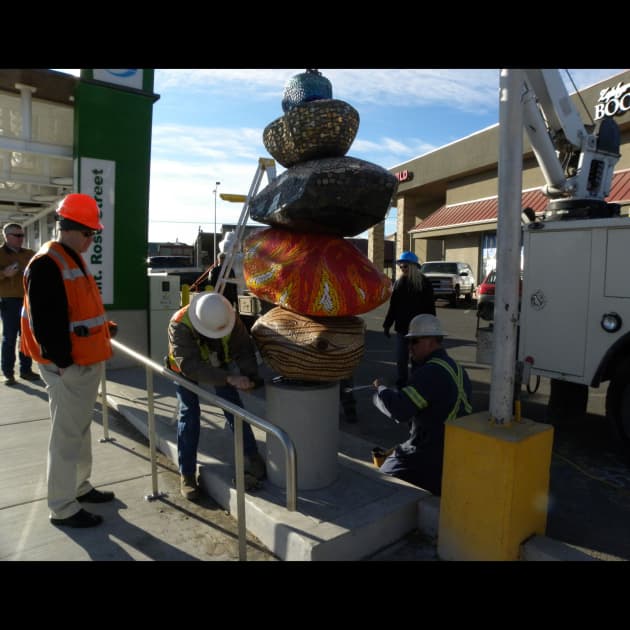 Photo: Jon Gay, Helper
Client: Regional Transportation Commission
Location: Reno, NV, United States
Completion date: 2012
Artwork budget: $26,100
Project Team
Landscape Architect
Barb Santner
Stantec
Landscape Architect
Joseph Mactutis
Stantec
Client
Howard Reidl
Regional Transportation Commission
Overview
The three, 6' x 4' x 2'concrete sculptural mosaics represent Cairns or trail markers that mark the change in modes of transportation of those who use the stations.
Titled "Transition To" "Transition" "To Transition Again" the mosaics represent the 5 elements of the Chinese lifecycle: Wood, Fire, Earth, Metal and Water with hints those cycles at the base and top of the mosaic implying the continuation of the circle. The stacked stones are whole, then with a slice removed to reveal the insides' agate-like rings of color, the final stones sliced open on both sides to reveal the interior.
Goals
It was important to celebrate a sense for various modes of transportation through history and into the present day for the project. In this way, using the time-honored tradition of Cairns as trail markers struck a chord for the project. The scale and context were a natural connection to the idea of transitioning from one mode of transportation to another at the stations.
Process
Meeting with the selection panel to present during the design phase supported my concept being on the right track for the feel of the project. Working with the design and construction team to plan for the project's installation phases from foundation to final craning into place was an integral part of the process. I worked with architects Barb Santner and Joseph Manctutis from Stantec on plan adjustments to include the footings and with the team from Q & D Construction to plan for workflow and installation of the project.
Additional Information
It's always satisfying when the client and the community embrace my work acknowledging that I have created a work appropriate for the site. Also, the third installation of the series, "To Transition Again", was honored by the Society of American Artists by being included in the 2013 Mosaic Arts International Juried show in the Architectural Installation Category. The show was hosted at the Museum of Glass in Tacoma Washington.