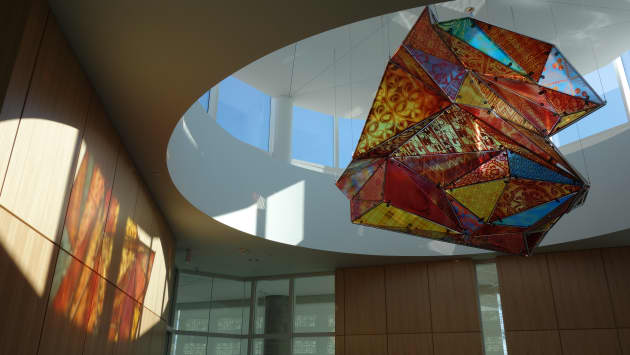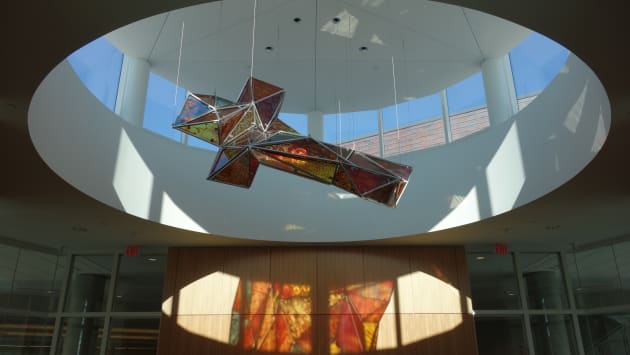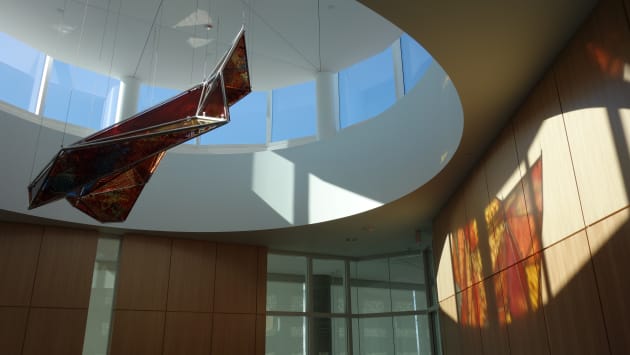 Client: Augsburg University
Location: Minneapolis, MN, United States
Completion date: 2018
Artwork budget: $120,000
Project Team
Public Art Agent
Jack Becker
Forecast Public Art
Artist
Barbara Benson Keith
Industry Resource
Glasmalerei Peters
Industry Resource
Museum Services
Overview
The sculpture is over 11' wide and hangs in a chapel. The frame is aluminum and the glass is painted with the patterns of cultures from across the globe, reflecting the diversity of the student body. They will be somewhat distressed to recognize the history of the students and the campus itself. Some colored panels will be left unpatterned, recognizing that the evolution of Augsburg is not complete. There is more to come, and these panels symbolize the unknown future.
Goals
This sculpture is the result of careful design. The university is very diverse and so the chapel should be welcoming to all. The sculpture looks abstract from all directions, except for one. At the back corner of the triangle shaped room, the sculpture seems to transform into a cross, representing the Lutheran history of the school.
Process
I collaborated with Glasmalerei Peters in Germany to create this piece of art. They fabricated the aluminum frame and the painted glass. They also figured out how to contruct it all based on a very complicated SketchUp design. I had the opportunity to work with many wonderful people at Augsburg University, HGA architects, McGough construction and Museum Services as well.
Additional Information
This sculpture is a network, a beating heart, a beacon, a quilt, a welcome. It represents learning and transforming, joining and coming together. When you enter the room, you will be met with its warm, rich colors glowing and casting light. As you start to circle the room, its shape will appear to change, but it will always be the same sculpture. What is changing is your very own perspective. As you reach the front window of the room, it now appears to be a cross. Some may never see this. The curious are the ones who will be rewarded.