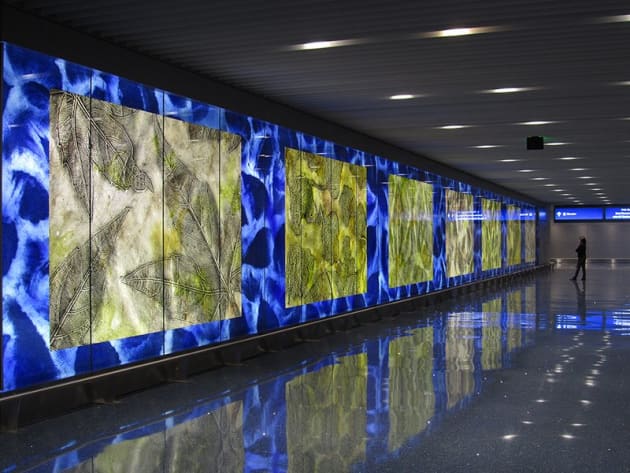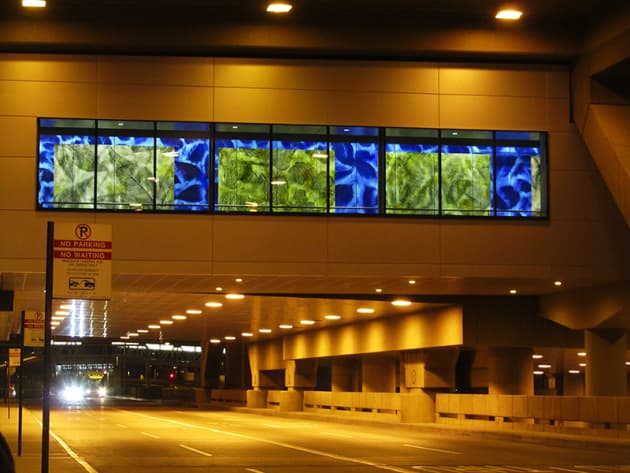 Photo: Daniel Mayer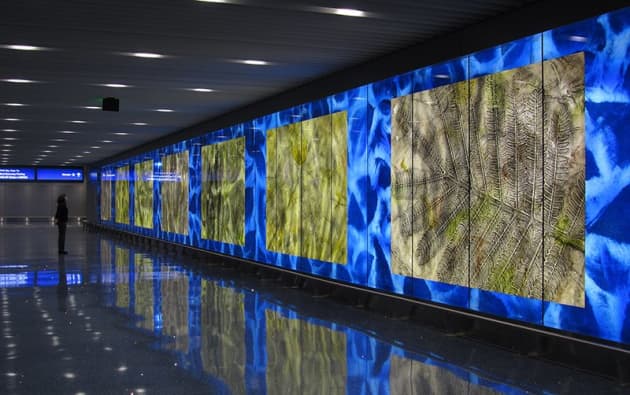 Photo: Daniel Mayer
Client: PHX Sky Train, Phoenix Office of Arts and Culture Public Art Program
Location: Phoenix, AZ, United States
Completion date: 2012
Artwork budget: $1,240,000
Project Team
Artist
Daniel Mayer
Dan Mayer Studios
Architect
HOK Architecture
HOK Architecture
Industry Resource
Walters and Wolf Glass Installers
Walters and Wolf Glass Installers
Industry Resource
Dinter Lighting
Industry Resource
Chad White, artist's digital assistant
Public Art Agent
Phoenix Office of Arts and Culture Public Art Program
Rebecca Blume Rothman, Program Manager
Industry Resource
Advance Terrazzo
Advance Terrazzo
Industry Resource
Erica Behrens
Franz Mayer of Munich, Program Manager
Overview
Daniel Mayer, a Tempe book artist, designed two large-scale glass murals "Trace Elements" from a series of Arizona nature prints. The public art commission is integrated into the PHX Sky Train pedestrian bridges located in Phoenix, Arizona. The murals consist of 28 laminated glass panels measuring 9'x115' each. Mayer collected leaf specimens from different eco zones and imprinted them onto aluminum foil through an etching press. Digitally scaled up, the fourteen nature prints were formatted for the scope of the architectural murals and composed in a rhythmic book-page sequence. Fabrication includes screenprinting and hand-painted ceramic glazes on kiln-fired float glass.
Goals
This public art project is integrated into the architecture of the PHX Sky Train pedestrian bridges. The multi-modal transportation system connects Phoenix Sky Harbor International Airport to the metropolitan light-rail system. Mayer's backlit glass bridges welcome 10,000 visitors per day with a rich sense of color and wonderment that represents Arizona's diverse landscape. The processes to create the glass include modern engineering combined with old world craftsmanship. Daniel Mayer worked in close collaboration with more than 100 artisans, crafts and trades to accomplish this large-scale public art project. The collaborative team included glass fabricator Franz Mayer of Munich, HOK Architects, Dinter Lighting, Walters and Wolf glass installers, and Advance Terrazzo.
Process
Daniel Mayer selected the fabricator Franz Mayer of Munich (no relation) to carry out his vision for this large-scale public art project. The collaboration between artist and fabricator followed a seamless creative and technical path in the internationally recognized glass studio. The result is a richly layered and detailed public artwork reflecting the aesthetic of Mayer's small-scale artist's books. Mayer refers to the glass as "dimensional printmaking" with the foreground master images "floating" off the hand-painted background glass providing a depth of field and movement.

The collaboration included guidance from Franz Mayer of Munich's Gabriel Mayer, Susanne Tarraf, Program Manager, the Phoenix Office of Arts and Culture Public Art Program, Rebecca Blume-Rothman, Program Manager, HOK Architecture for project integration, Dinter Lighting, Walters and Wolf for framing and installation, Advance Terrazzo for the cobalt blue terrazzo floor that Mayer specified with recycled glass and crushed mirror, and Chad White as the artist's digital assistant.

Daniel Mayer's public art project "Trace Elements" received the "Award of Merit for Art in Public Places" by the 33rd Valley Forward Environmental Excellence Awards. These awards set standards for achieving a balance between the built and natural environment in the region's physical, technical, social and aesthetic development.