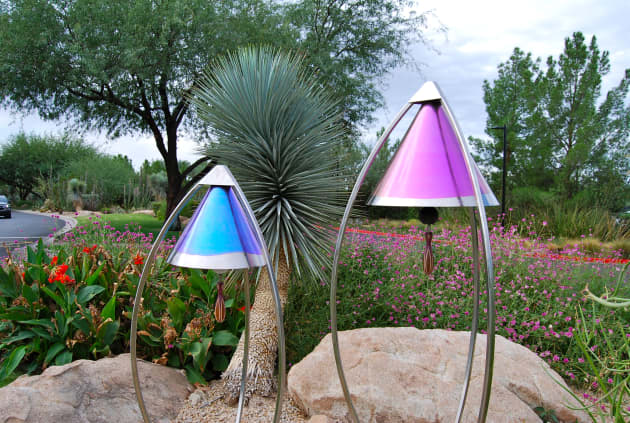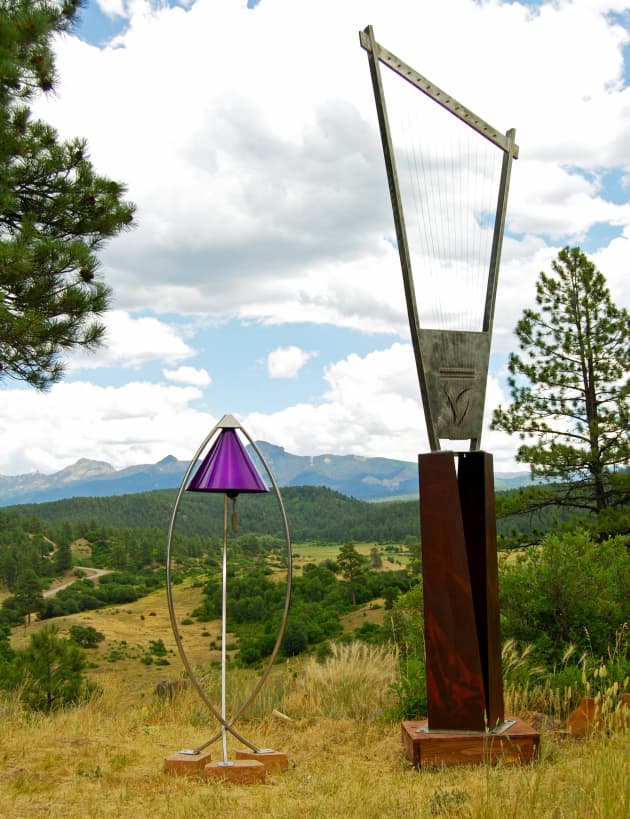 Photo: Harmony Bell and Wind Harps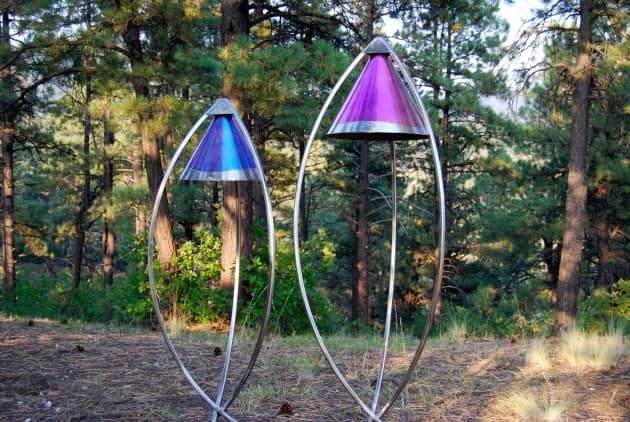 Photo: Harmony Bells
Client: Private Residence
Location: Pagosa Springs, CO, United States
Completion date: 2016
Project Team
Artist
Ross Barrable
Harmony Wind Harps
Industry Resource
Titanium Finishing CO
Titanium Finishing Company
Overview
Titanium has proven itself to be the ultimate resonant metal in our outdoor sound sculptures . We have used it for decades as the primary resonator in our wind harps and now we are showcasing its beauty and durability in creating our Harmony Garden Bells. This metal is unique in its ability to be anodized to reflect any color in the visual spectrum as well as its outstanding acoustic properties. When these bells are struck they resonate with a deep low vibrato unlike any other metal in existence .
Goals
Our goal in creating these Titanium Garden Bells is to offer a more directly interactive sound element that would complement our existing Wind Harp sculptures in creating a soundscape experience for our clients. The bells are designed with a simple elegance of smooth clean lines that supports a connection to the beauty and harmony within nature. The amazing vibrancy of the colors available in anodizing titanium has taken this art form to a whole new level of elegance not only as acoustic garden sculpture for the private residence but also as durable low maintenance sound sculpture for public art. The surprisingly light weight and outstanding acoustic properties of our specific titanium alloy allow us to fabricate sound sculptures that are in a class of their own.
Process
Creating these Bells is a collaboration between the artist , who designs the overall geometry of the sound sculpture as well as the specific bell shape , and the companies that spin and anodize the individual titanium bell shapes . Harmony Bells new for 2016 were initially showcased at the 2016 ITA Conference (International Titanium Association) . This is a global community composed of all the consumer and Industrial companies that fabricate with titanium which includes everything from commercial & military aircraft, down to the jewelry artist using small titanium parts. I was invited to showcase our wind harps and bells as part of a presentation that highlighted the use of titanium in the 21 century world of Contemporary Art. We were well received with great interest especially from the Chinese and Russians and everyone that walked into our booth left with a free CD of my latest wind harp recordings " Aeolian Soundscapes "http://www.harmonywindharps.com/aeolian-soundscapes/
Additional Information
The bells have my interest peaked moving forward into 2017 . What is exciting is the potential for large scale bells being spun in Titanium that have a really tangible sonic presence . This makes these bells totally interactive within a huge spectrum of installation possibilities. I find that the deep low vibrato of these bells immediately entrains a listening experience that STILLS THE MIND. Oh the bliss of a quiet mind !! In this crazy world we can all use a moment of harmonic withdrawal into a place of inner quietude.