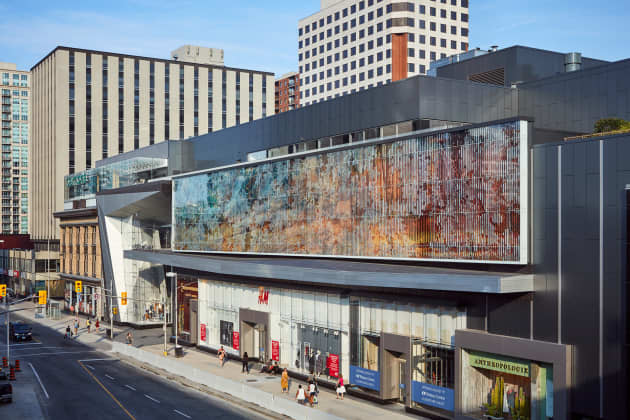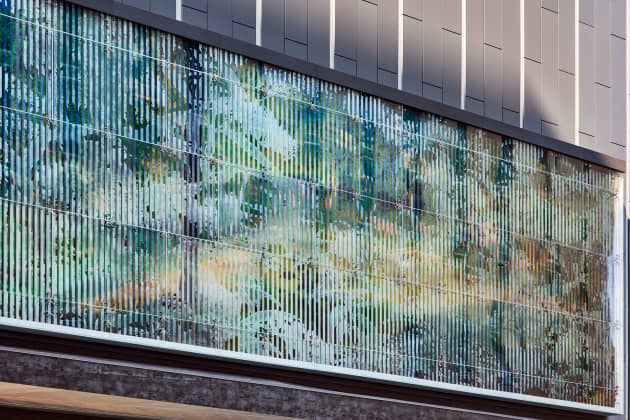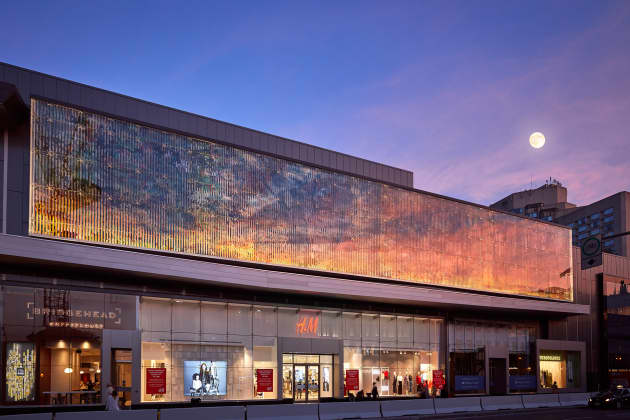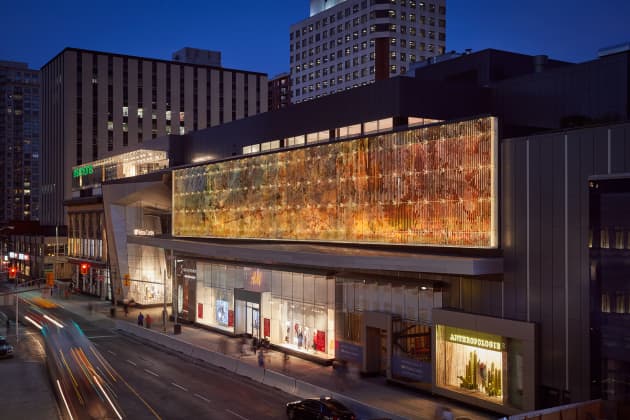 Client: Cadillac Fairview Corporation Ltd.
Location: Ottawa, ON, Canada
Completion date: 2016
Artwork budget: $3,000,000
Project Team
Artist
Catherine Widgery
Widgery Stdio
Industry Resource
Isadore Michas
Client
Sebastian Greenall
Project Coordinator: Cadillac Fairview
Industry Resource
Brian Distel
Viracon
Architect
Ritchard Brisbin
BBB Architecture
Overview
Time's Shadow is comprised of three art glass boxes on the facades of the CF Rideau Centre in Ottawa, each a block long and four storeys high. The area of art glass counting the front and back panels is 11,000 square feet of fired ceramic glazing. These panels have images of sky and landscape at different times of day and during different seasons: Spring/Summer, Summer/Fall and Winter yet the images are fragmented so there is something both familiar and mysterious about what we see to challenge our minds to make sense of what we are seeing.
Goals
To commission major art works by Cadillac Fairview for this project was a bold departure from the normal approach to the exterior of a commercial center because art is engaging the public in a way not related to the commercial goals of selling a product. The facades are transformed and they are transforming not just the 'brand' for their center but the surrounding urban environment at the same time particularly at night when these vast illuminated panels animate the surroundings.
Process
The collaboration in this case was between the artist Catherine Widgery and her team at Widgery Studio, Sebastian Greenall representing the developer at Cadillac Fairview, the architect Ritchard Brisbin of BBB Architecture, the fabricator for the glass work and ceramic firing at Viracon and the lighting designer Gabriel McKinnon Lighting Design. A project of this scale and technical complexity meant extensive testing, experiments and prototype construction.
Additional Information
Is there anything else you'd like to tell us about this project? (limit 100 words) The seasons and the cycle of light and darkness are a potent force in Canada because of the long dark winters, the reprieve of spring, ecstatic summers of light and the heartbreaking beauty of fall as the cold descends. The ephemeral is at the heart of Time's Shadow. Everything disappears; fleeting moments cannot be grasped. Yet life begins again; the day follows night; spring follows winter. These images trigger memories with the full emotional weight those memories carry.