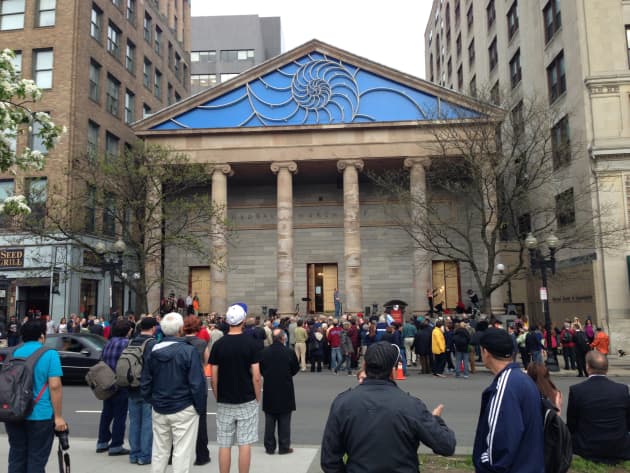 Photo: lipsk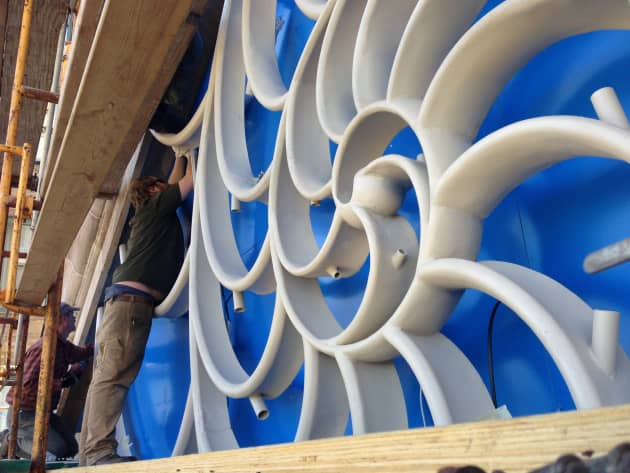 Photo: lipski
Client: The Cathedral Church of St. Paul
Location: Boston, MA, United States
Completion date: 2013
Artwork budget: $250,000
Project Team
Industry Resource
Mike Mancerella
JunoWorks
Industry Resource
Steve Hefferan
HEFFERAN PARTNERSHIP LIGHTING DESIGN
Industry Resource
John Grant
Public Art Services
Overview
18' x 75' x 1.5', aluminum, faux stone surface texture, l.e.d. lights. . For the historic Cathedral Church of St. Paul, a 200 year old church on the Boston Common, America's oldest public park, Lipski created a a slice through the shell of the chambered nautilus. The piece is lit at night by thousands of embedded l.e.d. lights.
Goals
This Episcopal Cathedral also serves Chinese, Moslem and homeless congregations, and is a place of worship for all people. I strove to find an image that, while spiritual, is non-religious and can serve as a beacon and inspiration for those of any-or no-faith. Inspired by the golden sector of the Greek architecture, I chose a spiral as an image. We see in the spiral the divine workings of nature—from the movement of sub-atomic particles to the vastness of galaxies. Carl Jung saw the spiral as the archetypal symbol of cosmic force. Most every culture embraced the spiral. The spiral evokes thoughts of eternal growth and progression, circling out in ever widening circles.
Process
The Rt. Rev. M. Thomas Shaw, SSJE and The Very Rev. John P. Streit, Dean of the Church were instrumental in their vision, faith and daring in considering a contemporary addition to the historic 200 year old Cathedral. Sculptor Mac Dewart, an active member of the congregation, was a driving force and valuable sounding board throughout the process. I worked closely with the master craftsmen at JunoWorks of Denver, CO to produce the work, and with the renowned lighting designer, Steven Hefferan to light it. The complex and demanding engineering was done by Kyle Schurter of KL&A. No holes could be drilled in the historic granite blocks of the pediment, which made for a tremendous challenge. As always, none of this would have happened without my long-time Project Manager, John Grant.
Additional Information
In mid-nineteenth century Boston, when St. Paul's was in its infancy, Oliver Wendell Holmes saw the metaphorical significance of the chambered home of the Nautilus: Build thee more stately mansions, O my soul, As the swift seasons roll! Leave thy low-vaulted past! Let each new temple, nobler than the last, Shut thee from heaven with a dome more vast, Till thou at length art free, Leaving thine outgrown shell by life's unresting sea! From: The Chambered Nautilus, 1858