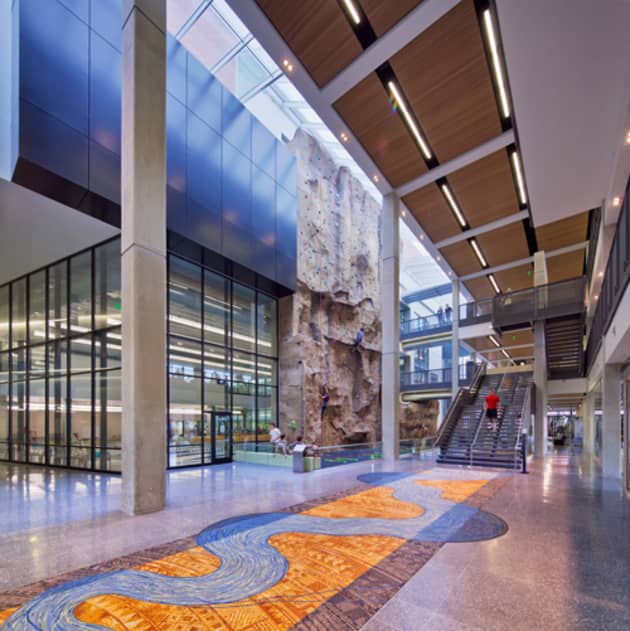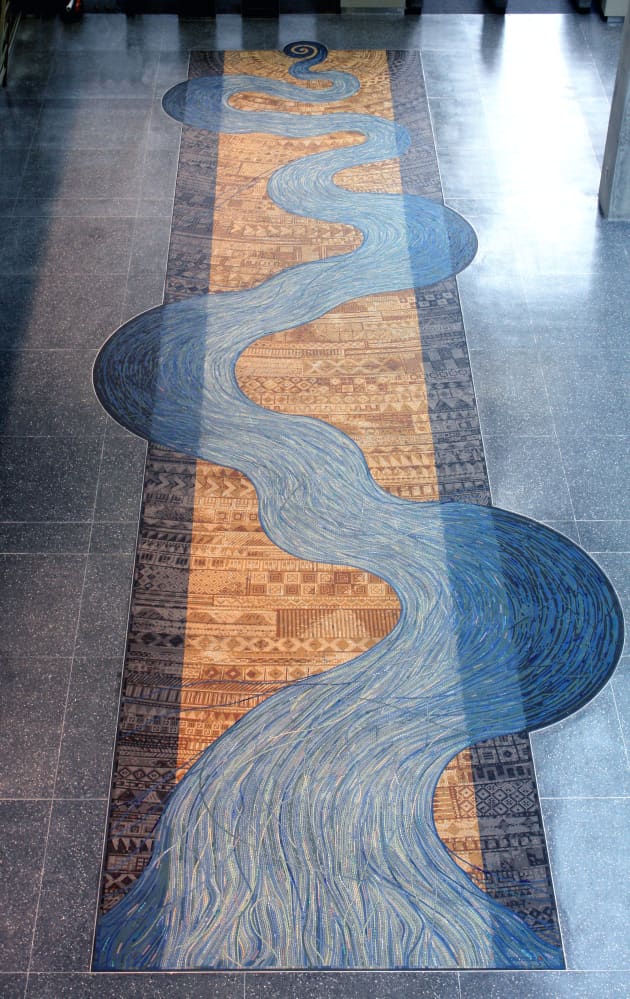 Photo: The University of Iowa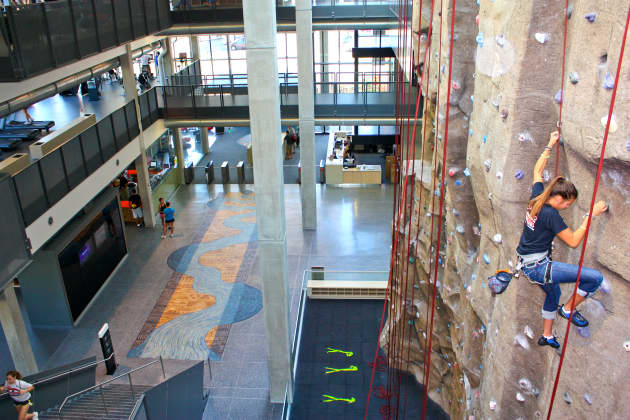 Photo: L Vandervelde
Client: The University of Iowa
Location: Iowa City, IA, United States
Completion date: 2010
Artwork budget: $181,000
Project Team
Art Consultant
Pamela White - Art Committee
The University of Iowa
Other
Steve Otto - Engineer
Artist
Gary Drostle
Drostle Public Arts Ltd
Overview
A 50 foot by 14 foot mosaic artwork for the main entrance lobby of the new wellness, sports and recreation centre at the University of Iowa, Iowa City. The mosaic has been made from hand cut and laid unglazed ceramic porcelain with some inlaid vitreous glass. The design represents the River of Life and was designed, made and installed by Gary Drostle.
Goals
The project brief was to create an entrance feature which summed up the 'Wellbeing' philosophy of the centre and reflected on it's location in Iowa City both in historical, geographical and cultural terms. The design was carefully drawn up in collaboration with the client and architects and aimed create a unique and reflective artwork. From an architectural viewpoint the intention was to: hold the vast atrium space; give a view from the open upper levels down through the light well; give a sense of local character to the all important entrance.
Process
The design process began with initial discussions with the University Art Committee. From this some concept designs were produce and these were submitted for review to the students and staff who would use the centre. Following this initial phase the artist visited the site under construction, carrying out more details design research and talking to various stakeholders in the project. At this stage in collaboration with the architects the final site was agreed. The second stage design was then drawn up - The River of Life. Further discussions with the architects and engineers amended the work in order to optimise the orientation and alignment with the stairs and views from the upper floors.
Additional Information
The River of Life design represents the balance of our lives and wellbeing. Beginning at the source, or birth, the river flows towards the main staircase. Each line of tesserae represent a life and they flow along the river over fields of patterns drawn from Iowa Native American textiles, Iowa Amish Quilts and local basket weaving patterns. The central golden area symbolises life in balance, in parts the river strays into the grey area, out of balance, and occasionally bursts its banks, as the Iowa River has. Some life-lines run off at a tangent, away from the main flow.