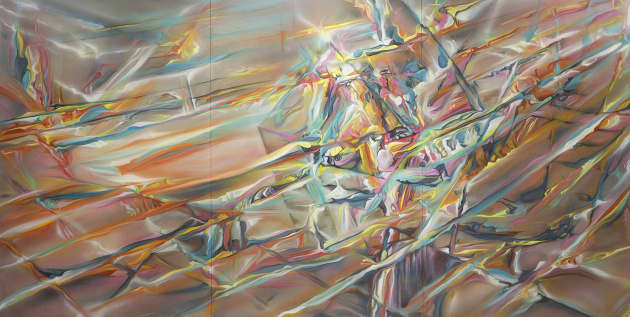 Photo: Nathan Miner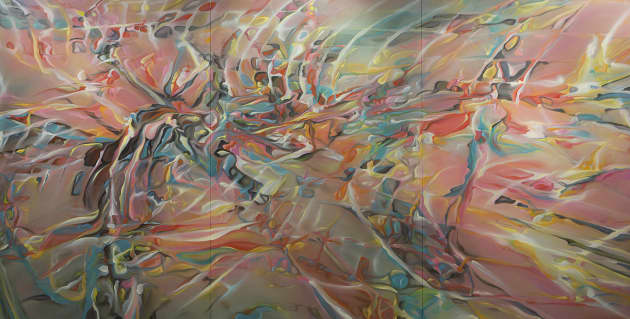 Photo: Nathan Miner
Photo: Nathan Miner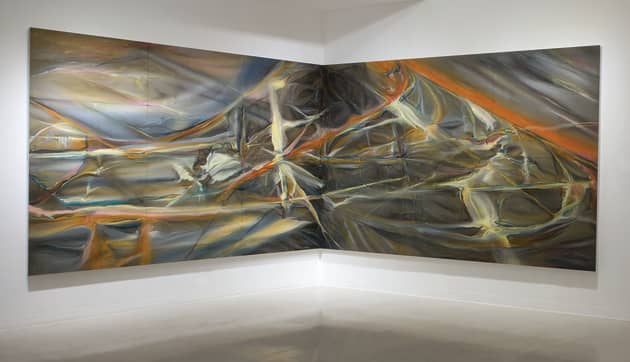 Photo: Nathan Miner
Client: Art Exhibition
Location: Beverly, MA, United States
Completion date: 2014
Artwork budget: $10,000
Project Team
Artist
Nathan Miner
Minerstudio
Other
Montserrat College of Art
Montserrat College of Art
Overview
The Long Now, 2014, was an exhibition hosted by Montserrat College of Art in Beverly, MA. The large-scale paintings created immersive environments for the visitors. With material combinations of digital printmaking on heavy weight watercolor paper mounted to ACM aluminum panels, with water based paints including airbrushed acrylics and inks, and oil paints. The works use multiple panels tiled together to create mural-scale paintings for architectural conditions such as Echoes Embrace a 20 ft piece for a corner, and Chimera a painting for a curved wall, two 10 ft square paintings that faced each other in a confined arrangement.
Goals
The goals of this exhibition were to sensitize visitors to the physicality of their embodied cognitive and perceptual processes, and invite them to contemplate the function and actions of their own imagination on these processes.
Process
This exhibition evolved in a dialogue with Curator Dr. Leonie Bradbury.
Additional Information
Many of these works have been included in other exhibitions and are still available for sale.