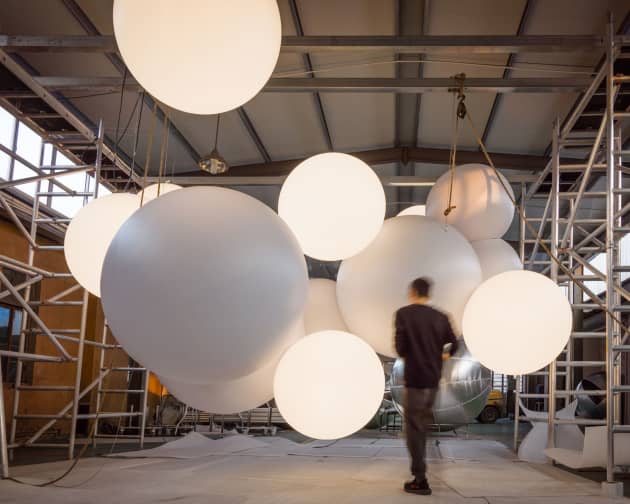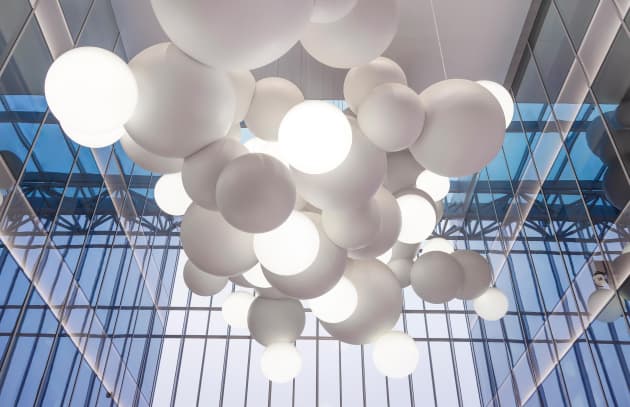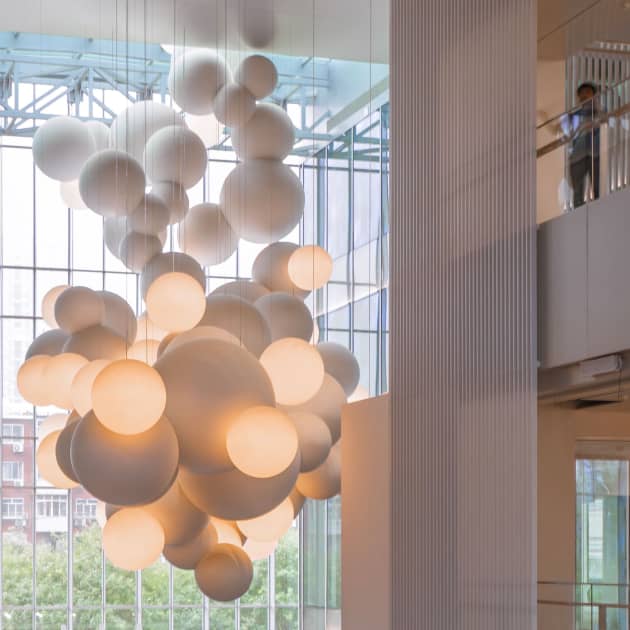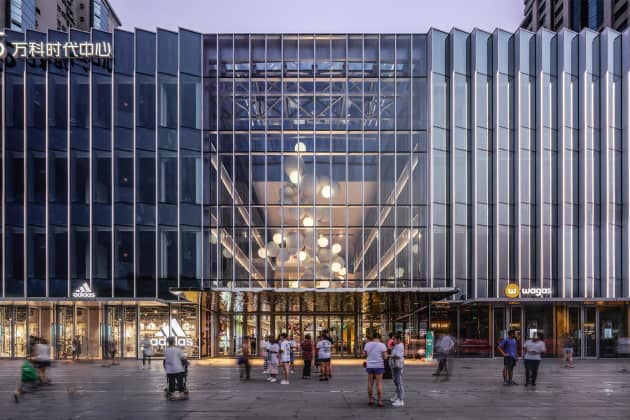 Client: Vanke
Location: Beijing, China
Completion date: 2018
Project Team
Industry Resource
UAP Shanghai
UAP (Urban Art Projects)

Overview
Globally renowned Charles Pétillon is a French photographer and installation artist, known for his works depicting large clusters of white balloons. These staged temporary interventions appear as giant, fragile clouds, transforming the way places are viewed. For this project, UAP collaborated with the artist to adapt his temporary art practice into a permanent public art installation for the new commercial mixed-use development Beijing Vanke Times Center in China.
Goals
Comprised of nearly 100 hand-finished aluminium spheres of different sizes, The Cloud is a direct reference to Pétillon's earlier works and is a dramatic arrival statement suspended within the entrance atrium. Certain orbs illuminate from within, adding to the unique visuals viewers discover as they experience the space. UAP worked together with the artist to develop, fabricate and install the work, and source the most appropriate materials and lighting to emulate the weightlessness of balloons. The resulting installation offers a powerful contribution to the space, harmoniously integrating both art and design elements within the atrium.
Process
If beauty becomes poetic and invades a place, then this is exactly what French artist Charles Pétillon is doing. This July 2018, Petillon and global creative studio UAP will showcase The Cloud, the artist's first-ever permanent artwork installation at Vanke Times Center in Beijing.

Stretching at 18 meters (length) x 10 meters (width) x 14 meters (height) occupying the main entrance lobby, The Cloud is a permanent piece comprised of 70 aluminum spheres of three different sizes, smallest at 1000 millimeters and the largest at 2 meters. Part of the installation are 31 lamp-like spheres producing a unique and surreal experience for guests of the new development.

Pétillon's The Cloud is located at a new landmark building located within a bustling CBD in Beijing. The new property is developed by Vanke Co. Ltd, a leading urban and rural development and living services provider globally. Vanke's business covered 71 cities worldwide and it provided property services in 843 commercial and residential communities.

Additional Information
"Drawing on my previous works, I wanted to create a huge, floating installation of white balloons — one that fills the large atrium space with a poetic, cloud-like artwork that can be visited, understood and enjoyed by everyone, at any time." - Charles Petillon .