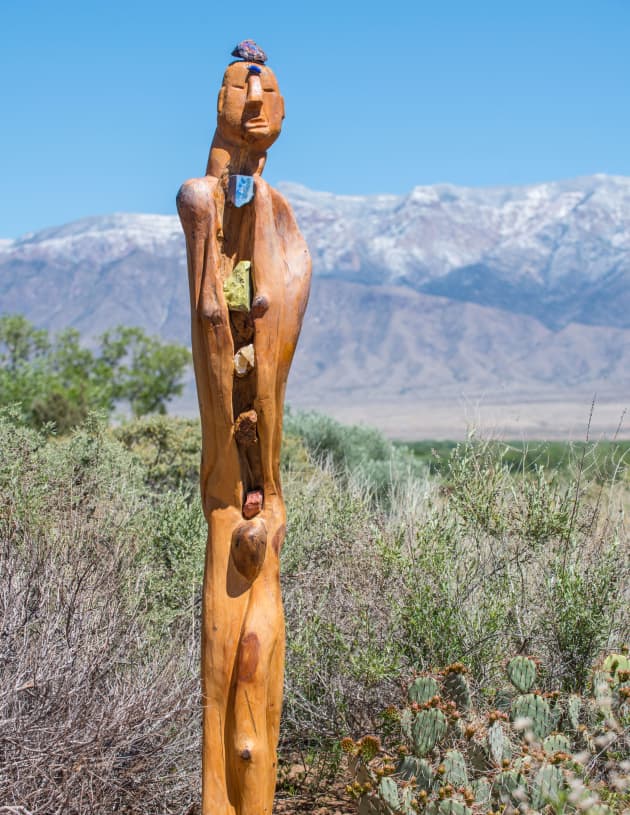 Client: Unknown
Location: Corrales, NM, United States
Completion date: 2017
Artwork budget: $5,000
Project Team
Artist
Carolyn Schlam
Carolyn Schlam Studio
Overview
The sculpture was created by Carolyn Schlam out of a burnt tree she found in Taos, NM. It was discovered by photographer and artist John Hudetz who visualized the piece as a devotional object and collaborated to place seven colored minerals in the central channel to represent the seven chakras. The piece was them embedded in the New Mexico landscape where it now stands tall and welcomes birds to sit on its crown chakra. the Central Channel stands 7 feet tall.
Goals
This piece was not commissioned. It was created by the sculptor with nothing more in mind than allowing a form to emerge from the fire. The collaborator then contributed a significance never contemplated by the artist. He found a home for the sculpture, not necessarily a permanent one, but a setting that adds to the devotional quality. We are seeking a permanent home for this work.
Process
The charred wood found the artist and the collaborator found the meaning in the work of art. His embellishments gave meaning and focus to the work. The artist unconsciously designed the piece with an opening for a metal rod to make the piece stand. The collaborator imagined this base buried in the ground. The completed work in the landscape gives the illusion of rising from the earth.
Additional Information
The gaze of this imaginary man roams long and far and penetrates as you look at him. He is looking deep into the future and gives the viewer an immense feeling of stillness as he or she sits or kneels before him. It is a powerful experience.