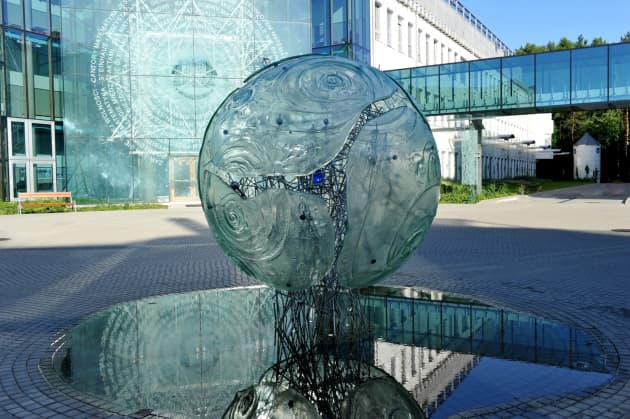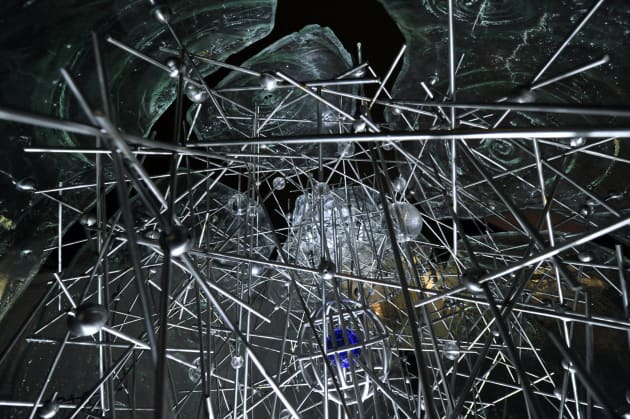 Photo: Tomasz Urbanowicz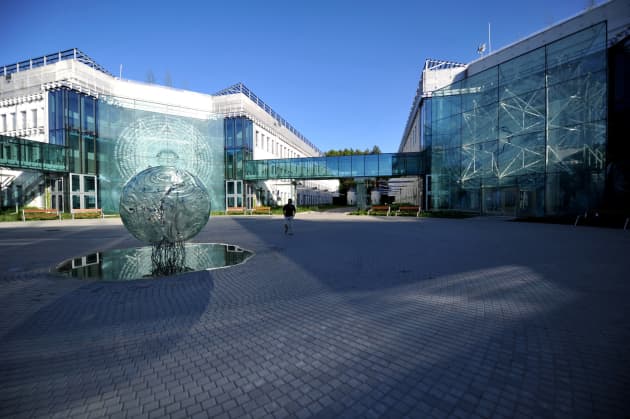 Photo: Tomasz Urbanowicz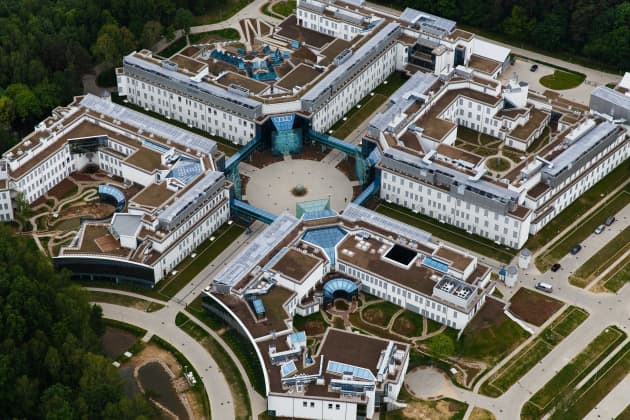 Photo: W. Wojtkielewicz
Client: University of Białystok
Location: Białystok, Poland
Completion date: 2015
Project Team
Artist
Tomasz Urbanowicz
ARCHIGLASS
Architect
Prof. Dr. arch. Marek Budzyński
Marek Budzyński Architekt Sp. z o.o.
Industry Resource
Karol Hostyński
Hostal
Overview
The architectural design of the Campus of the University of Bialystok created by the office of Prof. Dr. arch. Marek Budzyński is based on the philosophical concept which speaks of the necessity of a synthesis of sciences in the pursuit of the truth of life and the universe.
A large glass sphere symbolizing "The Big Bang" is located in the central place of the Square of Synthesis of Sciences, underlined by its division and intersecting axes, designed according to the original project by Prof. Dr. arch. Marek Budzyński.
Goals
The central glass sphere is an original sculpture created by Tomasz Urbanowicz, being, as Prof. dr. arch. Marek Budzyński said, "the proper artistic interpretation of his sketches constituting the basis for its implementation".
A 3 meter high glass orb symbolizes the beginning of the Universe, a blue ball in the middle is the "divine particle", and the construction of innumerable stainless steel rods made by the Hostal refers to the chaos of the Big Bang. Small glass spheres placed on the rods represent the cosmos, galaxies, planets and bosons.
The perfect result is a compilation of the detail, reflection in the water and night illumination.

Process
The elaboration of the project began with an invitation from Prof. dr. arch. Marek Budzyński to collaborate in the final design and create the glass sphere representing the Big Bang. The preliminary works required visiting the building site, analyzing the surroundings and possible incorporation of the scuplture. In order to understand the spirit of scientific approach to the Big Bang and then transform it to the unique public art sculpture Tomasz Urbanowicz visited CERN, the European Organization for Nuclear Research in Switzerland. The creation of the artwork included building a 1:1 model of the sphere to define specifically partitions and glass relieves. The abstract inner stainless steel construction has been build in the Hostal atelier under the author's precise supervision. The glass elements has been casted and slumped by Tomasz Urbanowicz using his innovative technologies. After finishing all the elements, the glass orb has been mounted and transported to the site. The whole process can be viewed as a photo report here: http://www.archiglass.com.pl/en/about/#projekt-od-a-do-z
Additional Information
The official openning of the sculpture took place during the inauguration of the academic year in October 2015.