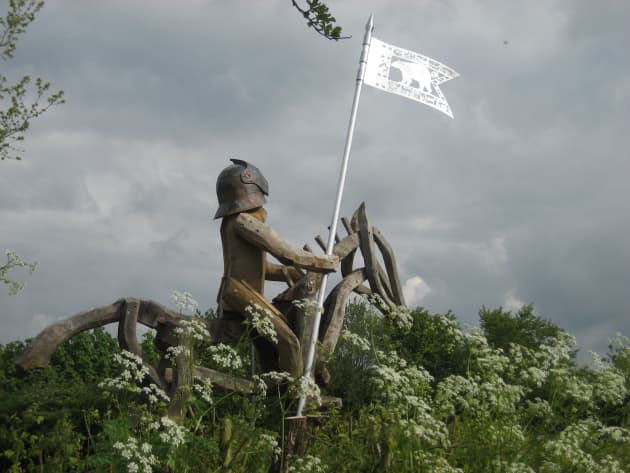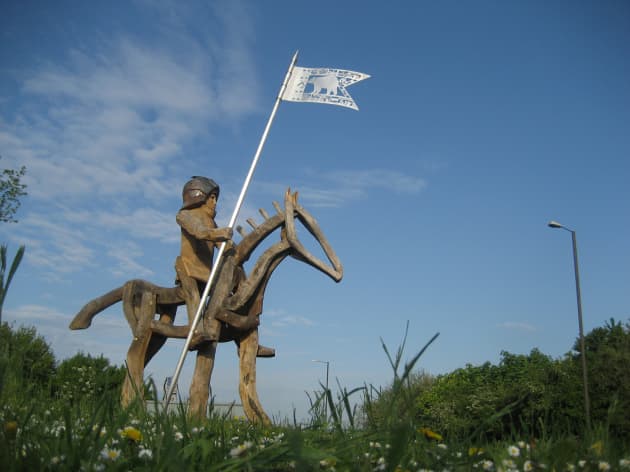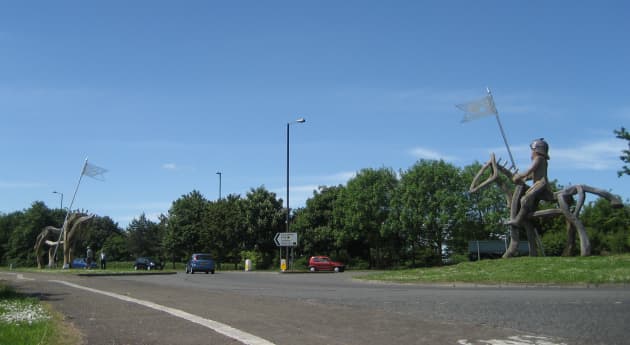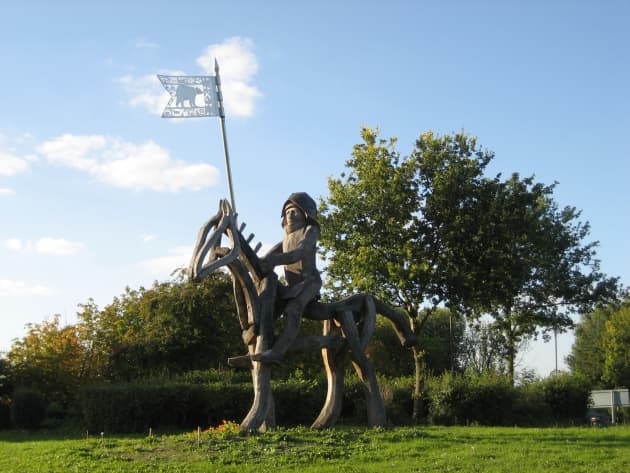 Client: Tewkesbury Battlefield Society
Location: Tewkesbury, United Kingdom
Completion date: 2014
Artwork budget: $100,000
Project Team
Industry Resource
Terry Paterson, Managing Director
Kenard Engineering

Overview
The Arrivall 1471. Commissioned by Tewkesbury Battlefield Society. Landscape Architect Anna Jones, Gloucestershire CC. Sited on Stonehills Roundabout, the sculpture marks the site of the battle in 1471 during the Wars of the Roses between the Yorkists and Lancastrians. The title, 'Arrivall', is taken from the 1471 account of the recovery of Henry VI's English throne by Edward IV. Both sculptures are constructed from English Oak, the horses height is 5m, 5.5m to the top of the knight, the pennants are made from aluminium alloy, poles 8m high, with pennants designed to rotate in the wind.
Goals
The goal for this work is to commemorate all those who fought and died in the battle of 1471. The sculpture stands at the southern gateway to Tewkesbury and overlooks the battlefield site which the TBS aim to buy to preserve it from development. The commission therefore provides a visual reminder of the battlefield which is otherwise not immediately obvious to the general public. Arrivall was deliberately created from the naturally occurring forms found in locally sourced oak branches - to echo the many medieval, oak framed buildings in Tewkesbury.
Process
Bews and Gorvin won the commission in 1998, the design evolved over the many years that it took for the planning formalities to be resolved. The Tewkesbury Battlefield Society stayed with the project, and resolutely fund raised for it via the efforts of their membership, from securing generous grants from charitable bodies, to organizing many fundraising events which also helped to raise awareness. The '1471 Fraternity' of individuals and businesses gave either £14.71, £147.10 or £1,471.00 - they are named in a book to be kept in the town museum. Bews made the sculpture by himself - outdoors under an open scaffolding rig set up by Bredon Scaffolding at Noxon Farm, in the Forest of Dean. The UK weather was not kind over the two years it took to source the wood and make the sculptures. Tom Cousins and his son Jazz made the pegs for the horses' manes using ancient bodging techniques. The pennant designs were composed by Gorvin from imagery by children attending Tirlebrook School, Tewkesbury, in a workshop run by the artist. The pennants materials were donated by Kenards Engineering who cut the designs for free, with pole fabrication by Grail.
Additional Information
Edgwicks Transport Ltd gave their expertise and wholehearted involvement in moving, storing and installing the work. The people and businesses of Tewkesbury have been wonderfully supportive and proud of this project - which can be seen from their website http://tewkesbury.org.uk/projects/ TBS are organised the creation of wild flower meadows on the roundabout and verge involving local schoolchildren. The Phil conducted relief carving workshops on the legs of the 'Vanquished' horse based on the battlefield poppy theme.