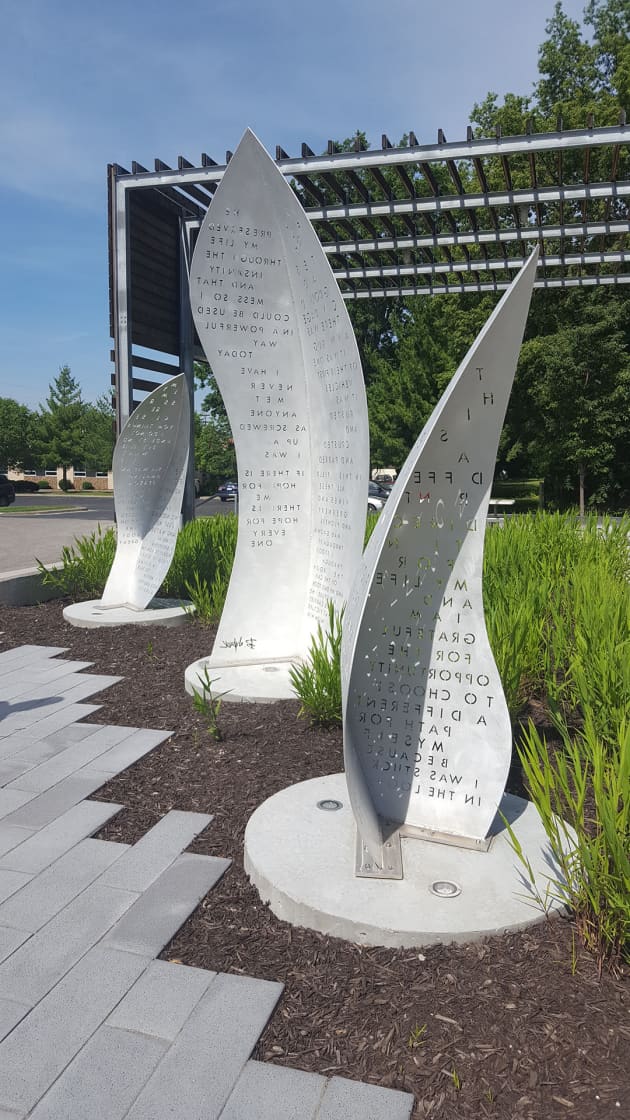 Client: Johnson County Justice Annex
Location: Olathe, KS, United States
Completion date: 2016
Artwork budget: $75,000
Project Team
Public Art Agency
Kansas City Public Art Commission
Architect
El Dorado Architecture
Overview
This artwork is composed of five aluminum pod inspired forms. The sculptural elements are growing within a natural sea oat field in front of the Justice Annex Center. Each pod has statements cut out of the metal surface, allowing light and air to pass through each sculpture. The words are taking from interviews the artists conducted with people who utilize the Center. The piece is inspired by storytelling and meant to convey hope to the audience.
Goals
The Justice Annex was a recently renovated building project. The Annex was originally a grocery store and El Dorado Architecture took the building and created something new and unique. It was important to the overall project that the design concept took into careful consideration the building's design features and material choices.
Process
I strive to create a collaborative environment in most of my projects. Some projects lend themselves to a higher level of collaboration than others--this project was definitely one of those. I worked extensively with the Public Art Commission during the design phase. There were multiple designs proposed and tweaked until it was perfect. I met with El Dorado numerous times to ensure the project complemented the building well. The collaboration on this project pushed the design into a beautiful place! My overall concept included interviews with staff and community members over a three month time frame.