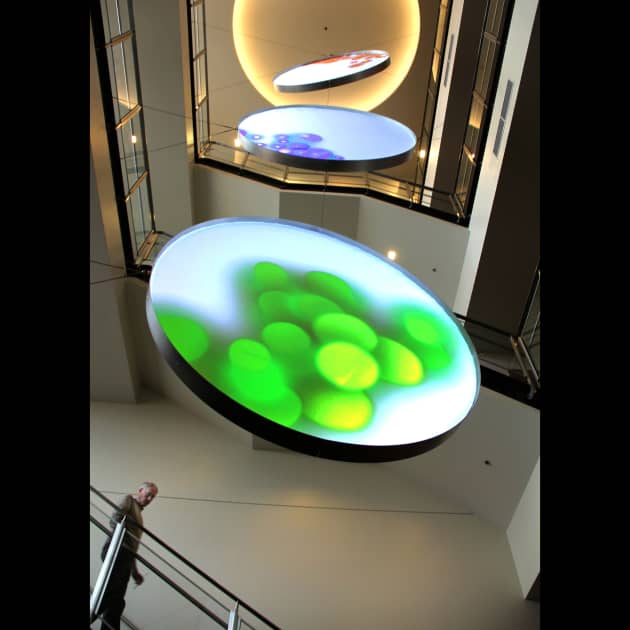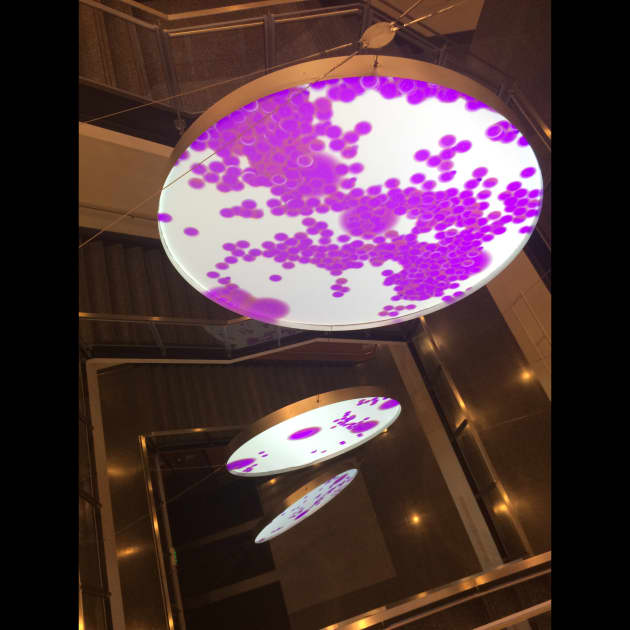 Photo: Erik Carlson
Client: Colorado Creative Industries; Univ. of Colorado Boulder
Location: Boulder, CO, United States
Completion date: 2017
Artwork budget: $138,000
Project Team
Artist
Erik Carlson
AREA C projects
Industry Resource
Jason Cipriani
n/a
Industry Resource
Mike Mancarella
Junoworks
Overview
This generative, interactive artwork responds to movement in the Jennnie Smoly Caruthers Biotechnology Building's 4-story central stair hall, celebrating the connections and collaborations taking place within this new academic and research facility. The three circular screens are modeled on the petri dish, symbolizing the building as a "growth medium" in which so much creative activity takes place. Custom software algorithms create ever-changing animations that model different forms of cellular motion (swimming, swarming, gliding) as a parallel to ways that creative research unfolds in the building's laboratories, classrooms and public spaces.
Goals
Looking to leverage a modest budget and structural limitations to active a void in the immense, 4-story central stair of a new biotechnology building, AREA C projects employed three 8' diameter discs, across which projected communities of polymorphic objects swim, swarm and glide — their movements reflecting of the collective life of the building itself.

To populate the projection discs, AREA C projects created hundreds of animated artificial life units using research materials from the facility's own labs. The artwork combines behavioral software and real-time massing of traffic on the stairs to influence the units' behavior along the lines of three distinct cellular motility models: swim (goal-oriented movement, solo or in teams), swarm (massive collective movement) or glide (exploratory solo movement).

Engaging the facility's purpose as an innovation incubator, and envisioning the roles that action/reaction/interaction play along the collaborative arc of the research process, the artwork imagines its host building on its own terms: as a growth medium.
Process
The bright, ever-changing entities that populate the projection screens were created using image files generated by researchers in the biotech facility. Working with the head of the institutes high-tech imaging labs, I gathered images and information about cellular behavior, and this information in turn became part of the artwork itself.
Additional Information
MEDIA: Aluminum, fabric, custom software, projectors, cameras SIZE: 30'H x 8'W x 8'D LOCATION: Jennie Smoly Caruthers Biotechnology Building; University of Colorado, Boulder, CO CLIENT: Colorado Creative Industries; University of Colorado, Boulder