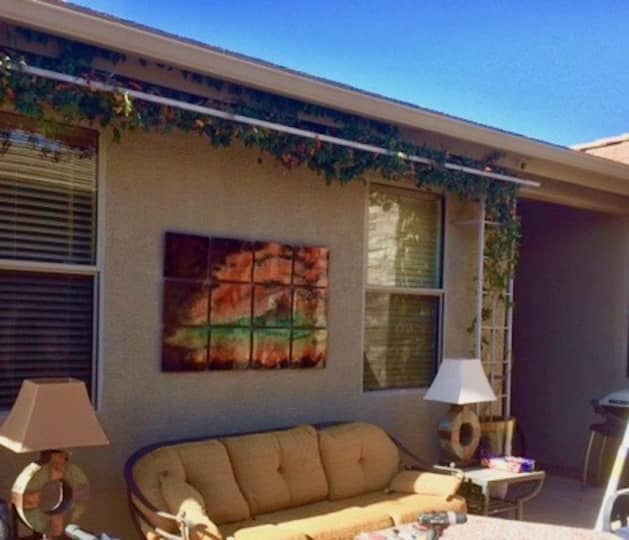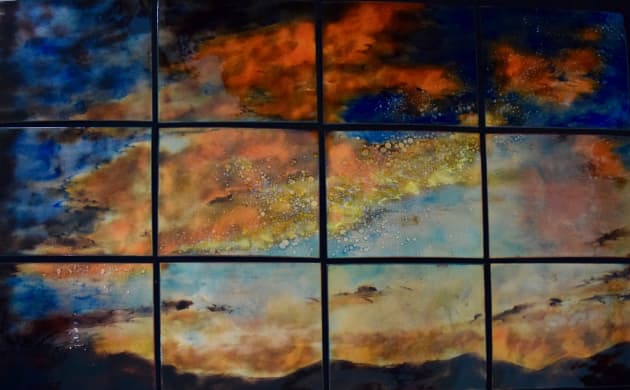 Photo: Richard Barnes
Client: Richard Barnes
Location: Palm Springs, CA, United States
Completion date: 2016
Artwork budget: $8,000
Project Team
Artist
Cynthia Miller
finefusions.com
Industry Resource
Robert Miller
finefusions.com
Overview
The client wanted to surprise his wife, on an important occasion, with unique art that would fit over the sofa near the outdoor swimming pool. The artwork had to be weather-proof. Glass kiln fused onto burnished copper panels fit the bill!
Goals
The sofa was yellow; the composition has yellow highlights. The sunset theme was so appropriate for outdoors in Palm Springs, CA. Richard said that he had been looking on line for a long time to satisfy his criteria for outdoor installation art.
Process
I client, Richard, and I, collaborated on the specific size and colors to be included in this composition. I added golden yellow and clear glass "jewels" that sparkle and catch the light.