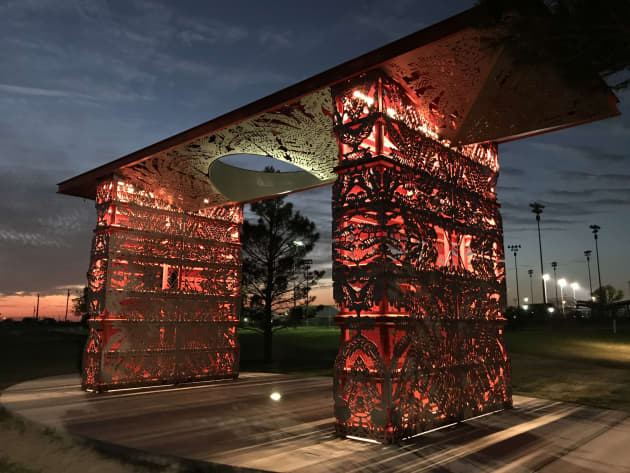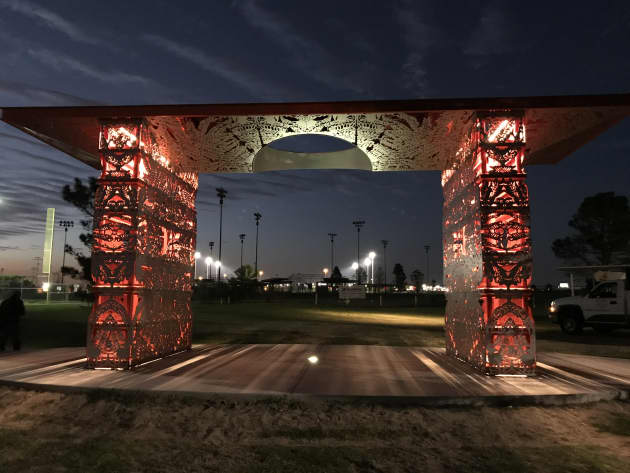 Client: City of El Paso, Museums and Cultural Affairs Department
Location: El Paso, TX, United States
Completion date: 2017
Artwork budget: $250,000
Project Team
Public Art Agency
City of El Paso Museums and Cultural Affairs
Artist
The Art Studio at RDG Planning & Design
Overview
Sun Pavilion adds form to function. Primarily it is park shelter providing visitors a break from the El Paso sun, but it adds beauty to a functional addition to the park. It is inspired by and connected to the unique geographical character of El Paso. The sun represents the connection between the people living in this region and their natural environment. Sun Pavilion features a circular oculus that glows in a dynamic ring and moves shapes of light and shadow across the ground. The pavilion incorporates sun symbols found in Mesoamerican, Native American, American and Latino cultures.
Goals
Sun Pavilion examines the relationship between the community and the sun. El Paso is known for its abundant sunshine and warm climate (more than 297 days of sunshine each year). This environment creates a need to include places where people can take a break from the weather a necessity in public projects like parks. When Blackie Chesher Park in El Paso's Mission Valley was updated and improved, the City was provided an opportunity to provide an iconic piece of public art that would also provide a welcoming place for families to take a break from the sun.
The sun itself is a prominent feature of this art piece. Throughout the day, the sun shines through the central oculus changing the light and shadow of the piece as the sun makes its daily journey. The cut metal shapes pay homage to the sun symbols the early inhabitants of the El Paso region used in their drawings in nearby Hueco Tanks thousands of years ago.

Process
Community involvement is a significant part of the public art process as each piece is intended to enhance the community's unique identity. The community of the Mission Valley worked closely with the public art team as this piece was developed. The community desired a piece that would be both functional and beautiful at the park. Providing spaces like Sun Pavilion is one way the City is encouraging the community to use the park and make it a thriving gathering place for a neighborhood.