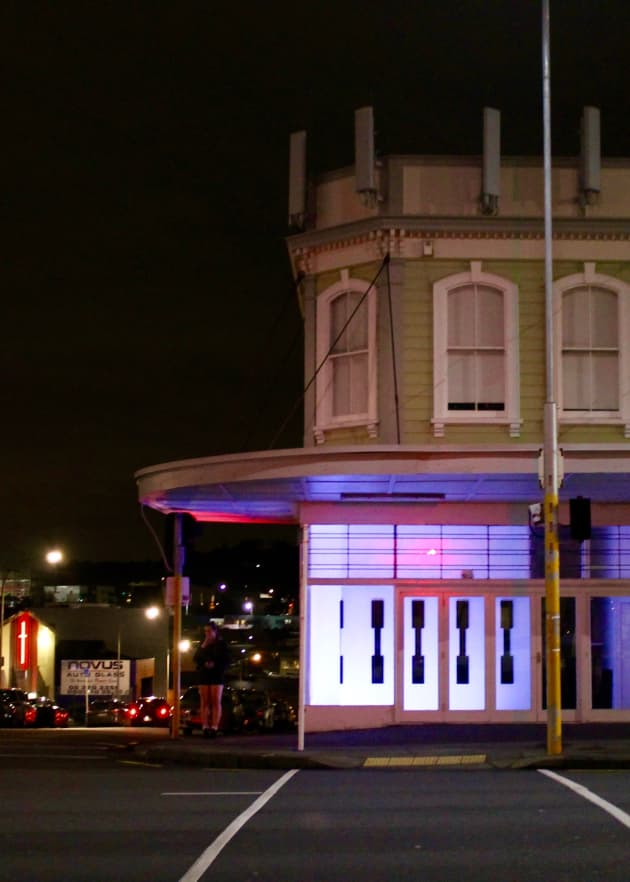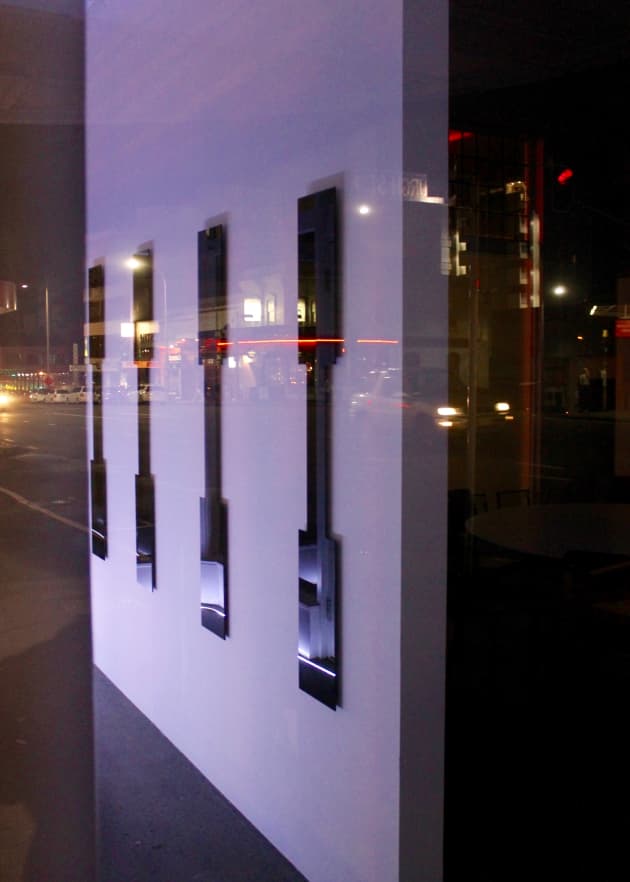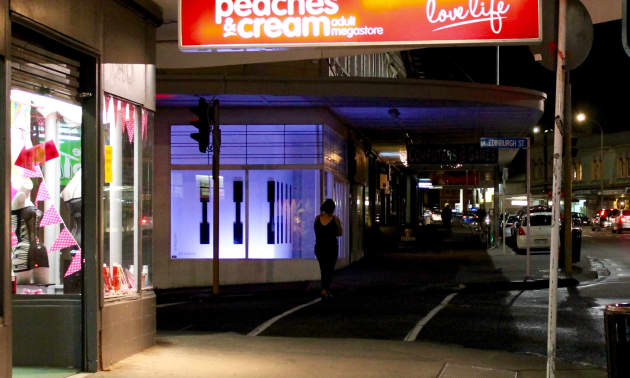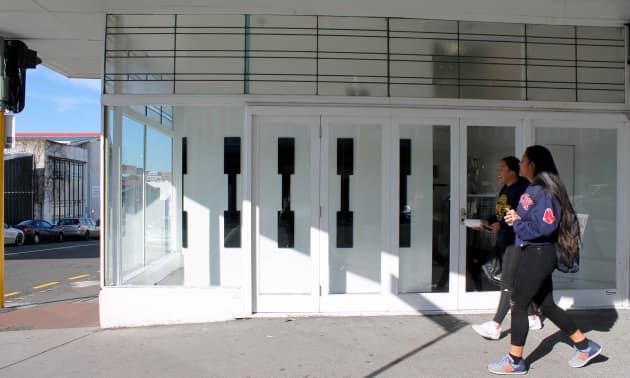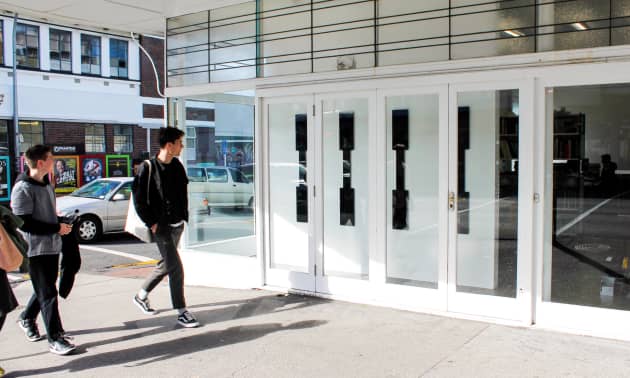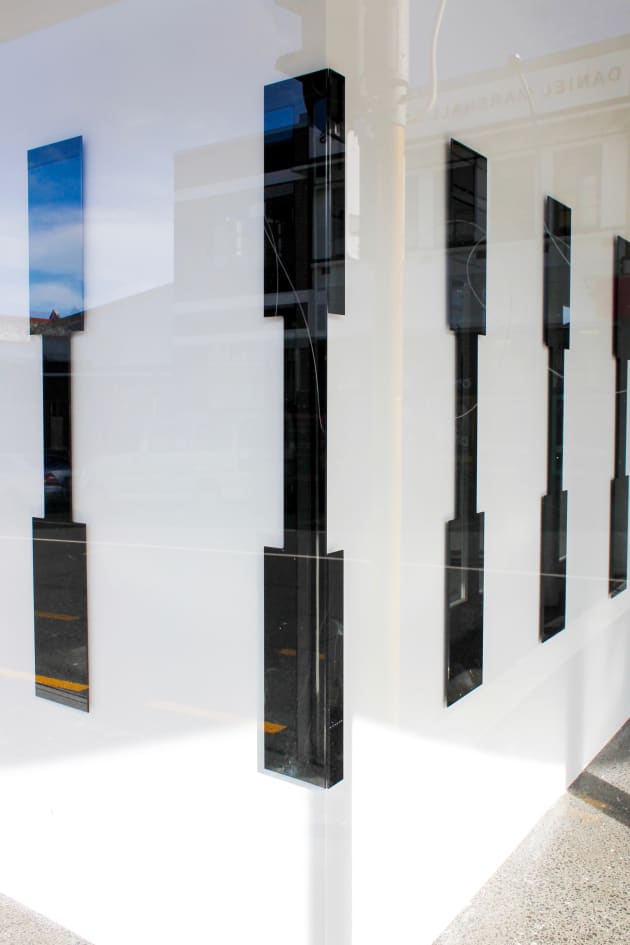 Client
Location: Auckland, New Zealand
Completion date: 2016
Project Team
Architect
Paterson Architecture Collective & Ashfield Architects
Paterson Architecture Collective
Public Art Agent
Rob Garrett
Industry Resource
NZ Glass
NZ Glass
Industry Resource
PJ Construction
PJ Construction
Artist
Gill Gatfield
Gill Gatfield Studios
Overview
At a cross-road in the red-light district, seven abstract figures occupy a street corner, used by schoolgirls during day and prostitutes at night. In form and title, 'Suffragettes' refers to C19th activists who won the vote for women and legal right to be defined as 'persons'. The I-texts are both objects and participants, punctuating space- a row of exclamation marks; a black picket fence. These glass pronouns articulate a central premise of human rights: the personal is political. They conflate male/female identity and hang as a group, inclusive of every-one. Aligned and organised, 'Suffragettes' occupy the street in present tense.
Goals
This unique corner of an Architecture firm's head office sits in the heart of a red-light district filled with strip clubs, bars, and sex shops. Project objectives required responding to the context and spatial qualities of the ground-floor corner window. The artist's response captures the formal and conceptual elements of this space - a major cross-road, patterns of movement, colonial architecture, vibrant community, and an avant-garde scene filled with paradox: on opposing street corners - a sex shop, Irish bar, corner store/milk-bar, and nearby, a church with a vivid red cross pulsating at night. Using the glazed white window frames, the artist created a multi-layered spatial field with seven reflective ink-black glass I-figures, looking out as they are looked in. The seven figures reference the mythical Seven Sisters and Pleiades/Matariki, a star formation guiding travellers at night. These pronouns have voice and offer a repeating refrain: 'I' or 'aye', inferring assent. Positioned one step apart, the sequence mirrors the pace of passing spectators who see themselves externally framed and internally reflected. Repeating phases of traffic lights reflect in the abstract figures and ticking sounds from pedestrian crosswalk signals further enhances a sense of rhythm and passing time.
Process
Aiming to express both abstract and figurative qualities, the I-forms were developed using models in studio. Working with technicians from NZ Glass, the slim and curved proportions set by the artist were translated into mirror quality glass that would withstand being cut and tempered. Installation design and planning was led by Gill Gatfield Studios, working with public art curator Rob Garrett and Patterson Architecture Collective. Public safety was a key factor in the installation design process with angles of night traffic movement being analysed to ensure headlights from vehicles crossing four intersecting roads did not create glare in the reflective glass elements. Using measured spacing, vehicle lights pass across the white walls between the glass figures and avoid a sustained glare. Assisted by PJ Construction, the installation process involved navigating the narrow space between heritage window frames and interior walls while positioning the 'Suffragettes'. Adding low level warm LED lighting along the inner ledge of the window panels creates a seamless glow that compliments the night scene and captures the changing hues of traffic lights on the sidewalk outside. By day, the installation catches crisp reflections and entices passersby to look within.
Additional Information
In a filmed interview with the artist, national art and culture commentators 13th Floor discuss the history and concepts behind the 'Suffragettes' project. On Youtube see: Gill Gatfield's 'Suffragettes'. Director: Marty Dudar. Interviewer: Liz Gunn. 13th Floor, August 2016