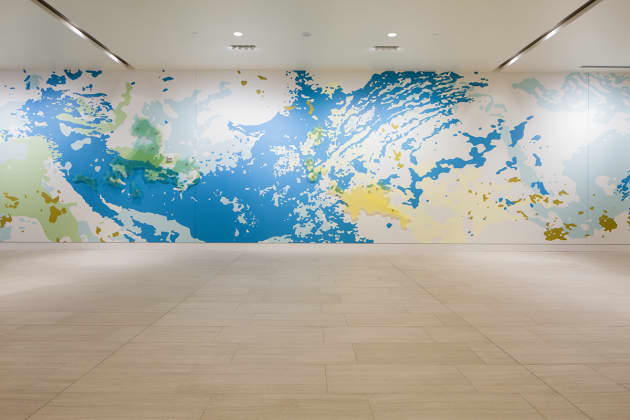 Photo: Kyler Deutmeyer
Client: City of Denver
Location: Denver, CO, United States
Completion date: 2015
Artwork budget: $200,000
Project Team
Public Art Agent
Kendall Peterson
City of Denver Hotel and Transit
Overview
Strange Continents was commissioned by the City of Denver as part of its Hotel and Transit Center project at Denver International Airport, which included a new light rail line from downtown Denver, and the construction of a new hotel. The piece spans 1875 square feet of interior wall space within a long corridor that connects the transit center and the main lobby of the hotel.
Goals
Managed by Westin Hotels, this piece needed to meet the design goals of the hotel group, which included abstraction, pattern, and reference to nature. The imagery for Strange Continents is derived from hundreds of photographs of the Platte River at Confluence Park in Denver, where it flows over a series of man-made boulders, creating a waterfall that cascades through the park. The dichotomies of natural and urban, local and global are central to the piece, and reflect a broader interest in the relationship between growing cities and their natural environments.
Process
The fabrication of the piece involved collaboration with Demiurge, a Denver-based art fabrication studio that cut and installed the dimensional aspects of the work. Demiurge worked to procure the dimensional materials, 3-Form cast resin, cut the material to my specifications and install based on the overall design.
Additional Information
Strange Continents was installed onsite over the course of two months, during which I hand-painted the piece directly on the wall. Working with a team of three assistants, we transferred the overall design to the wall from drawings made in my studio, and then painted the piece using artists brushes and latex paint.