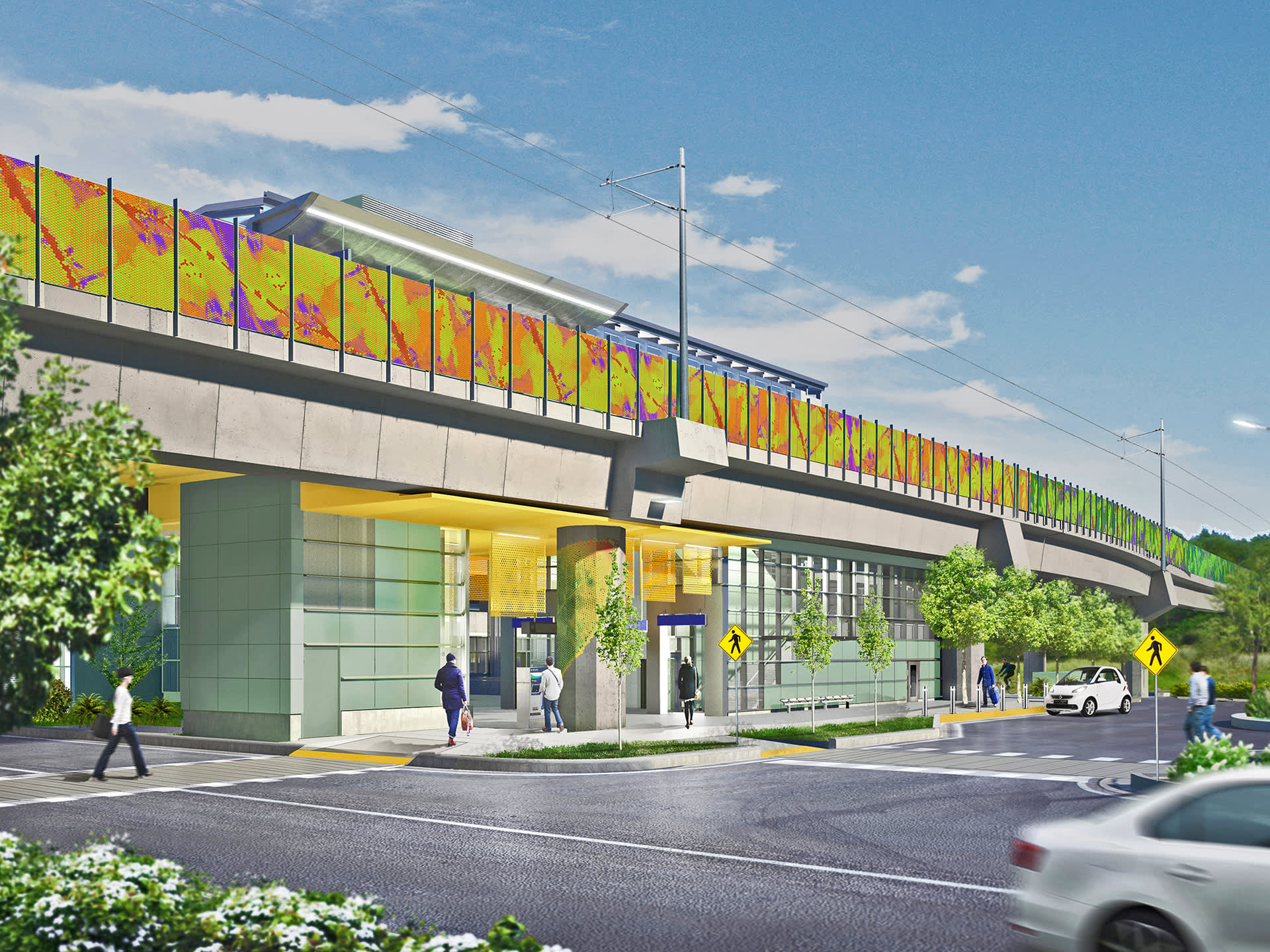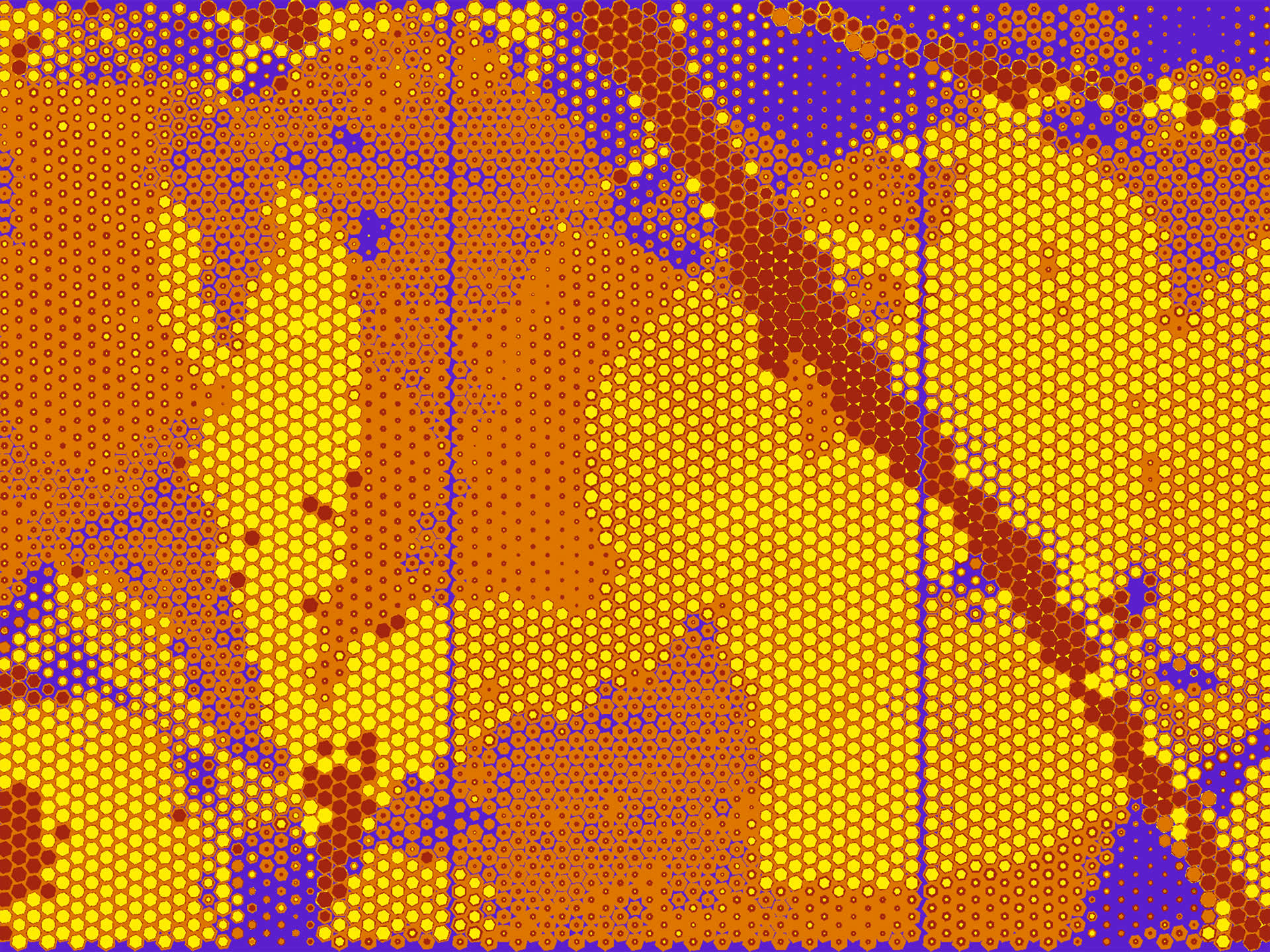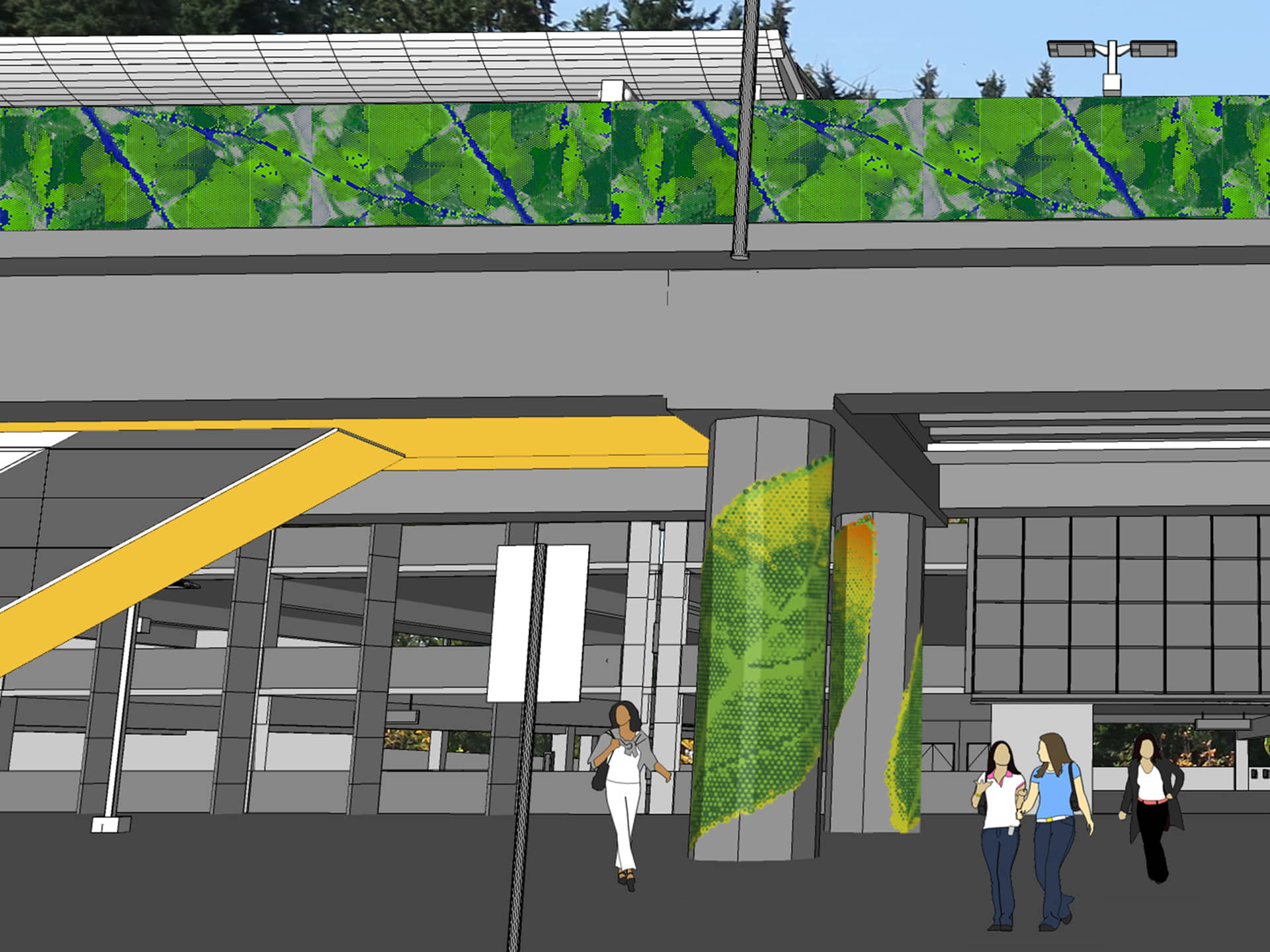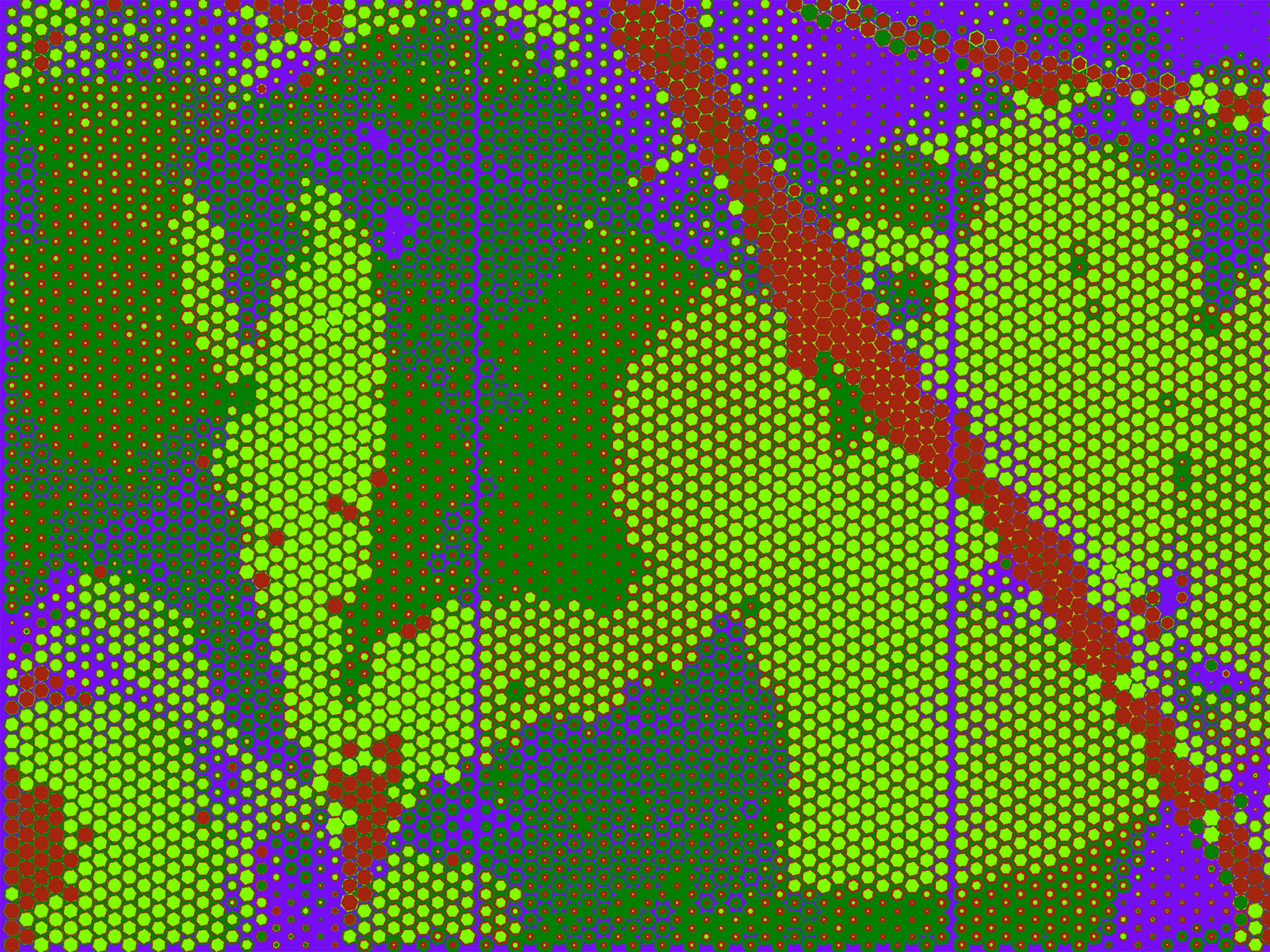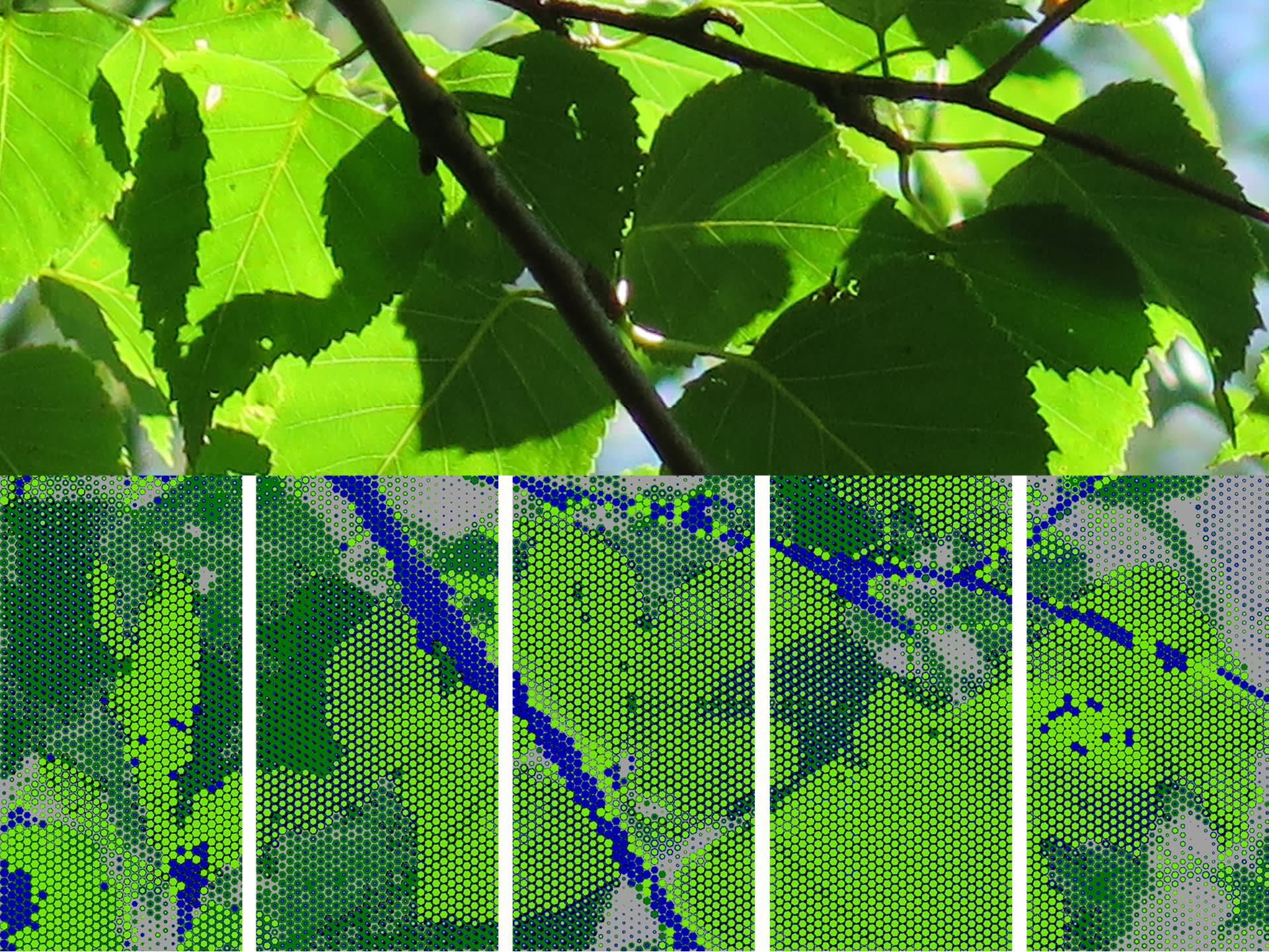 Project
Client: Sound Transit
Location: Bellevue, United States
Completion date: 2019
Artwork budget: $400,000
Project Team
Artist
Vick Scuri
Vicki Scuri SiteWorks
Artist
Alexandr Polzin
Alexandr Polzin
Architect
Dan Seng
Perkins+Will
Client
Kurt Kiefer
Sound Transit
Client
John Walser
Sound Transit
Overview
The South Bellevue Station, sited in the Mercer Slough, introduces large-scale infrastructure into a natural setting. Its transit scaled architecture and the noise from the trains, impacts its neighbors. A thousand feet of six-feet tall acoustic panels mitigate sound. The exterior faces of these acoustic panels are a dominant linear gesture. The guide way is more than twenty feet in the air and is visible from a great distance. This project clads the acoustic barrier in colorfully patterned, porcelain enamel on steel panels. The station columns are painted with super graphics to address their scale and aid in wayfinding.
Goals
The primary goals of the South Bellevue Station's public art are to humanize the station, to knit it back to its context and to improve the aesthetics of the structure. The immensity of the station in its site was a concern to neighbors. Patterning the acoustic panels transforms them from a monolithic gray mass to a colorful pattern band. The leaf-inspired patterning for these panels introduces color, texture and scale along the front of the station. The patterning transitions colors, marking seasons. The inspiration imagery for the panels, taken directly from the surrounding wetlands, is abstracted to make a contemporary gesture. Integrating the artwork directly into the finish surface of the acoustic panels elevates them from merely utilitarian to powerfully evocative. Similarly, the leaf-inspired column wraps introduce human scale to the twenty-four-foot high platform columns. The massive concrete column dominated the pedestrian area under the platform. Painting them with colorful super graphics makes the space more welcoming and adds another level of utility to the columns, which now also serve as wayfinding devices. The artwork, inspired by nature, humanizes the infrastructure, introducing context sensitive design through thorough integration of art and infrastructure.
Process
Sound Transit, the commissioning agency for this project, motivated by community concerns, identified the façade of the guideway as a prime location for public art. As the selected artist for the project, we did a comprehensive review of the site, including photo documentation. These images were used as the basis for the patterning and colors developed for the acoustic panels. Throughout the design process, we presented our concepts and imagery to Sound Transit for guidance and approval. During this process we were able to get feedback from the architects on the project, Perkins Will. The public was also able to comments on the artwork during an open house before it moved into final design. Our final design was shaped and influenced by this feedback to provide the best solution for this site. We worked with Sound Transit to properly size and document the panels for future fabrication. This close collaborative process allowed us to develop exacting drawings and specifications. As a part of this process, we created mockups of each panel type to test both the design concept and the fabrication methods. These successful mockups were approved and the final design drawings and specifications were created.