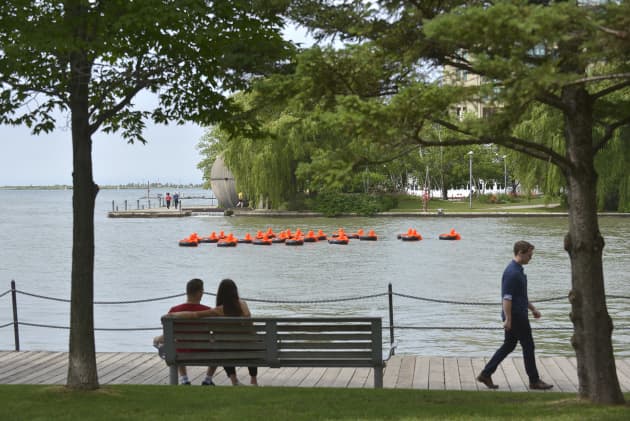 Photo: Nicola Betts Photography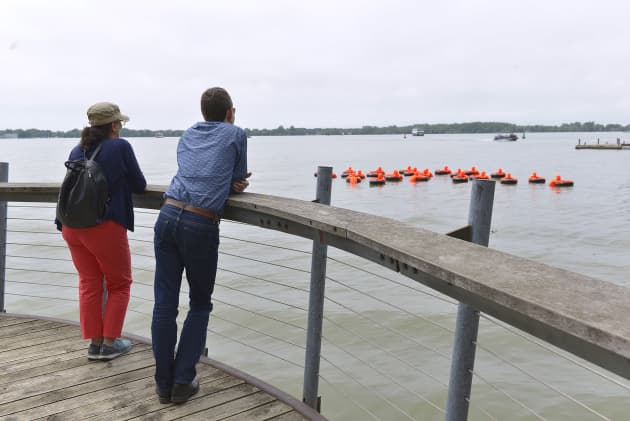 Photo: Nicola Betts Photography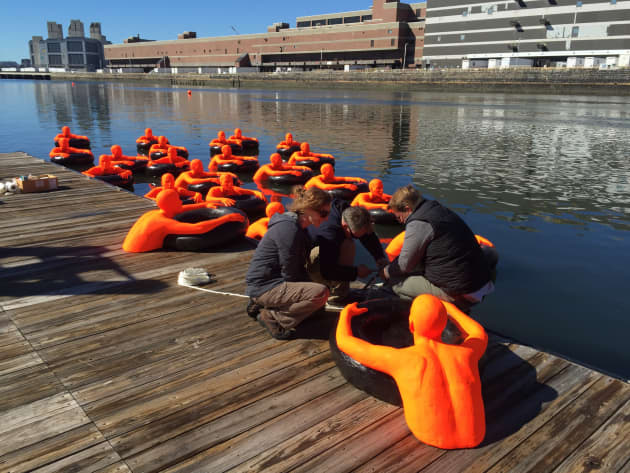 Photo: A+J Art+Design
Client: Fort Point Arts Community (FPAC)
Location: Boston, United States
Completion date: 2016
Artwork budget: $10,000
Project Team
Artist
Ann Hirsch
A+J Art+Design
Client
Emily O'Neil
Fort Point Arts Community (FPAC)
Client
Chloe Catan
Waterfront Toronto
Overview
Approximately 50 feet by 30 feet, dimensions variable.
22 cast polyurethane foam figures, PVC conduit, anchoring system, buoy paint.
Each figure represented nearly one million of the United Nations High Commissioner for Refugees estimated 21.3 million refugees in 2016. In 2019, three figures were added to the installation to reflect the growing number of global refugees, now estimated at 26 million.
Goals
The installation instantly engages the public with bright orange figures floating in a dynamically changing group. Animated by wind and currents, the attention grabbing display causes passers-by to stop, look and consider. The figures represent the world's refugees currently seeking safety and freedom.
Process
First commissioned in 2016, A J created SOS (Safety Orange Swimmers) for the Fort Point Art Basin in Boston Harbor. Then in 2017 SOS was selected as a Featured Project for ArtPrize Nine in Grand Rapids, MI where it was voted Top 20 in the Public Vote. In 2019, Waterfront Toronto invited A J to install SOS for two months in Lake Ontario, downtown Toronto.
Additional Information
Selected by jury for the Fort Point Arts Community annual floating public art program, SOS was installed in Boston during the fall of 2016. It attracted much attention and conversation, garnering stories in print media, local TV networks, and blogs, as well as hundreds of social media mentions. FPAC called SOS its most successful project to date in terms of audience engagement.