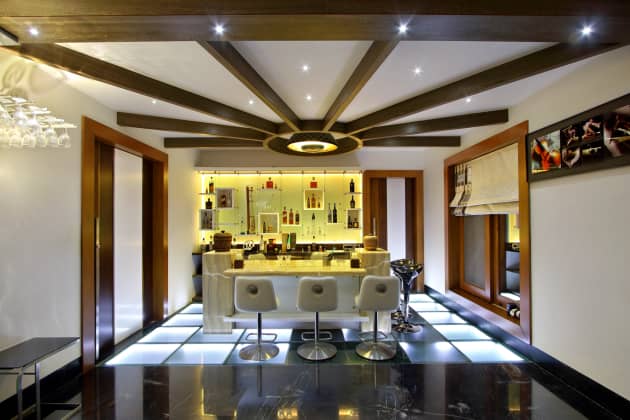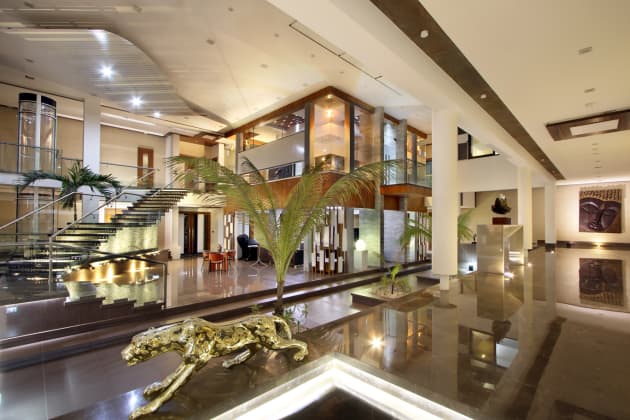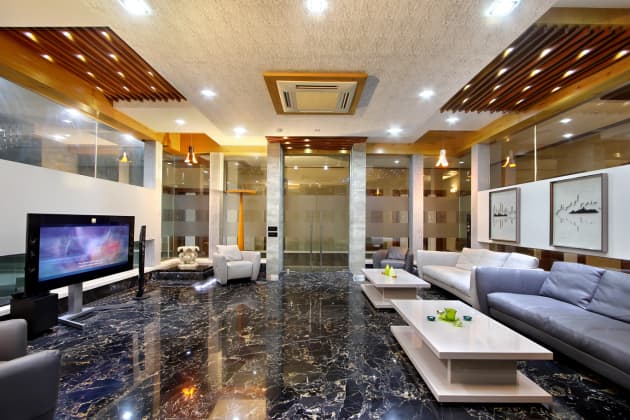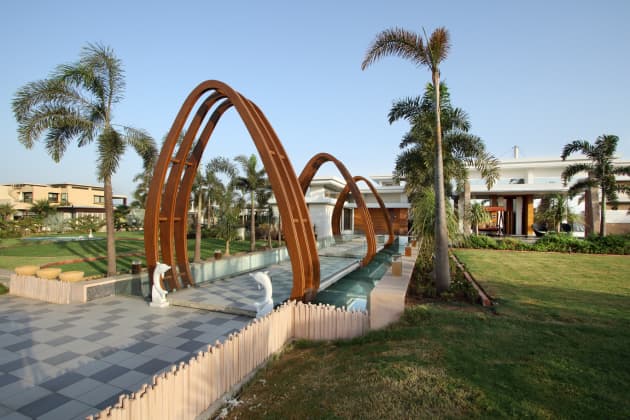 Client: Mr.Anil patel
Location: vadodara, India
Completion date: 2014
Artwork budget: $1,200,000
Project Team
Other
shailesh parikh
creative design & mgmt
Architect
shailesh parikh
creative design & mgmt
Other
jayshree parikh
creative design & mgmt
Overview
This vastu compliant bungalow in Vadodara bristles with technology, while it creates the luxurious ambience of a high-end resort for a real-estate tycoon, on a sprawling 72,000 sqft plot. Courtyards, gazebos, pergolas and waterfalls. A private entrance and a public one. A 16 seater home theater and a bar room with a glass in lit floor. Several indoor and outdoor lounges. A fully automated home operated from touch-screen panels. Security cameras which permit the owners to view various parts of their home even when they are out of the country.
Goals
In the sizzling temperatures of Vadodara, the sun heats the north of this structure for only four months. Accordingly, we've created a large open space between the stairs and the main entry to the house on the north side, enhancing it with landscaping, while glazing protects three sides of the house. While the structure actually has only one storey, visually, it appears to have two floors above ground level. The exterior cladding is in rustic tiles, the landscape being dotted with varieties of palms and sculptures from Bali, along meandering pebbled pathways flanked by undulating lawns. A glass gazebo stands sentinel at the entrance.
Process
The public entrance is preceded by a 90 ft long water body, with a water fall in the north east corner. A series of polycarbonate arches provide a sense of arrival. The walkway which leads to the main entrance passes over the water body. The private entrance for the use of the family is a quieter space, where cars can drive right up to a sheltered porch, for convenience during any kind of weather. Within, a double height family room and dining room enhance the verticality within the house as well as the connectivity between the ground floor and the first floor. An open-to-sky automated roof facilitates an outdoor feel, weather permitting. Providing sun light to the palm trees below during the day, it provides a view of a starry sky by night. The formal dining room has a 5,000 sqft sit out with classic black and white chequered flooring. The staircase - created by a local artist - is one of the main architectural features of the home, constructed of MS covered with teak wood horizontal members and 12mm thick glass. The wall alongside holds countless marbles within a glass casing.
Additional Information
The bedrooms are more like suites, with seating arrangements, walk-in closets, private gardens and terraces, in addition to the en suite baths, with Porcelanosa fittings. At the entrance to the master bedroom, there is a wall cladding of 2 in x 2 in ceramic hand painted tiles in various different designs. Above the headboard of the bed, there is a panel in Murano glass, in shades of cobalt, yellow and green. The private shower on the deck outside, is a sculpturesque circle in white.