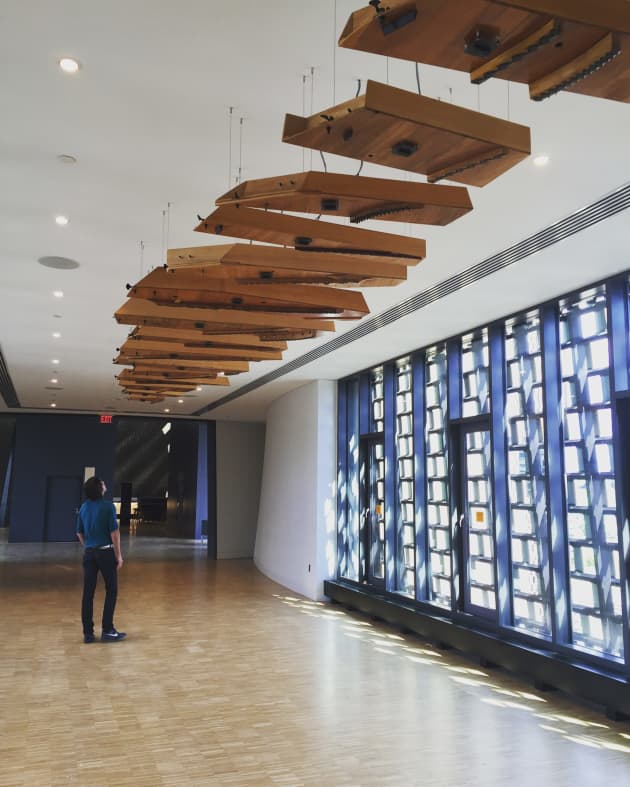 Client: National Music Centre
Location: Calgary, AB, United States
Completion date: 2016
Artwork budget: $200,000
Project Team
Artist
Patrick Marold
Patrick Marold Studios Inc
Client
Chad Saunders
National Music Centre
Industry Resource
Mike Hollibaugh
Holly Solar
Architect
Chelsea Grassinger
Allied Works Architecture
Overview
Solar Drones is a sculptural and audio installation commissioned by the National Music Centre in Calgary. It consists of sixteen resonating wooden vessels suspended from the ceiling of the fifth floor Skybridge in the National Music Centre. These resonant vessels are built from soundboards salvaged from NMC pianos that were irreversibly damaged in the 2013 flood. Each one is connected to a roof top solar panel that powers an electromagnetic system that then creates tones by activating piano wire tensioned on each vessel.
Goals
The integration of this was a priority for the new National Music Centre building. The Solar Drones were scaled and tuned specifically for the sky bridge that links the two architectural spaces. The concept directly compliments the mission of the National Music Centre, while presenting a very different sound experience from the rest of the building. Additionally the sculpture was built from the remnants of damaged pianos that were once part of the collection at the NMC.
Process
I worked directly with the lead contractor for the National Music Centre, CANA, as well as with Allied works who were the architects for the new building. The technical departments at the National Music Centre were also closely involved in the design and development of the Solar Drones and will continue to engage with the art as part of there entire collection.
Additional Information
As a sound sculpture, the Solar Drones will periodically be retuned for new compositions determined by resident artists as well as community and NMC staff. The Solar Drones are intended to be worked with and explored sonically to further realize the potential of there presence in the National Music Centre.