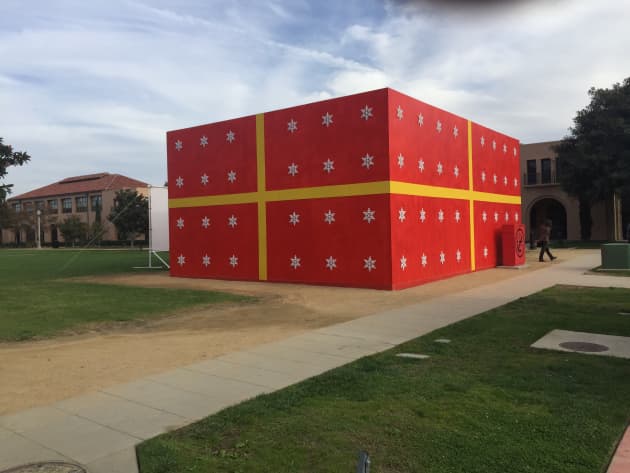 Photo: Jay Newington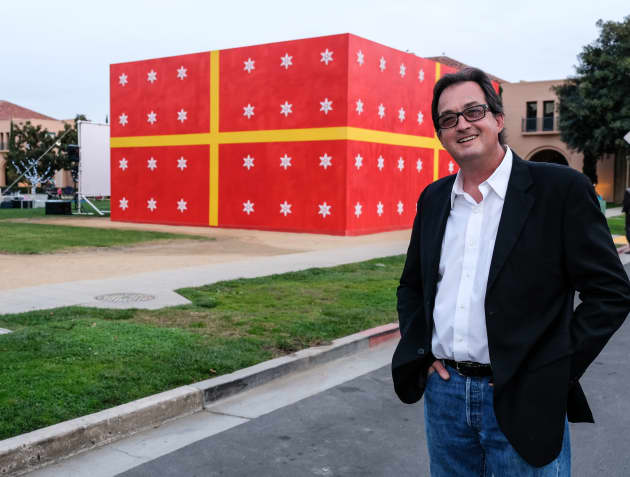 Photo: Ken Jaques
Client: Liberty Station Arts District
Location: San Diego, CA, United States
Completion date: 2017
Artwork budget: $10,000
Project Team
Client
Alan Ziter
NTC Foundation
Public Art Agent
Vicky Reed
NTC Foundation
Overview
NEW ART COMMISSION AT LIBERTY STATION A GIANT HOLIDAY GIFT FOR SAN DIEGO
November 1, 2017 – San Diego is about to get the largest holiday gift ever. Each year, as part of the annual Salute the Season holiday event programming, the NTC Foundation has commissioned local artist Jay Newington to create a holiday-themed art installation with lights. This year, with additional support from the Liberty Station Community Association, the historic former Naval Training Center Pump House from 1923 will be transformed into a giant holiday gift complete with LED animated snowflakes, a giant bow and festive ribbon.
Goals
Local scenic designer and stagecraft expert Jay Newington's proposal was selected by the Foundation's Art in Public Places Committee as the one that best uses art to create a festive atmosphere and helps illuminate the North Promenade between the Rady Children's Ice Rink at Liberty Station and the Holiday Tree. The goal for the project was to use a creative lighting installation to unify all the Salute the Season holiday events.
His piece, entitled Snow Time! Like the Present?, is expected to be completed by November 29 in time for the lighting of the Holiday Tree. It will include over 100 individual animated snowflakes, with over 4,300 individual lights.
"The committee consensus was this was a creative use of an existing building wrapped with an artistic holiday lighting installation," explained chair Vicki Reed. "It will create a fun holiday landmark that will encourage people to explore the expanse of the ARTS DISTRICT and the shops, museums, art studios and galleries located between the Rady Children's Ice Rink and the 90' decorated holiday tree near Stone Brewing World Bistro & Garden."
The Pump House is directly in the center of the historic ARTS DISTRICT.
Process
One of my largest and most challenging installations : 28' W x 36' L x 16' H. Getting 64 4x8 panels perfectly level, plumb, and square around an existing historical structure (with a mural on one side) with no touching / damage was magic . Over 1000' of cable powering the 128 individual snowflakes, which moved in sequence on a timer six hours per night for over one months time.