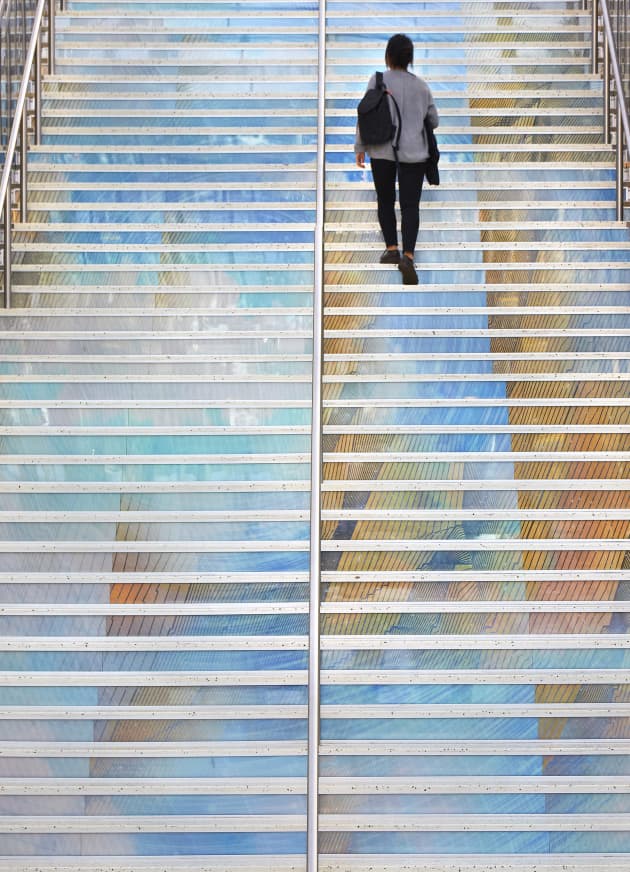 Photo: John Linden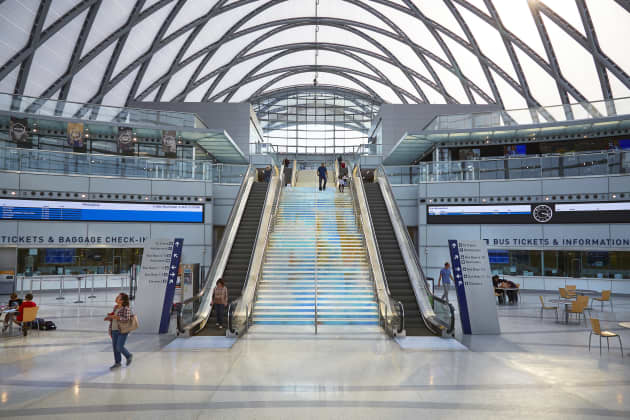 Photo: John Linden
Photo: John Linden
Client: City of Anaheim
Location: Anaheim, CA, United States
Completion date: 2017
Artwork budget: $750,000
Project Team
Artist
Mikyoung Kim
Mikyoung Kim Design
Overview
SKYSPACE is a vibrant interactive art installation in the interior of the Anaheim Regional Transportation Intermodal Center (ARTIC) in California. The project creates a dynamic holographic experience encased in glass within the main staircase. The design team overlaid day and night images with a map of the train schedule, representing the horizontal passage of time. When pedestrians ascend or descend the staircase, atmospheric images transform with different conditions of time and phenomena. The resulting integrated sculpture transforms this architectural feature into a symbol of transformation and movement in this transportation hub.
Goals
During the design for this new facility, the initial focus was in the creation of an iconic visual experience that was an important gateway into this transportation center. The goals included the need for a human scaled and interactive experience related to transportation and movement.

The project integrated pedestrian circulation and movement into a holographic installation that merged seamlessly into the architecture. The project offers a beautiful and luminous identity to this transportation hub and provides a unique and memorable experience.
Process
The project began with a photostudy of the skyscape of the city of Anaheim. Set within the stair risers, graphically designed photography of the sky reflects the soaring sky view through the ceiling. Through the use of 3-D lenticular technology, atmospheric images appear like holographs when pedestrians ascend or descend the staircase. The lenticular printing process created an "animated" image, utilizing multiple frames to create a motion effect.

In this project, six skyscape images were digitally combined into an interwoven flat image. Each of the images were arranged and spliced into strips, which were then interlaced with one or more similarly arranged images. These were then inkjet printed, using ultra-violet cured inks on the back of a piece of acrylic, and then laminated to a polycarbonate that has a series of lenses. A cast glass panel system, tested on site over a two-year period, is integrated into the polycarbonate encapsulated surface to protect the stair risers from frequent traffic and maintenance.
Additional Information
The design team overlaid cloud and atmospheric imagery from Anaheim's sky-scape with a map of the train schedule, representing the passage of time. Vertical lines represent the location of the traveler between stations: the lines are traces of movement travelling from South to North and back again. The user's interpretation of the artwork varies based on their movement through the building. As viewers move through the space, a transforming view of the sky highlights movement and change. A traveler moving from one side of the building to the other would experience different visuals than if they were ascending the stairs.