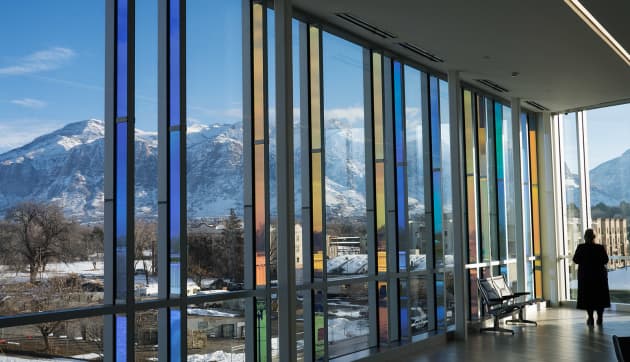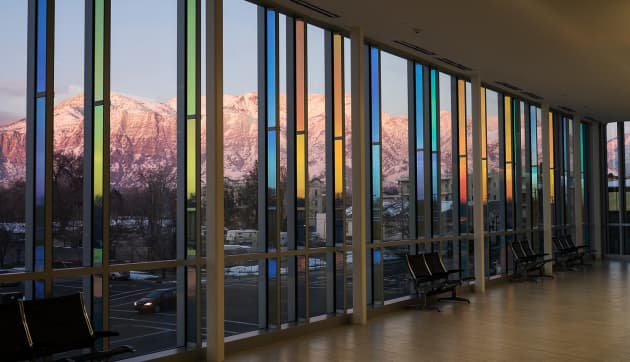 Photo: Eve Chayes Lyman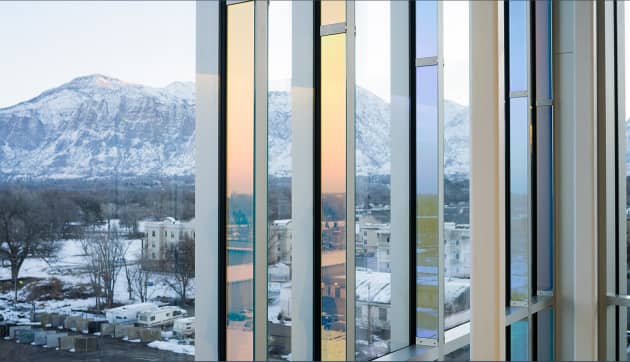 Photo: Eve Chayes Lyman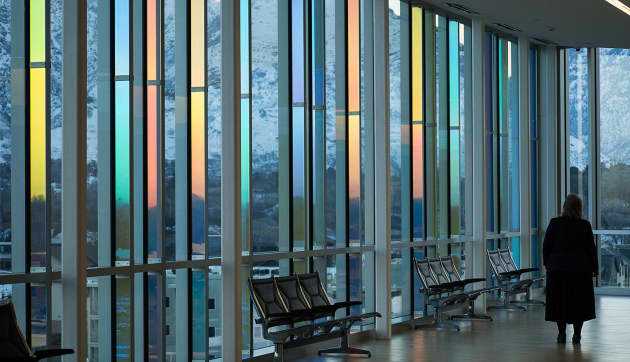 Photo: Eve Chayes Lyman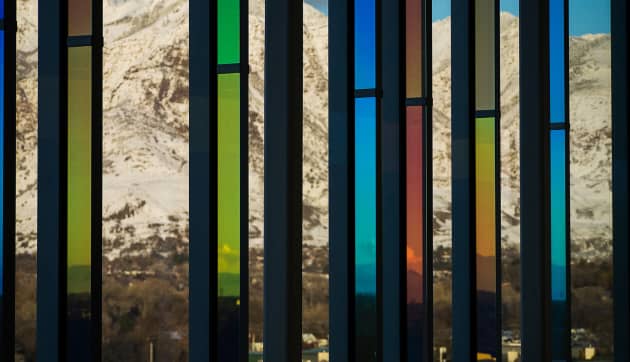 Photo: Eve Chayes Lyman
Client: Ogden Juvenile Courthouse and Utah Division of Arts and Museums
Location: Ogden, UT, United States
Completion date: 2015
Artwork budget: $180,000
Project Team
Industry Resource
Jan Peters
Glasmalerei Peters Studio
Industry Resource
Wet Jet
Public Art Agent
Jim Glenn
Division of Utah Arts and Museums
Architect
Nathan Leavitt
VCBO architecture
Architect
Brent Tippets
VCBO Architecture
Overview
Dichroic glass lines the mullions over the four story facade. Sky Veil transforms the courthouse environment for those who go there in a time of sorrow and stress. The glass curtain wall that slices through the volume of the building and creates beautiful lobbies outside each courtroom is the most dramatic element in the architecture of the courthouse. Sky Veil introduces color and interactivity with the surrounding landscape in these spaces so the surroundings are experienced through a new lens and the complexity of fragmented reflections challenges the mind to become alive to its environment.
Goals
By putting panels of dichroic glass on the face of these mullions, visitors who enter the spaces from the end of the room see the reflection of the sky and mountains on the dichroic panels as they line up from the oblique angle by which they are viewed. The reflected landscape is not the one visible when looking directly out the window so there are two landscapes visible at one time. This kind of fragmentation heightens the visual richness and stimulates the mind as the view is limitless and boundaries are removed. The structure of the curtain wall is dematerialized, there nothing between you, the landscape and sky. The light that bounces off the dichroic glass projecting into the space is moving throughout the day as the angle of the light changes and the sky changes color. No art imagery can match this to soothe the soul. The majesty of the mountains and the beauty of clouds touched by sun are brought into the room in fragmented slivers that appear and disappear as we move by them. They are as insubstantial and as quick as a door that opens and closes on a young life.
Process
My collaboration was with VCBO architecture who designed the Ogden Juvenile Courthouse and with the Peters Studio who oversaw the ordering from China of these exceptionally tall pieces of dichroic glass and Wet Jet, the glass cutting and polishing company in Utah who prepared the glass and with Lost Machine Design who created prototypes of the brackets, manufactured the final design and installed the work at the courthouse. As always these projects are the result of many skills and layers of expertise coming together to make a very integrated project such as this possible.
Additional Information
The response to this project has been deeply gratifying. From the judges and courtroom staff to the maintenance people and the architects and administrators of the Division of Utah Arts and Museums, there has been a unanimous agreement that Sky Veil has in a subtle and beautiful way transformed the experience of the building and moving through its interior. The head of maintenance told my photographer Eve Chayes Lyman that he feels he needs to go to the fourth floor once a day to soak up the beauty of the art and landscape.