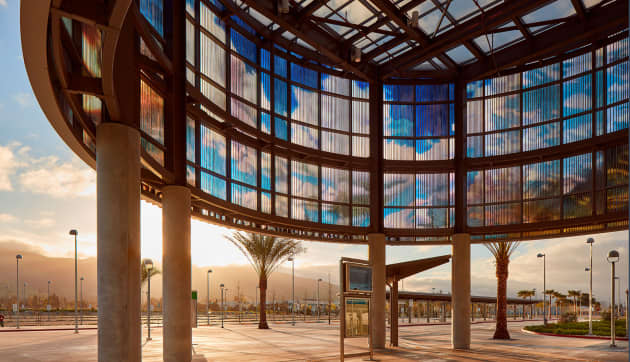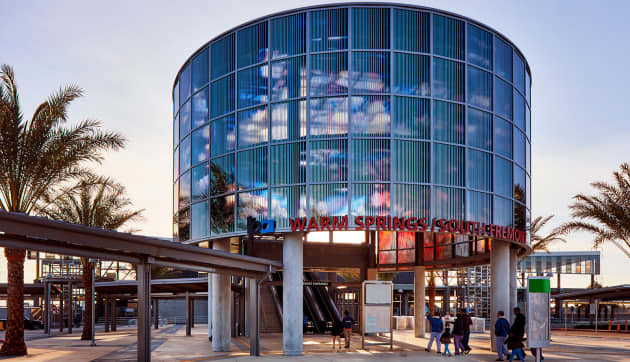 Photo: Russell Abraham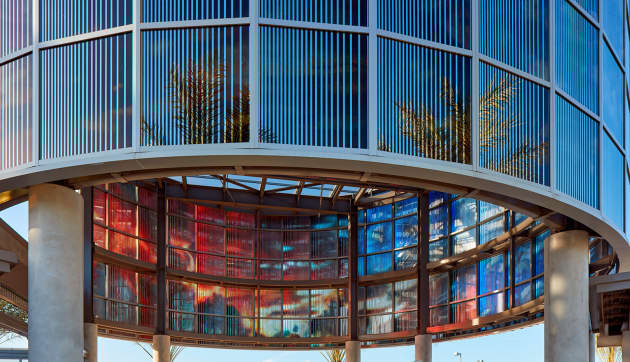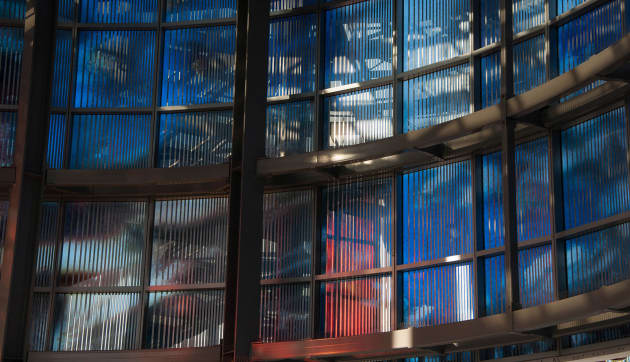 Photo: Catherine Widgery
Client: Bay Area Rapid Transit, BART Warm Springs Station
Location: Fremont, CA, United States
Completion date: 2016
Artwork budget: $1,185,000
Project Team
Art Consultant
Molly McArthur
Artist
Catherine Widgery
Widgery Studio
Industry Resource
Jan Peters
Peters Studios
Overview
The entryway to the vast station is a glass rotunda 60' in diameter and two 300' glass walls on either side of the platforms. On the rotunda images of the sky throughout the day are sliced in alternating strips with a silver coating, reflecting the actual sky, creating a rich visual hybrid. The walls along the platform are photographs of landscapes and seascapes taken during different seasons over the years. They are fragmented so we see the actual sky woven into the images, activating our minds through the rich complexity.
Goals
The spaces are transformed with color and light projected onto the ground as well as through the luminous transparent colored glazes on the glass. The lead architect came up to me at the inaugural ceremony and thanked me for 'saving my building'. There has been the general consensus that the art profoundly enriches the experience of the station for the public.
Process
Once the concept was approved, numerous big and small changes were made to the architectural design so the art experience would be optimized. The extraordinary work of the Peters Studio in Germany to translate the photo-based images into thousands of 'crystals' of pure colors fired into the glass was a painstaking process that was in the end brilliantly successful.

Additional Information
When I was first asked to come up with a concept for this station, the community wanted it to feel 'of' this place, so using images created by local residents and visitors as the basis for the art created a larger community connection.