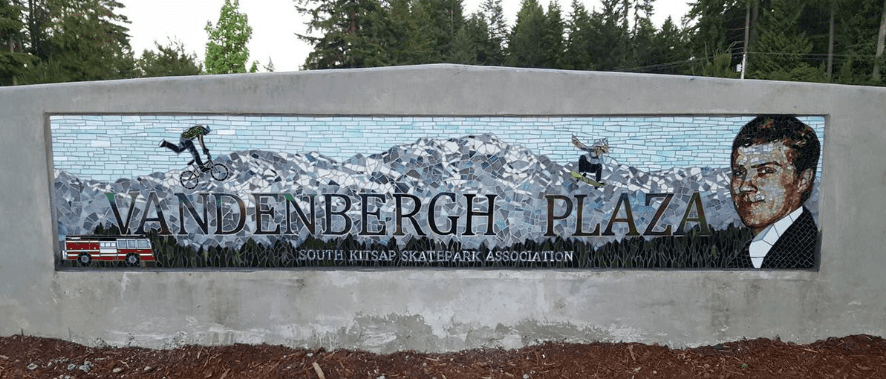 Project
Client: South Kitsap Skatepark Association
Location: Port Orchard, United States
Completion date: 15/06/2017
Artwork budget: $6,000
Project Team
Public Art Agent
South Kitsap Skatepark Association
South Kitsap Skatepark Association
Overview
7' wide by 16″ tall mosaic panel inlay for a retaining wall at a popular skatepark to memorialize one of the main proponents of the park. Mike Vandenbergh was a firefighter, father, and beloved community member, and the driving force behind the expansion of this park. The client wanted included in the design: a skateboarder, a cyclist, the Olympic mountain range, a fire truck, a portrait of Mike Vandenbergh, and lettering naming the park, along with "South Kitsap Skatepark Association." It is a mosaic made of mostly salvaged stained glass.
Goals
The goal was to highlight the person who made this skatepark expansion possible, representing the main things he felt passionate about, aside from his family. I worked with his surviving wife and teenaged kids on the design, and every component was extremely important to them.
Process
I met with the family of Mike Vandenbergh, and they described their vision for the panel. I then created sketches and we corresponded via email until they and the Skatepark Association had approved the design. Then I sent periodic process photos to make sure I was meeting expectations.