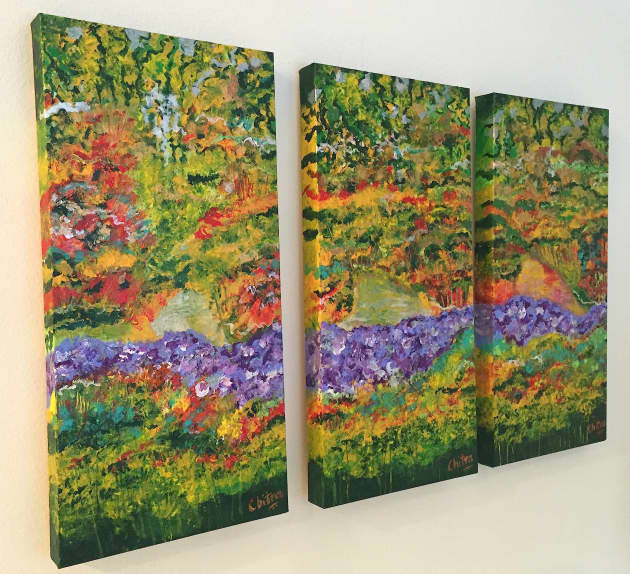 Photo: Chitra Ramanathan
Client: CEO/Founder, Biaggis Restaurant
Location: Bloomington, IL, United States
Completion date: 2016
Artwork budget: $4,500
Project Team
Artist
Chitra Ramanathan
Contemporary Visual Artist | Painting
Client
Todd Hovenden
Biaggis Restaurant
Client
Todd Hovenden
Biaggis
Overview
The CEO of the Biaggis restaurant chain headquartered in Illinois commissioned Chitra Ramanathan to create a three paintings as a triptych, each measuring 12 in x 36 in. with acrylics on canvas panels.
Goals
Based on the artist Chitra Ramanathan's experience of extended visits to Claude Monet's garden in Giverny, France during the artist's stay in Paris for study and Marnay sur Seine for Professional Artist Residency. The client was also familiar with the artist's recognition through her commissioned paintings by MGM Resorts for the Bellagio Hotel's Conservatory area, permanently installed since 2004. Please see details in other projects featured by the artist.
Process
Once the commission was decided, a formal document was created, with images of work in progress sent to the client.
Additional Information
The result was completely satisfactory for the client as was the commission for MGM Resorts in 2004.