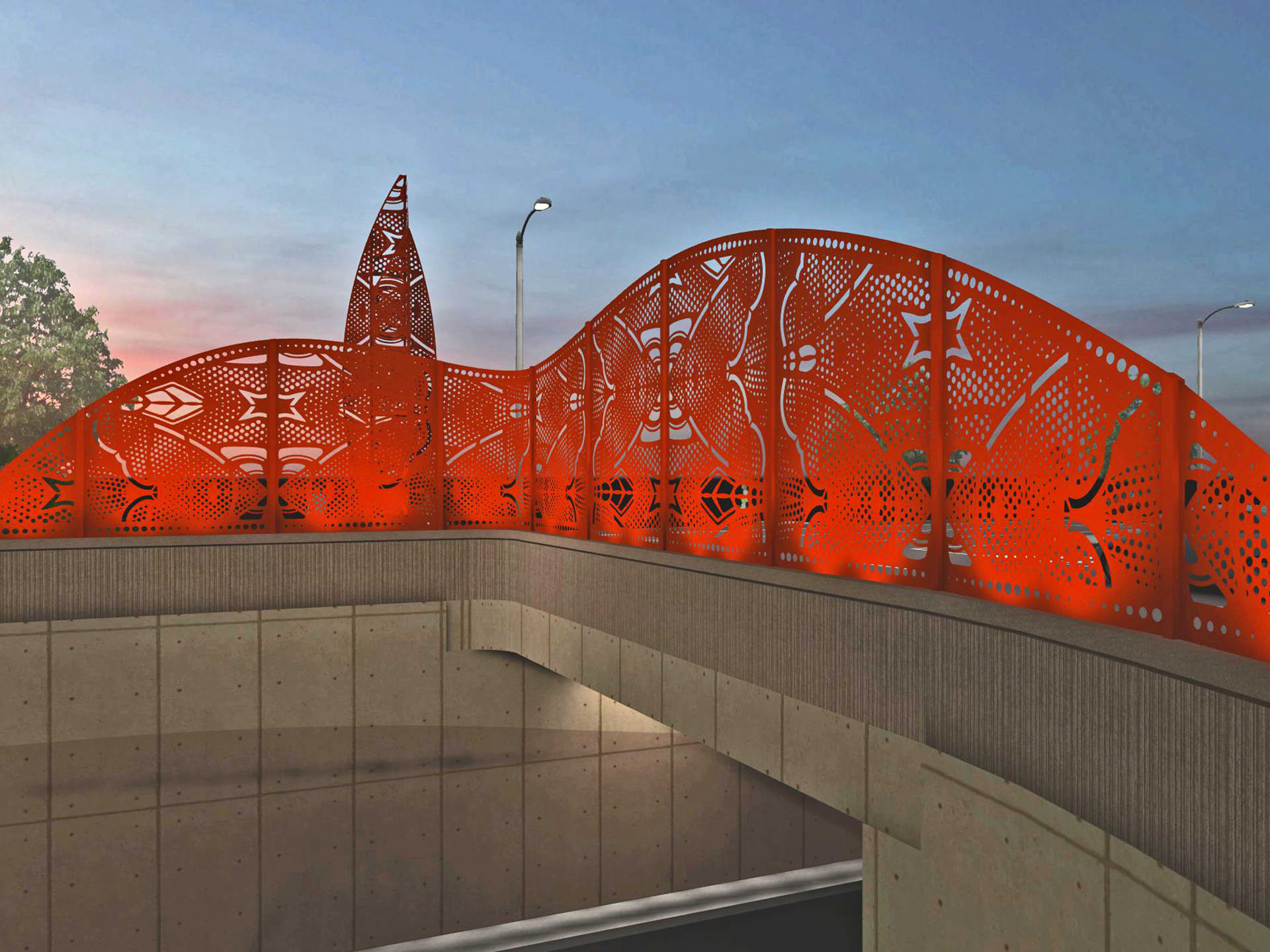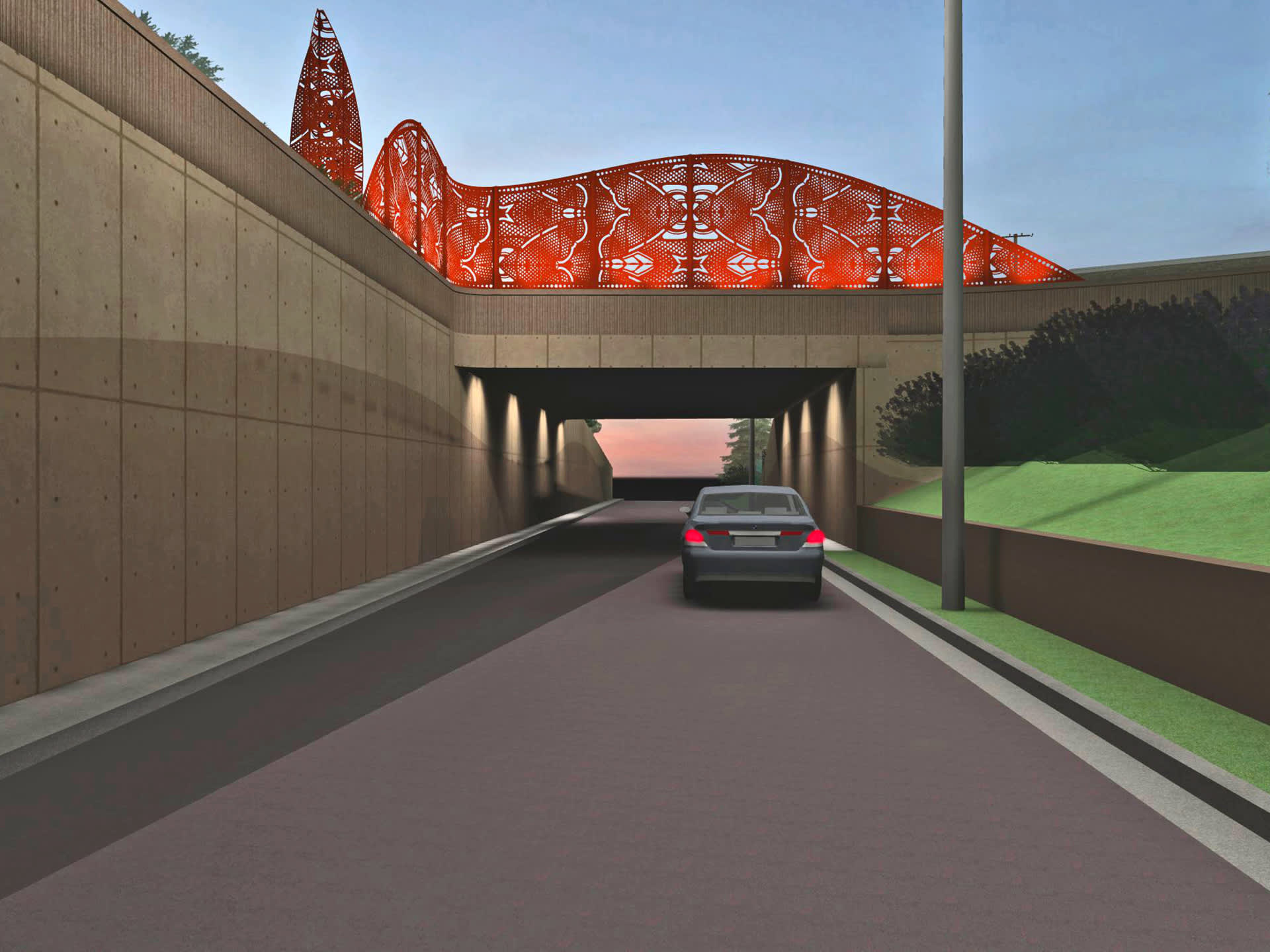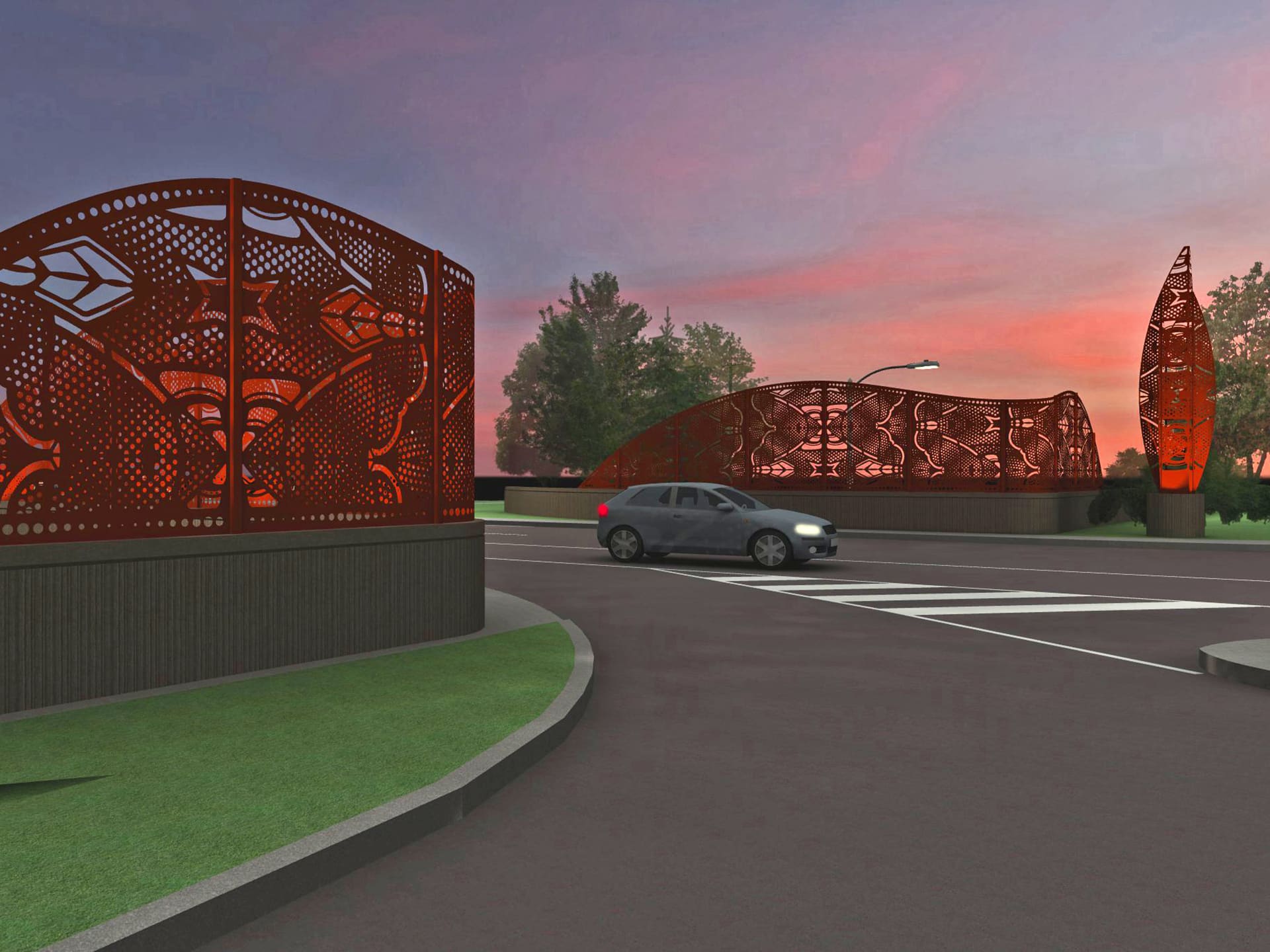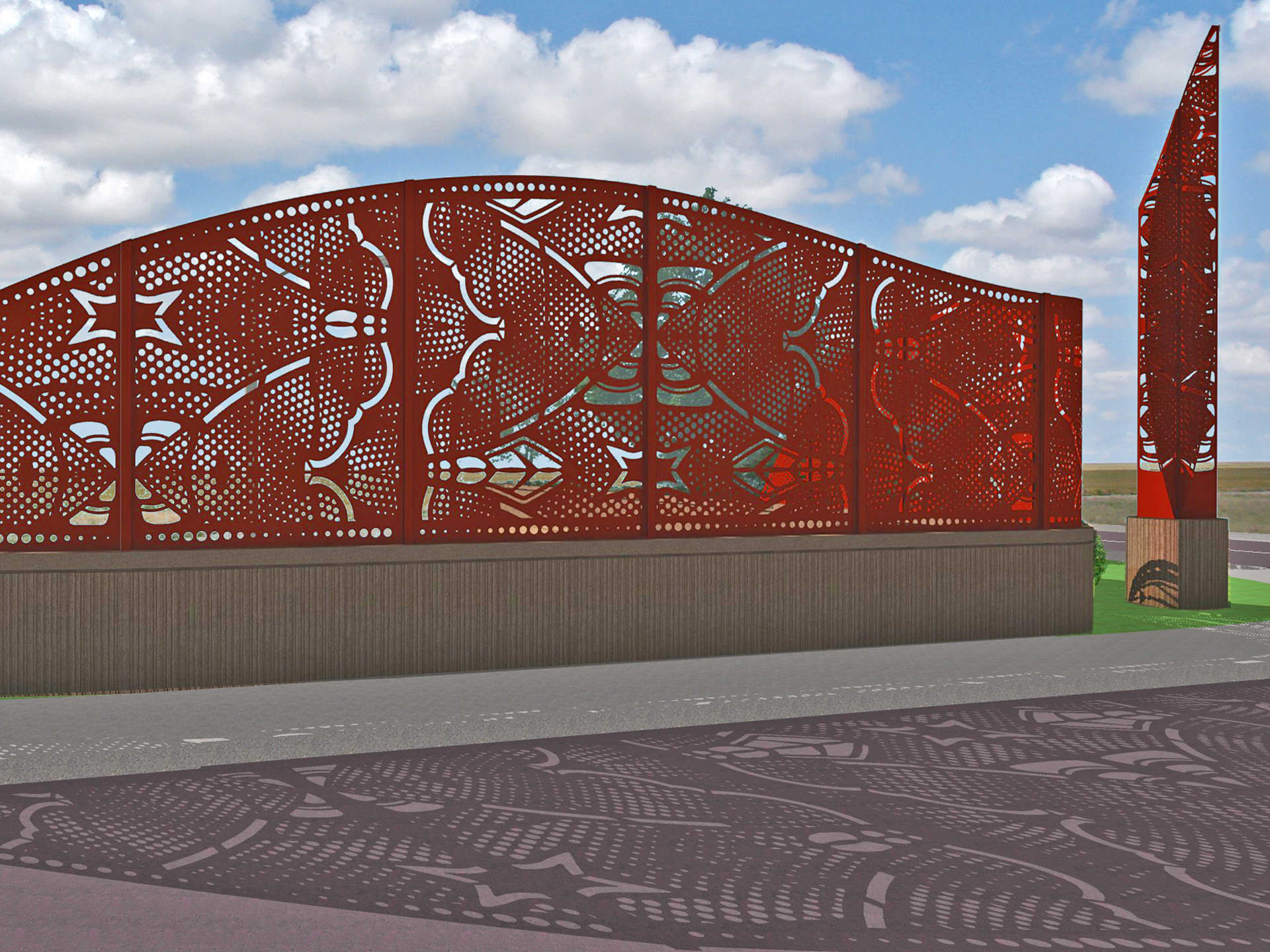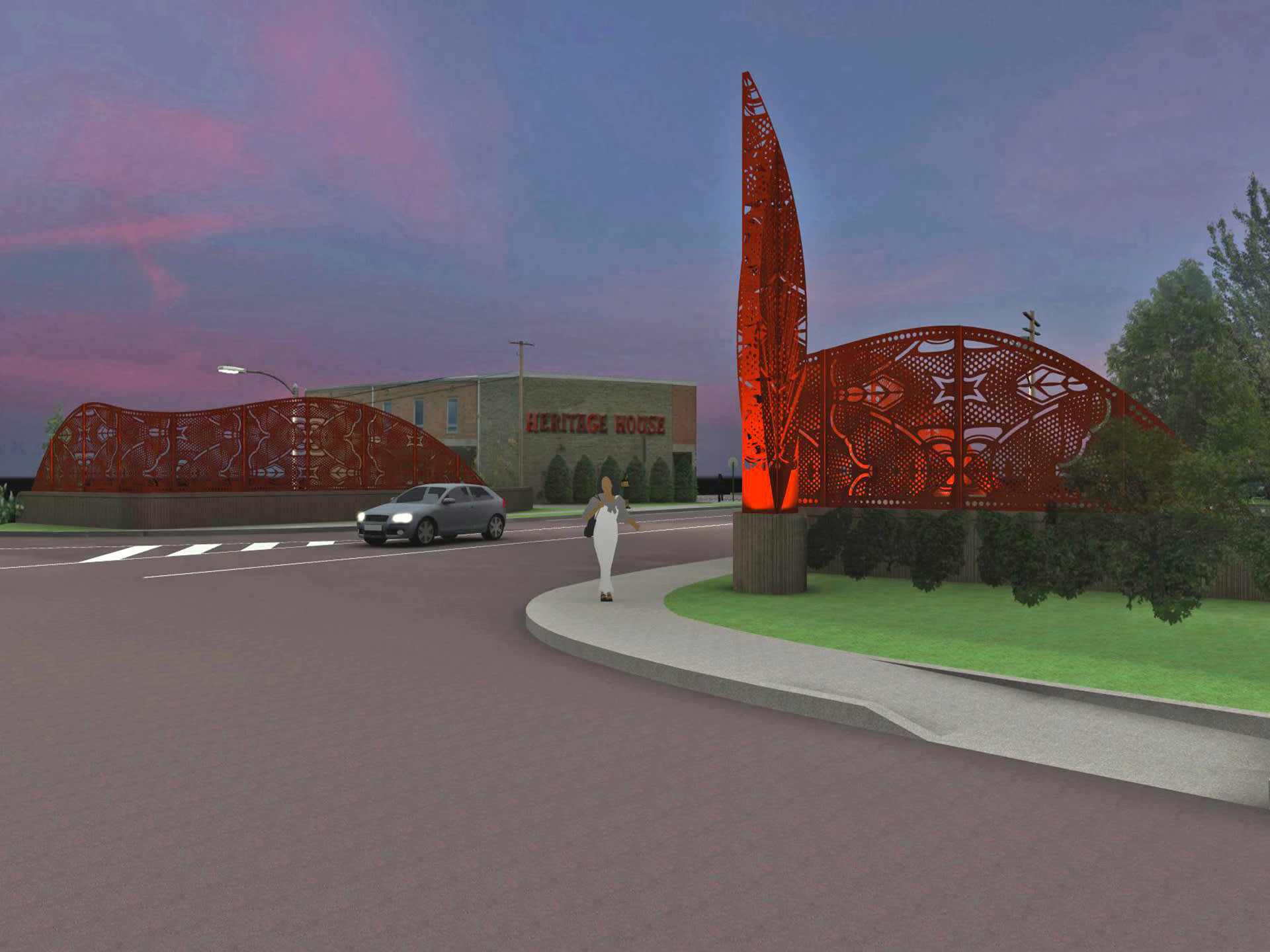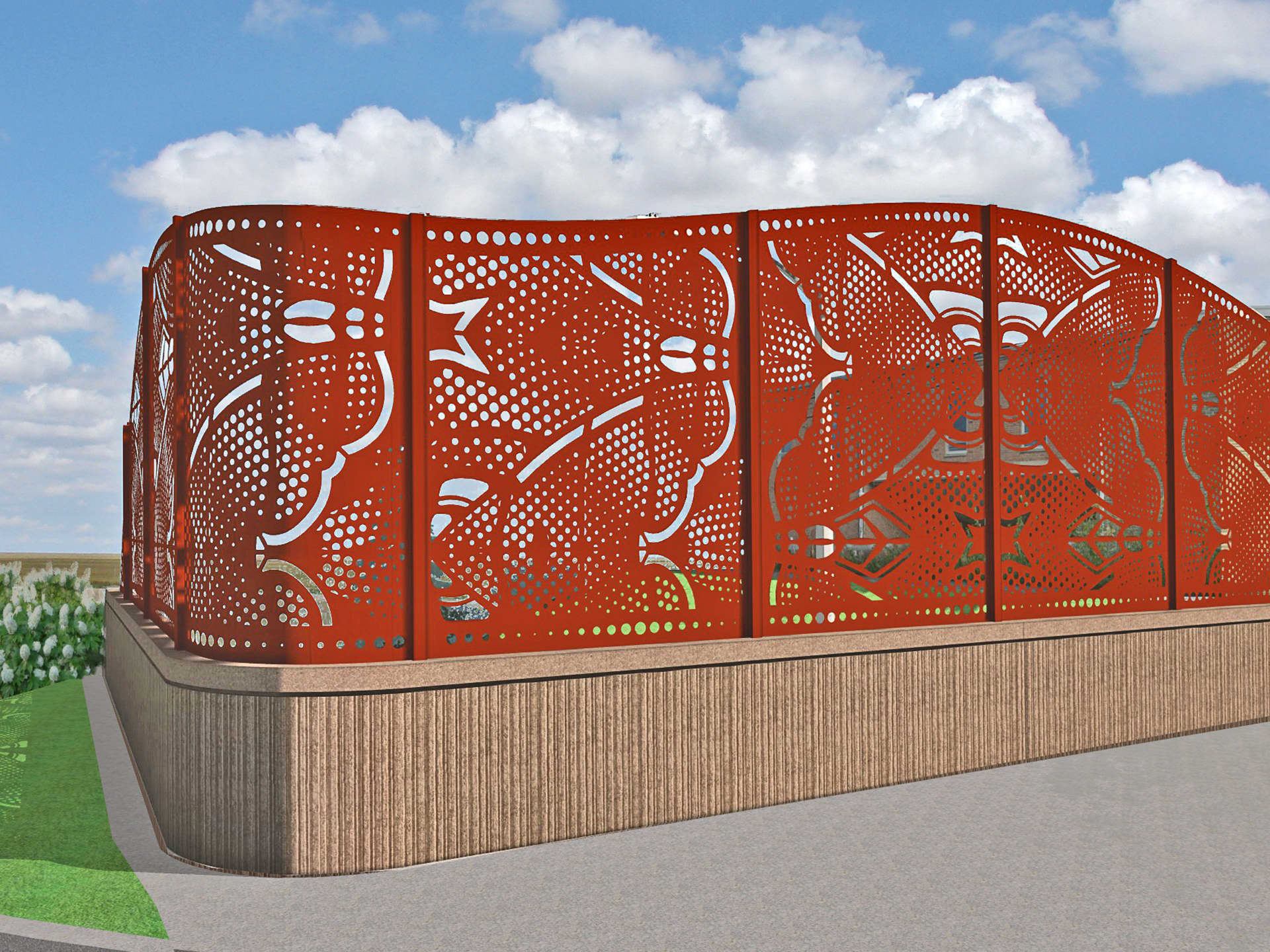 Project
Client: City of Kettering, Parks, Recreation, and Cultural Arts Department
Location: Kettering, United States
Completion date: 2019
Artwork budget: $250,000
Project Team
Artist
Vicki Scuri
Vicki Scuri SiteWorks
Client
Shayna McConville
Division Manager of Cultural Arts, City of Kettering
Client
Steven Butler
IBI Group
Overview
This Gateway Project is located near Dayton History Museum and its Archive, in a key location marking the entry to Kettering and the exit to Dayton. Kettering shares a rich history with Dayton, inspired by innovation, nature and culture. Dayton's historic trolley line once traveled along this site. Also, a satellite branch of National Cash Register, once stood nearby. Metaphorically, the Artwork is a symbolic fence and tower, responding to nearby Ginkgo trees, Art Deco patterning of the historic trollies, and Art Nouveau graphics of NCR's historic cash registers, now proudly displayed at the Museum.
Goals
The goal of this project is to provide a new community landmark for Kettering, proudly announcing one's arrival and departure of the City by transforming this infrastructure into a City Gateway. The bridge, located over the Dixie Highway at Schantz Avenue is very well traveled, by visitors and residents alike. A goal of this project is to engage the community in conversation about their current identity and how to best express who they are. Kettering has a rich history, with many prominent figures, like Charles Kettering, the city's namesake, who was an inspired inventor and entrepreneur. Now, Kettering is reexamining and expanding its identity, and redefining the City in terms of its new growth and great potential. The goal of this project is to provide a demonstration project for future expansion and growth in infrastructure, that considers cultural values and community awareness in tandem with connectivity, mobility, and entrepreneurial spirit. This is one of Kettering's first infrastructure projects, intersecting Art with infrastructure, environment and culture. Our goal is to create an outstanding project for the City and the people of Kettering, that serves both vehicular traffic and pedestrians, providing ease of movement, safety and beauty.
Process
Our team of engineers, city officials, stakeholders, and a public artist, is closely collaborating on means, methods and budgets to integrate Art into the project on the scale of the City, transforming the infrastructure into a gateway. This is Kettering's first big municipal multidisciplinary project that involves humanizing security fencing, retaining walls, abutments, lighting, and landscaping, creating a holistic statement about place, culture and people. This project includes close coordination with local and federal authorities to meet all codes required for federal highways, including limiting the hole size of security screens. The project is challenging and dynamic, with a talented group of people at the helm who aspire to work together to realize good work and a better product for the City and its people. The collaboration is ongoing, through design, fabrication and construction. The Artist will lead the aesthetics and contextual design for the team. She will coordinate closely with the City and the Arts Commission, as well as stakeholders on the project, in order to realize the best work for this community and region. The project is currently in design. It will be completed by December 2019.