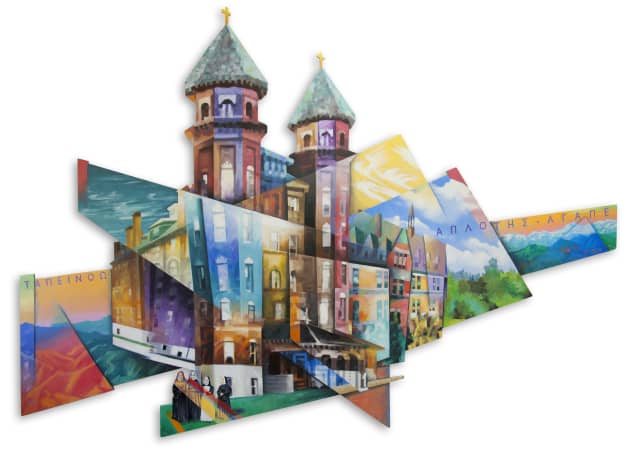 Photo: John Boak
Photo: John Boak
Client: Exempla Saint Joseph Hospital
Location: Denver, CO, United States
Completion date: 2014
Artwork budget: $15,000
Project Team
Art Consultant
Molly Casey
Nine Dot Arts
Overview
The project specified artwork to be placed behind the reception desk of the hospital's new building. The space allotted was approximately eight feet wide with limited space vertically. The size we agreed upon was 70"x96".
Goals
The art program projects a healing and spiritually nurturing experience reflecting the safe and caring environment the hospital. The artwork also engages the internal and external communities that Exempla Saint Joseph has served as a faith-based hospital in Denver since 1873.

For my proposed painting I chose to use an earlier building, created in the late 19th century, to symbolize the presence of the hospital in the community. I also included elements of distant and close landscape. And I included Sisters, symbolic of the four Sisters of Charity of Leavenworth Kansas who came out to Denver in 1873 and create this Hospital, which they still own. I composed the image with a cubist-derived drawing system to suggest the ways that history, memory and community are a multi-layered creation.

The painting was also designed on an irregularly-shaped substrate in order to meet make the piece "uplifting, warm, inviting" and thus serve "way-finding," as requested in the RFP.
Process
I was chosen for this project on the basis of my elaborate visual proposal for the painting. Meeting with principals in the art selection process, I experienced enthusiasm for the image, and several useful suggestions. One was that I make the piece even more colorful, as I had in some completed and similar paintings that I showed as samples. Useful suggestions were also made about the included Sisters in the foreground. The Sisters themselves gave me access to their library's archive of imagery.
Additional Information
This painting is to be installed in October of 2014. The building opens in December of 2014.