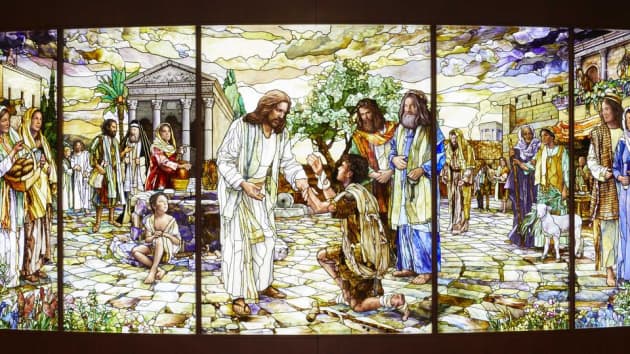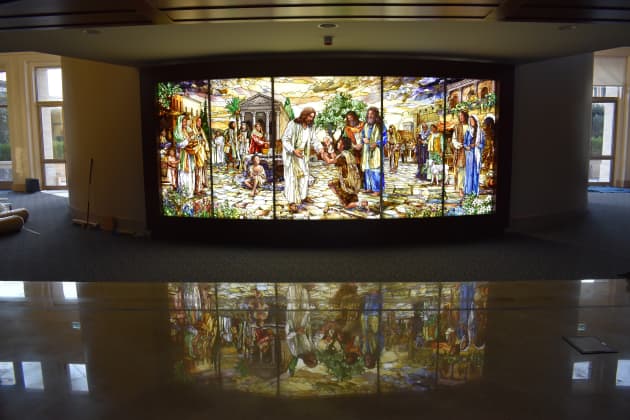 Photo: Tom Holdman
Client: Roots of Humanity Foundation
Location: Rome, Italy
Completion date: 2018
Artwork budget: $800,000
Project Team
Artist
Tom Holdman
Holdman Studios
Artist
Aaron Yorgeson
Holdman Studios
Overview
A stained-glass window that was 20 months in the making includes painted people, buildings, birds and many other objects in a New Testament scene. The window stands seven feet tall and is 19 feet long and is curved (convex) as you look at it. It contains over 110 parables and stories from the New Testament. Done for the Roots of Humanity Foundation, it was then donated to the Church of Jesus Christ of Latter-day Saints for their Visitors Center in Rome, Italy
Goals
To design and create a beautiful piece of art that can also be used as a teaching tool.
Process
The original concept started out as a single event scene from the New Testament. It grew in complexity, scope and size over the 20 months. There were over 40 people that worked on this piece with Tom Holdman leading the design and art. As the need to expand the size, the stories to fill the window led the way.
Additional Information
This is a spectacular window. The beauty and stories go so well together.