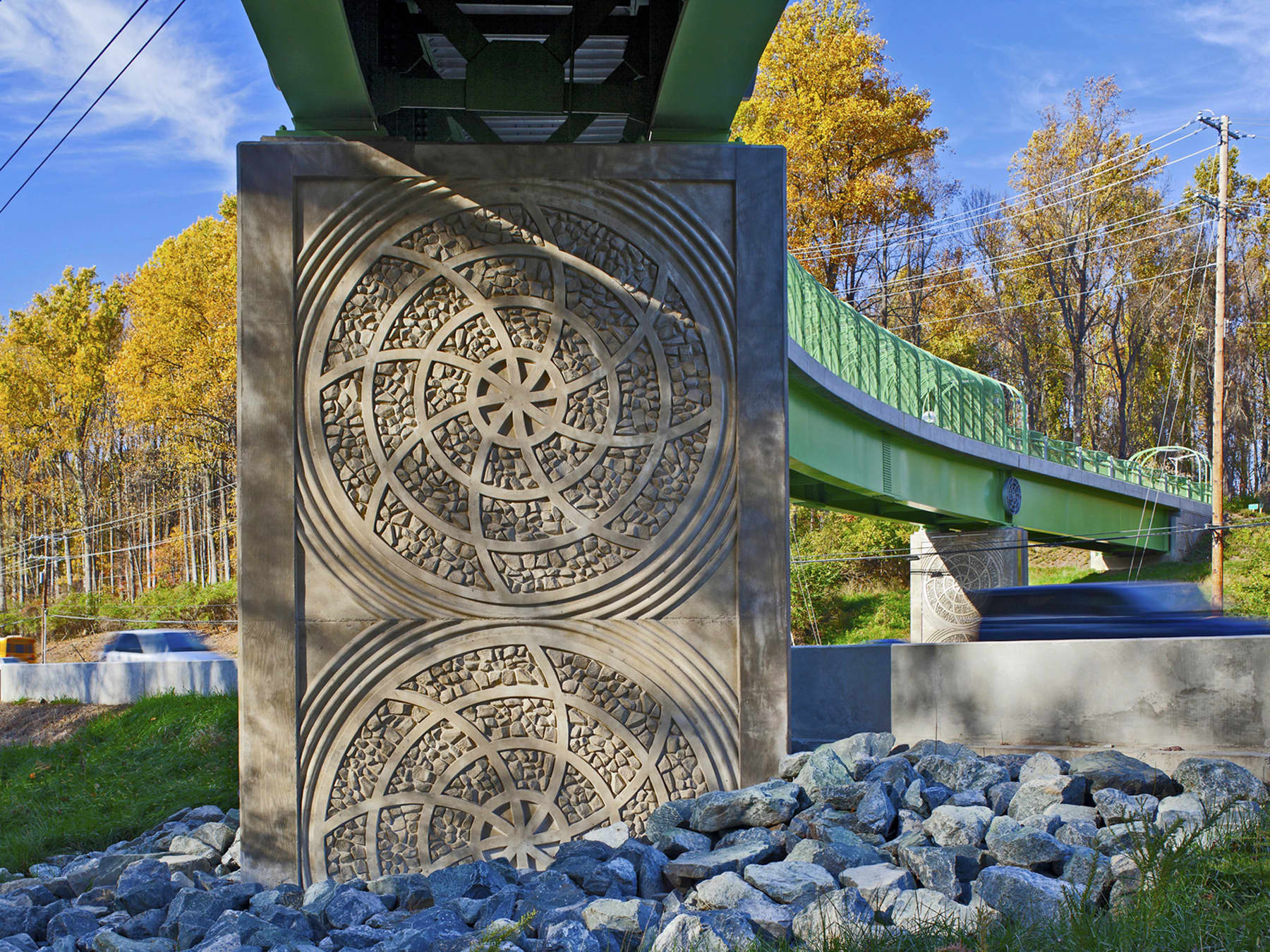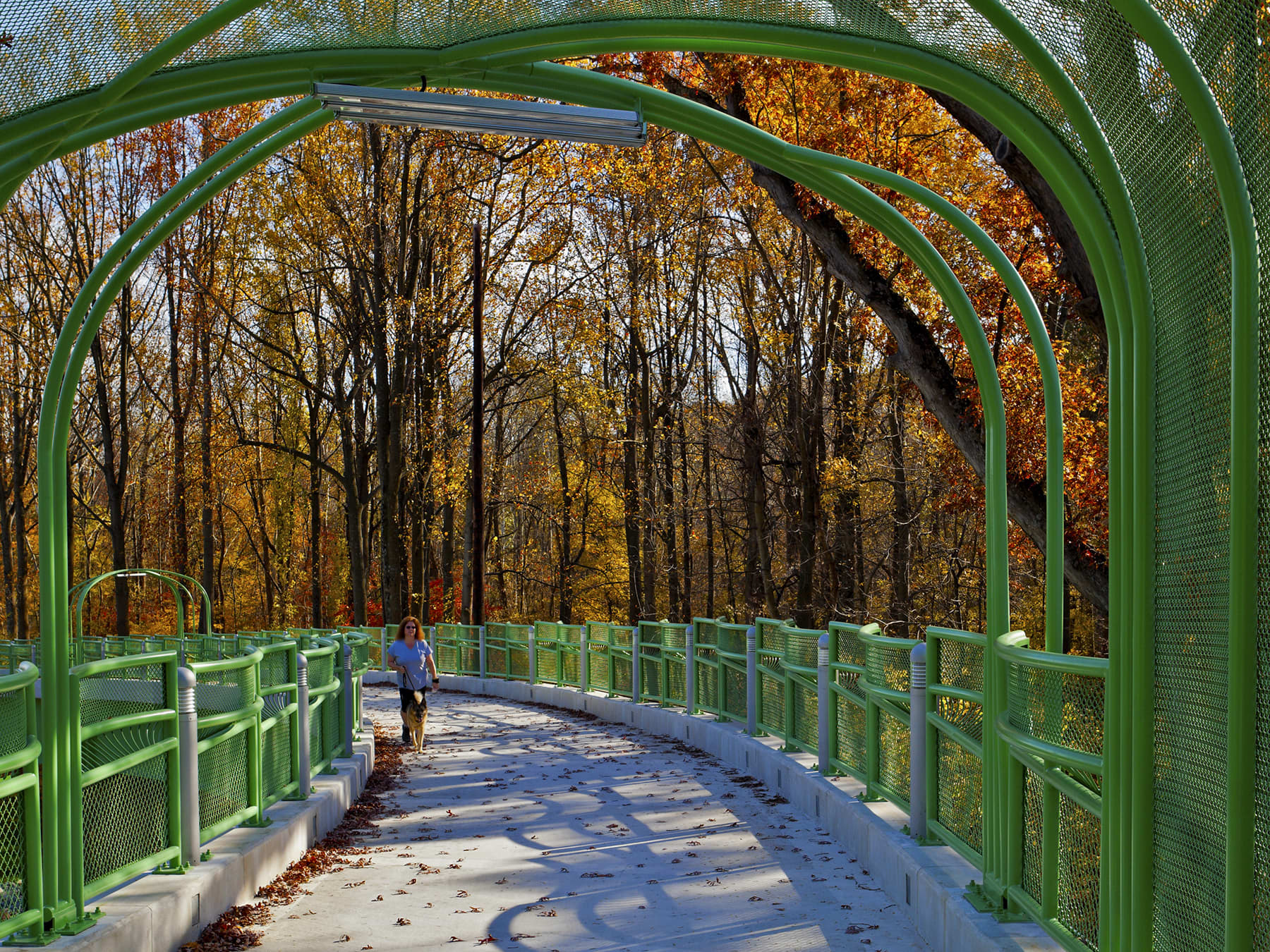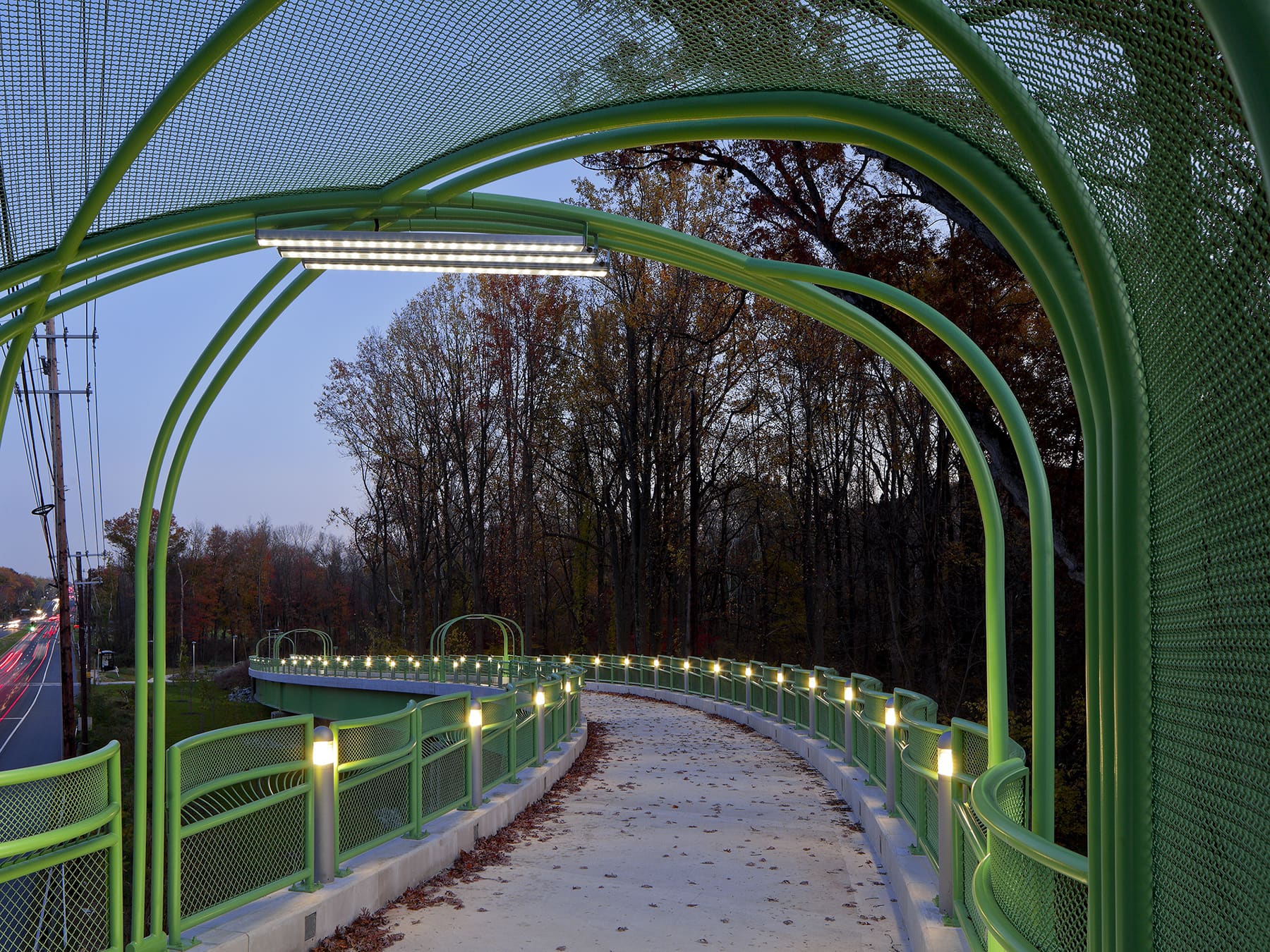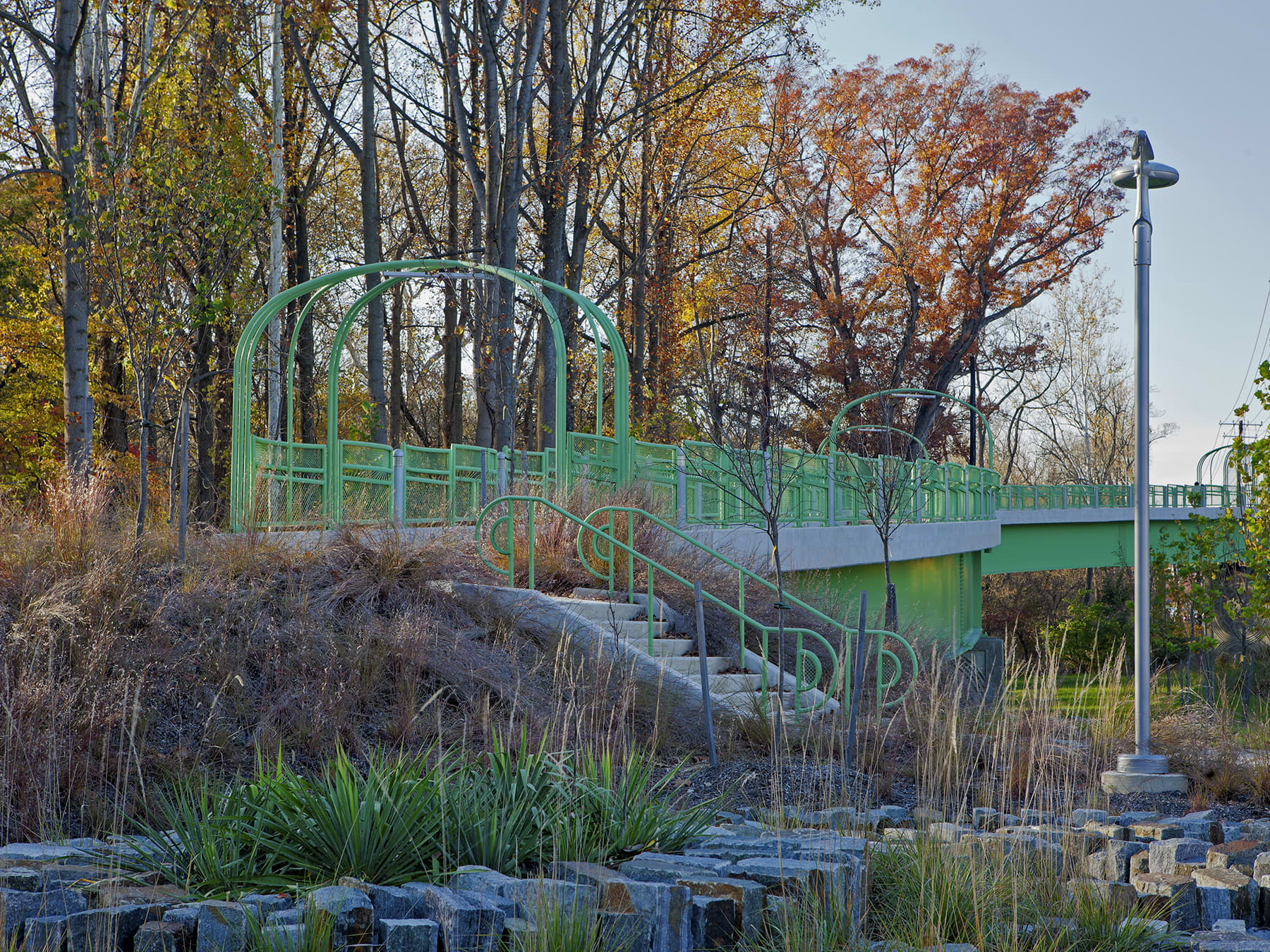 Project
Client: Montgomery County Parks
Location: Aspen Hill, MD, United States
Completion date: 2011
Artwork budget: $600,000
Project Team
Artist
Vicki Scuri
Vicki Scuri SiteWorks
Client
Patricia McManus
Montgomery County Parks
Art Consultant
Michele Cohen
Montgomery County Arts & Humanities Council
Overview
Rock Creek Trail Bridge provides opportunity for safe passage and for symbolic connection with Montgomery County's historic landscape: the era of watermills. It connects trails and neighborhoods with county parks and open spaces crossing heavily traveled Veirs Mill Road. The design is inspired by historic Cabin John footbridge and the 41 water mills that once lined Rock Creek, including Veirs Mill. The artwork is integral, carrying watermill imagery through a number of forms; planters, concrete piers and fencing designs, introducing native plant restoration and modular geometry that enhances the experience of passage creating a celebratory landmark for the community.
Goals
Integration of aesthetics and landscape are at the core of this project. Every aspect of the site and the structure and site was considered part of the aesthetic palette. The design team process was collaborative on all levels. The modular geometry of the bridge cage is inspired by the Cabin John footbridge, a local landmark of the watermill era, that featured as series of crisscrossing overhead pipe structures similar to our portals and pipe structures. These forms, combined with wire mesh create evocative shadow gardens throughout the day and season. Water imagery translates into shadow patterns creating context with nearby Rock Creek. A waterwheel planter marks the entry to the project from Veirs Mill Road. This planter recalls the rock foundations of the original Veir's home that stood nearby. The bridge sits on the edge of Aspen Hills Park and woodlands, crossing heavily trafficked Veirs Mill Road. The restored landscape, planted with native plants, softens the site and blends with the surround of the nearby woods. From Veirs Mill Road, the bridge can be seen from a great distance creating a local landmark. At night the bridge is illuminated providing a safe and welcoming passage.
Process
The collaborative process between the artist, the engineers and the landscape architects was very communicative and close throughout the design process and construction process. All elements were addressed as collaborative: pedestrian circulation, fencing, railing, walkways, lighting and landscape. The artist was the design lead for aesthetics and concept. The design team worked very closely with the artist to realize the full intent of the design. As a team, all aspects of form, structure, aesthetics and landscape were considered integral to the success of the overall work. As the project was constructed by low bid, through Montgomery County Parks, the bridge design and all aesthetics were highly specified through Special Provisions and performance specifications. The artist worked with the successful formliner fabricator to create the custom millstone patterned formliners for this project. The artist and the design team reviewed a series of mock-ups and submittals for all custom work throughout the construction process. The overall result illustrates the tight coordination among all disciplines. Overall, this is one of my most collaborative projects and it is one of my most successful holistic works.