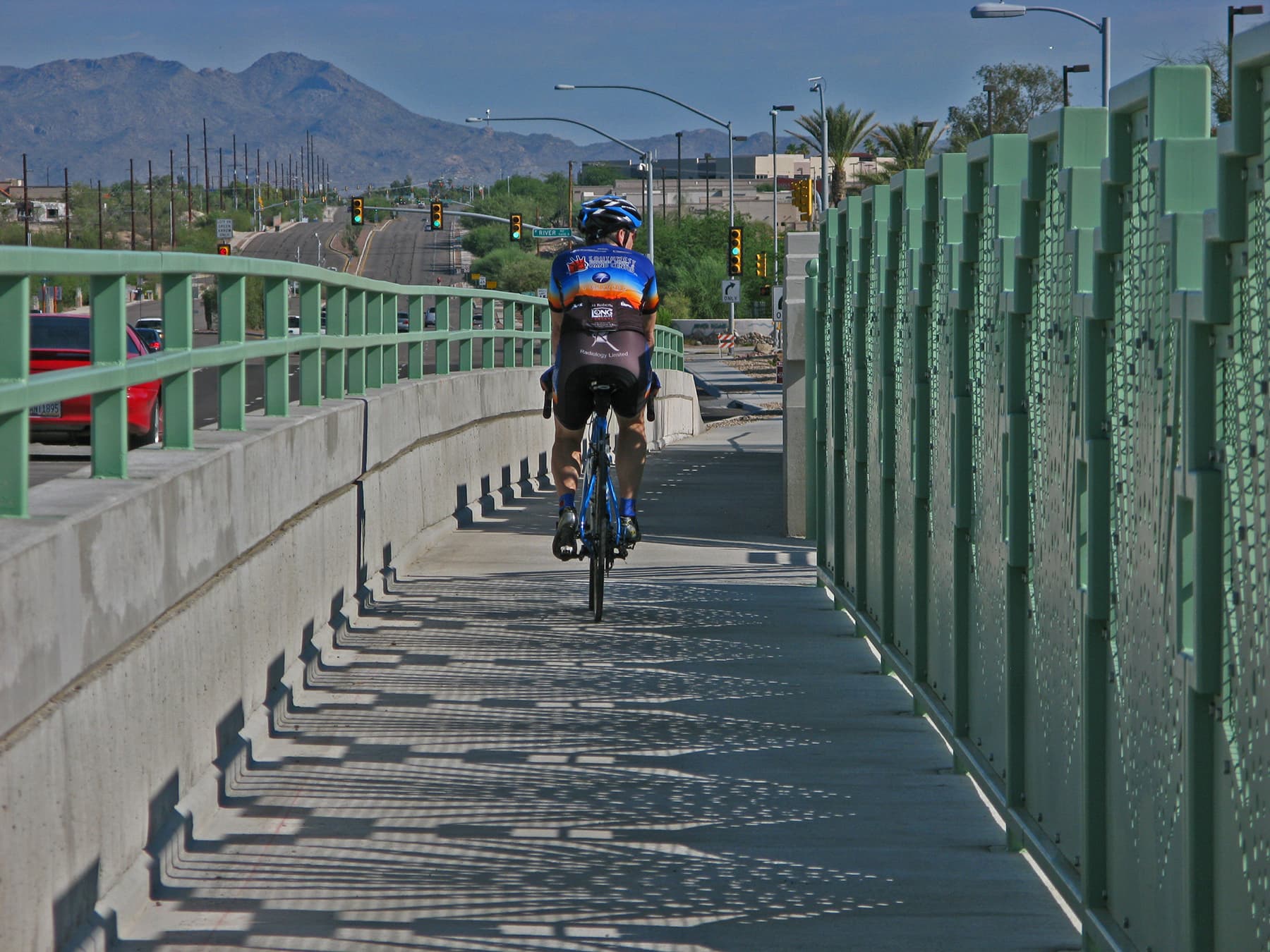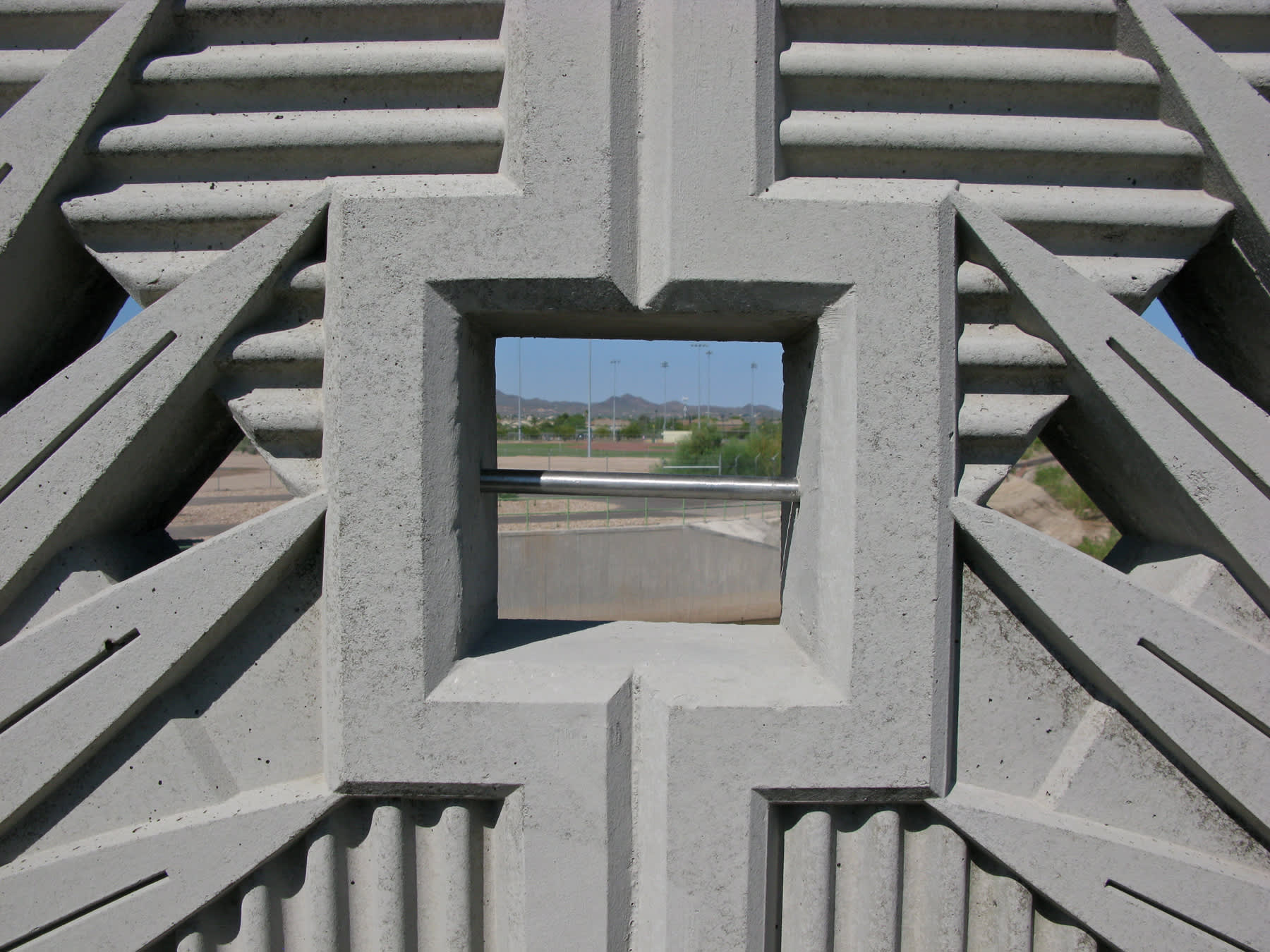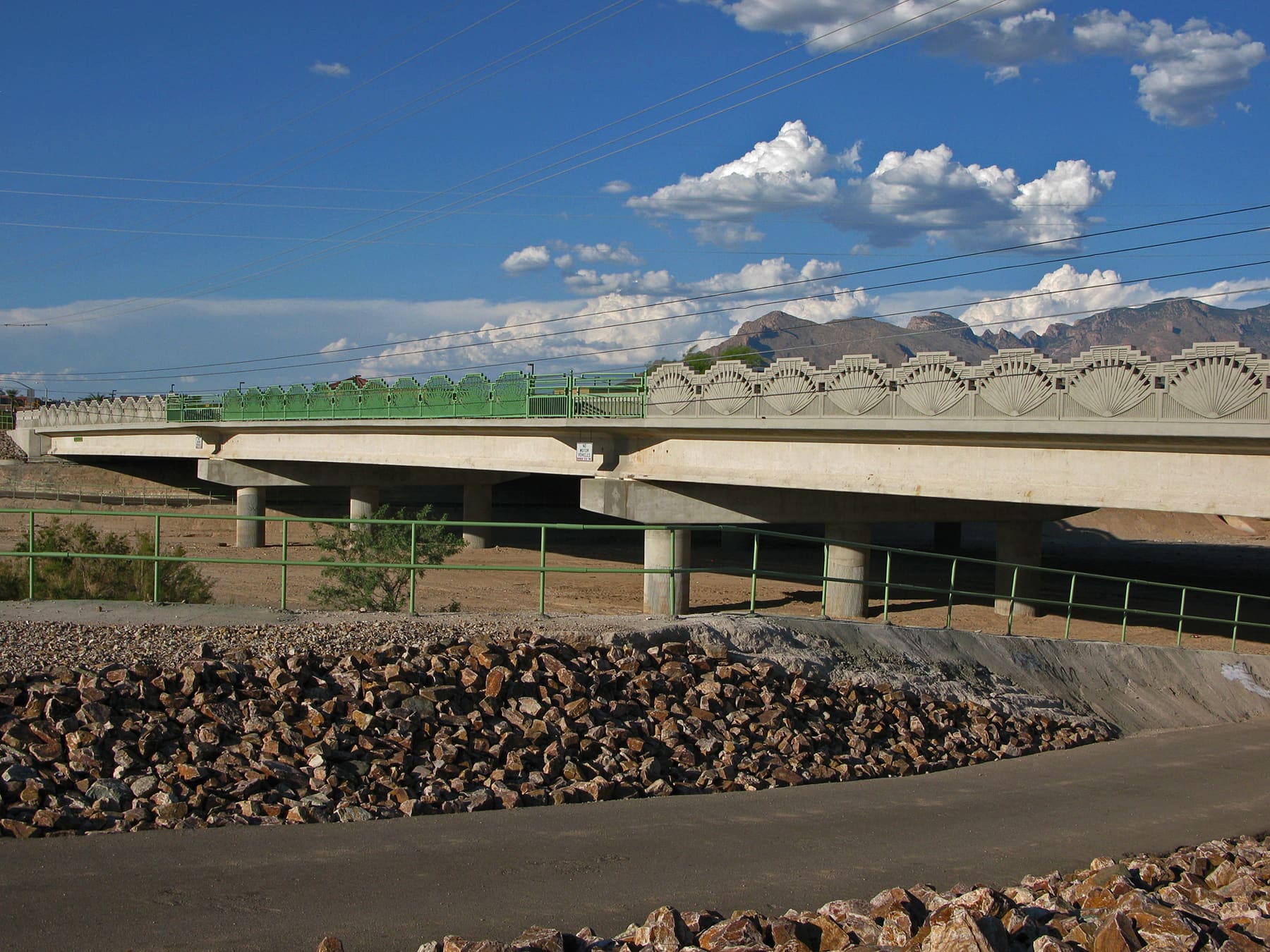 Project
Client: Pima County
Location: Tucson, United States
Completion date: 2011
Artwork budget: $125,000
Project Team
Architect
Ted Buell, Engineer
HDR Engineers
Artist
Vicki Scuri
Vicki Scuri Siteworks
Architect
Mark Spitzer
Mark Spitzer Designs
Overview
The project includes a 400' long roadway bridge spanning the Rillito River Wash. Stair-stepped shapes found on local buildings paired with the agave cactus forms create a wave motion on the bridge. The agave, viewed as a symbol of the natural environment and human intervention in the environment, frames this crossing. Balconies provide viewing platforms over the river wash. An arch of windows perforates stair-stepped agave-shaped concrete panels dramatizing light and restricted view. For the driver the concrete panels signal the landmark providing opacity and verticality. Between balconies the panels are stair-stepped agave-shaped transparent mesh framing the full view.
Goals
The goals for integrating the artwork into the bridge were to create a community landmark, provide pedestrian scale, add local context and extend the art budget by fully integrating the artwork into the functional forms of the bridge railings and piers. This project has a relatively small budget for a roadway bridge. Our team and the client determined that we would get the most aesthetic impact by merging budgets and efforts with shared vision. Collaboration is a hallmark of my work. Our design is very cost effective because it uses design sequences that are strengthened through repetition. The integration of the artwork into the functional forms of the bridge allowed us to promote pedestrian scale while creating a community landmark that is visible from River Road. If the artwork panels were not on the bridge, the driver would not realize the crossing of the Rillito River Wash. Also, the combination of agave-shaped concrete panels and agave-shaped mesh panels, allowed us to frame and focus views for both drivers and pedestrians. The movement of the sun throughout the day, in combination with the agave-shaped forms in varying materials, creates evocative shadows across the pedestrian walkway.
Process
The collaborative process between the artist and the design team was extremely close throughout the design and construction phases for this project. The artist worked very closely with the engineering team to realize the design from conceptualization through final design and construction. One of the challenges was introducing an arc of windows into the agave-shaped-concrete panels. These panels are poured-in-place, so the team took extra precautions to assure the design would work by specifying self-consolidating concrete. As a team we tightly specified the custom designs through special provisions and contract documents. We developed performance specifications and mock-ups that allowed us to monitor the artwork's development throughout the construction process. We closely monitored the fabrication of the agave-shaped fencing, agave-shaped concrete panels and the formliner development. All of the work was fabricated through the low bid process that is typical for highway work. All in all, we find the work very successful because of our shared intentions and close communication throughout the project.