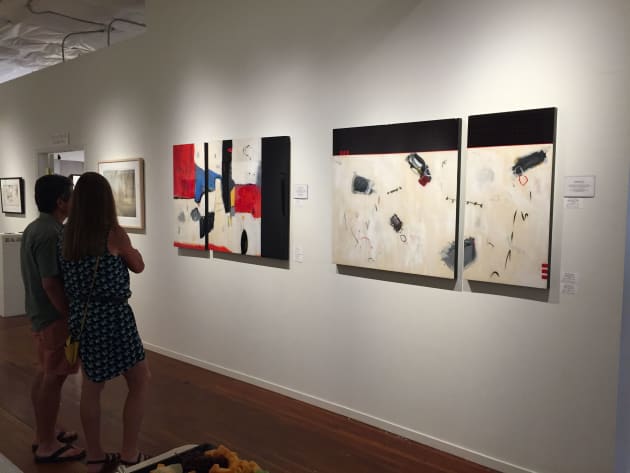 Photo: Artist Photo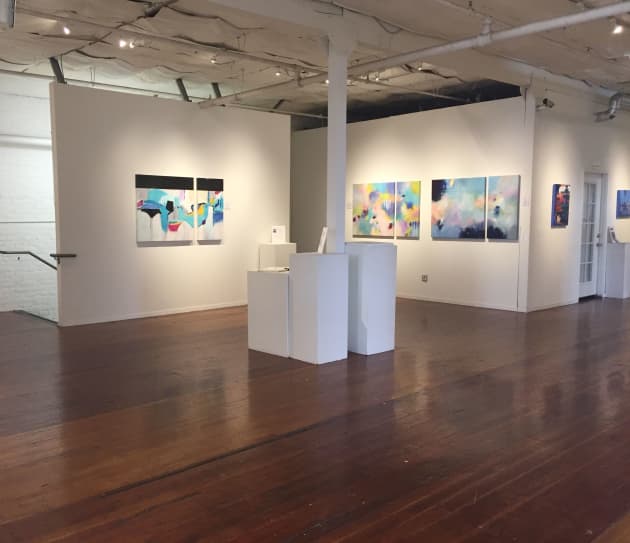 Photo: Dianne Poinski Photography
Client: Arthouse Gallery
Location: Sacramento, CA, United States
Completion date: 2016
Artwork budget: $5,000
Project Team
Artist
Michelle Andres
Michelle Andres Contemporary Art
Artist
Judy Jacobs
Judy Jacobs Art
Overview
"See It With Words" is a collaborative project between two visual artists who are both also published writers, honoring the written word in visual art. The installation was in a gallery space of approximately 275 square feet that is open to the public 7 days per week. The format featured 8 diptychs – each measuring 54×36″. The standardized size of the work created a cohesiveness to the installation and the artist's color palettes were complementary of one another. Each painting incorporated poetry, haiku or prose into the work and one artist used a resin finish to complete the artworks.
Goals
These pieces are suitable for either commercial or personal art collections. Each piece of the diptych can stand alone as a piece of artwork, though they are maximized by being together, as companions. The black band in some of the work contains haiku written by the artist along with symbolism related to the content. Other work has poetry, words and "scraffito" painted into the body of the painting. Each diptych is accompanied by a Statement of Work.This statements relays information about the thought and creation process of the artist. The statement also includes the poem or haiku in its entirety. The project was not specific to commission per say, but led to the possibilities of customized work for corporate and personal clients with words that more directly reflect their own personal tastes, experiences and tell their own stories.
Process
The artists of this project were also the designers. Several planning sessions took place before a brush was ever put to the canvas. The goal was to create an engaging experience for the viewer, so they could look at a painting, feel its impact and also experience the impact of the accompanying words and poetry. During the highly collaborative planning process details of installation were decided. These included selecting canvas and panel sizes, shapes and how they would be installed to lead to an engaging, personal experience for the viewer. When the paintings were created, they were painted by each artist separately - reflecting personal style and expression. One artist finished the paintings in resin and incorporated the words into a band of black on the panels. The other artist opted for canvas and used ethereal imagery with poetry. Because the two artists intimately know one another's work, the aesthetic was cohesive. In the end, each piece of art communicated, both visually and verbally, the experience of being human through words and visually, and because the topics were based on the human experience, it translated to viewers, as well.
Additional Information
This project garnered many questions about the possibilities of commissioning customized work. The artists feel it was successful due to the high level of engagement apparent with the viewers. It was more than a simple exhibition; it was an experience. The work also received positive reviews, from the public, design professionals and the press.