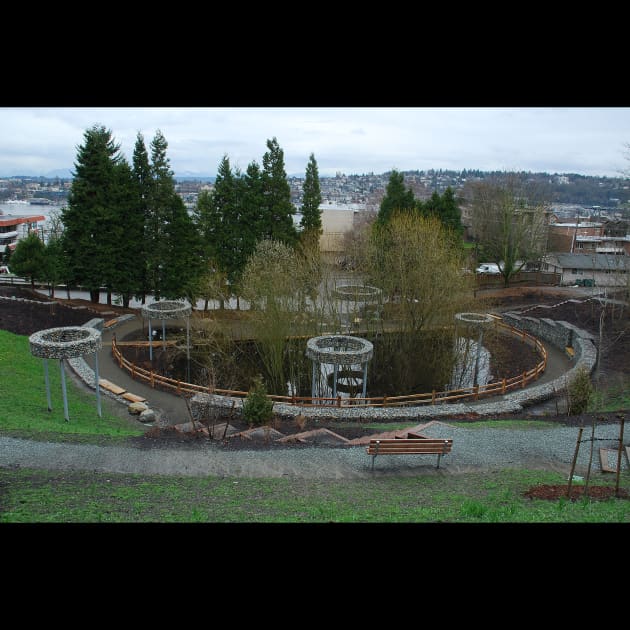 Photo: Adam Kuby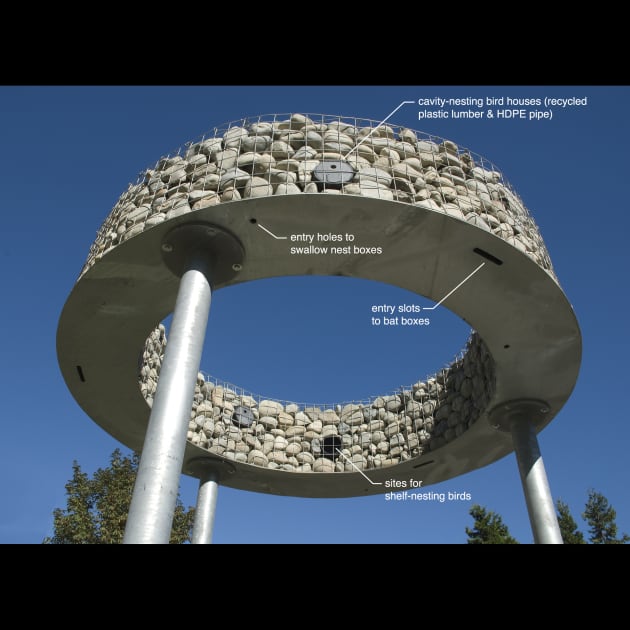 Photo: Adam Kuby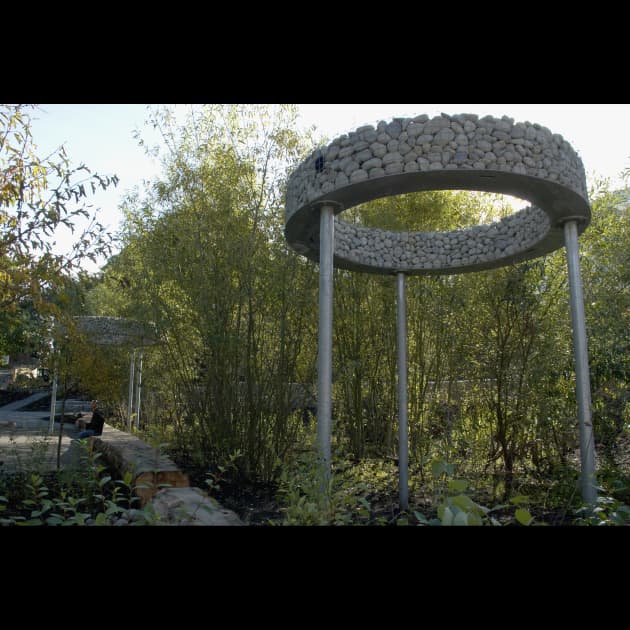 Photo: Adam Kuby
Client: Seattle Parks & Recreation
Location: Seattle, WA, United States
Completion date: 2010
Artwork budget: $110,000
Project Team
Landscape Architect
Clayton Beaudoin
Site Workshop Landscape Architects
Public Art Agent
CIty of Seattle Arts & Culture
Fabricator
Jim Schmidt
Jim Schmidt Art & Design Inc.
Overview
Five rock rings inhabit a new city park on the site of an old gravel quarry. The rings also contain a variety of bird & bat nest sites to improve wildlife habitat in and around the small wetland at the center of the park.
Goals
A cluster of 5 elevated gabion rock rings (cages filled with rocks) float above this small park's landscape of native grasses, shrubs and trees and provide bird nesting habitat to a variety of cavity-nesting birds. The rings resonate with the large gabion retaining walls that run along the base of the hillside. Together the retaining wall and the
sculptures will create a strong material language for the park.

The gabion retaining wall and sculptures also speak to the park's previous history as a gravel quarry, where rock like this was mined from the hillside. When the gravel was removed, a small wetland was formed in its place. These raised rings allude to that removal, the landscape transformation that followed, and the current effort to create a healthy urban ecosystem.

Creating Bird Habitat: Bird nesting sites are integrated into the rock rings high above the ground, keeping the birds safe from cats, dogs and other urban predators. With its Class IV wetland and newly planted native vegetation, this park should become prime bird habitat and a great place for Seattle bird-watchers. The sculpture will only enhance the park's draw for both birds and birders. I consulted with the Audubon Society to design the nest sites.
Process
I worked with Site Workshop Landscape Architects to site the sculptures on this ecologically sensitive site within their existing design for the park. I developed the design so that the art and landscape architecture flowed seamlessly together through a shared vocabulary of form and materials.

Jim Schmidt Art & Design Fabricated the steel structural elements. Foundations were poured for the 3 sculptures. The gabion rings were filled with rocks and the nesting sites, and then craned onto the steel posts.