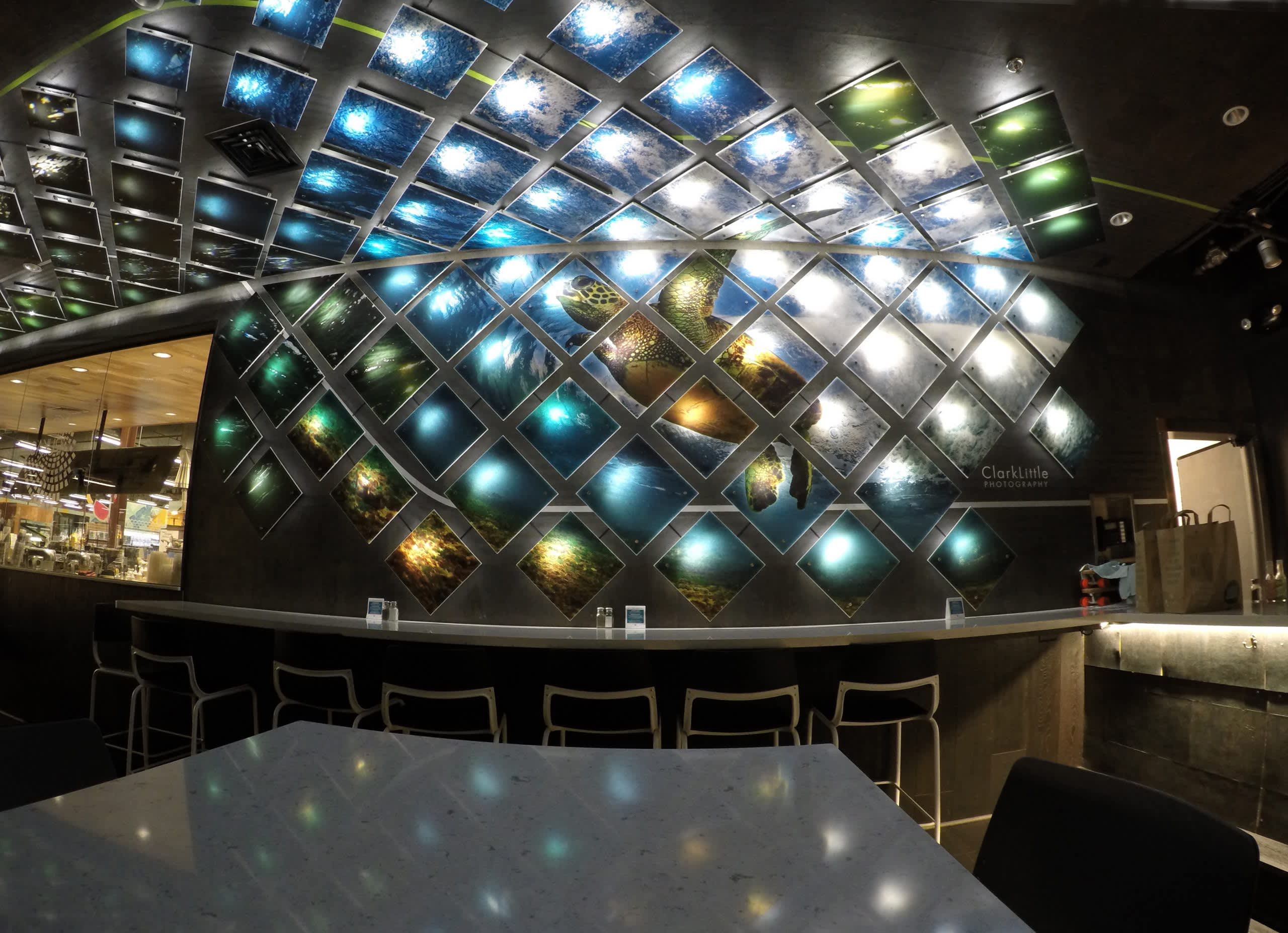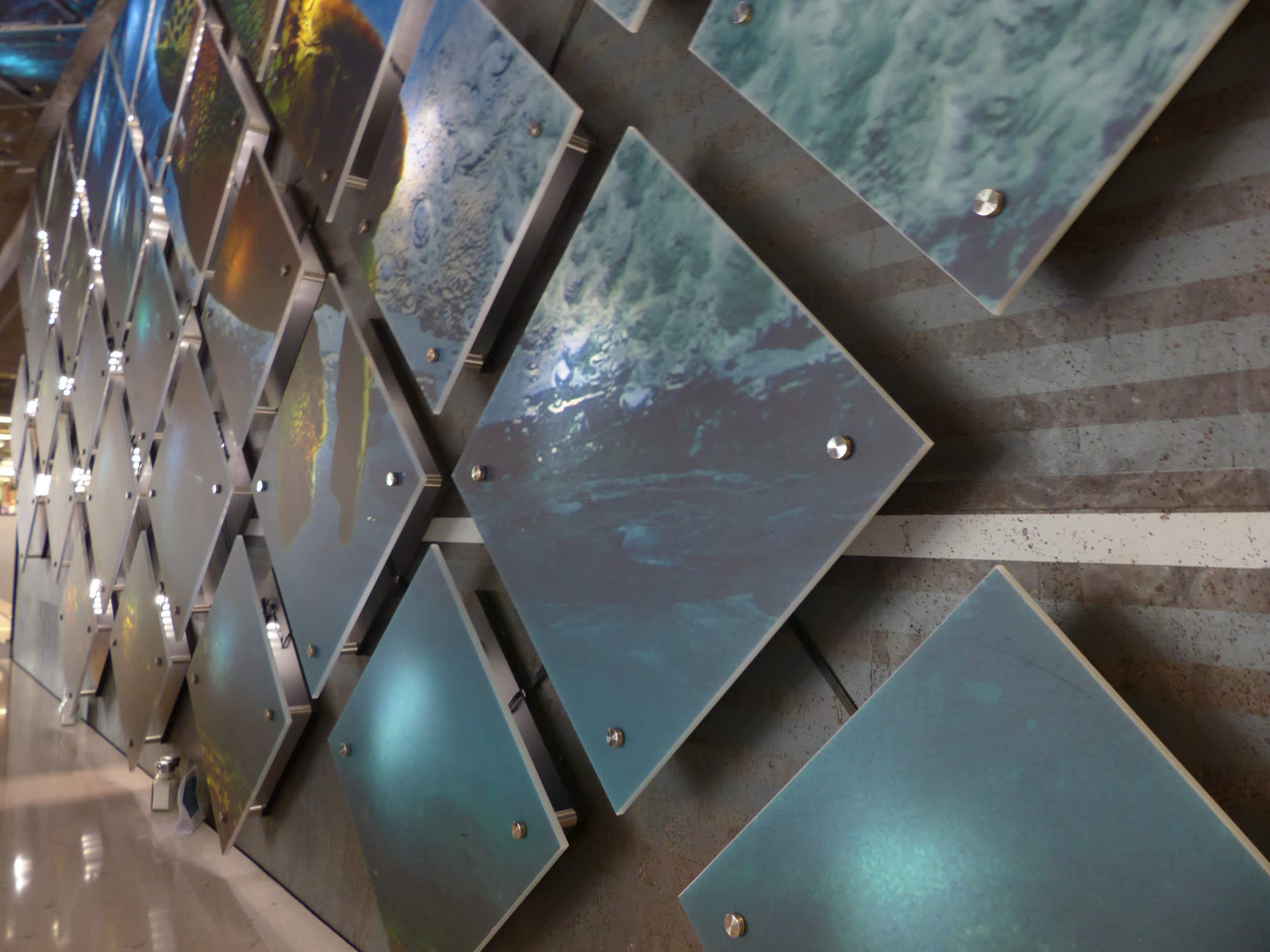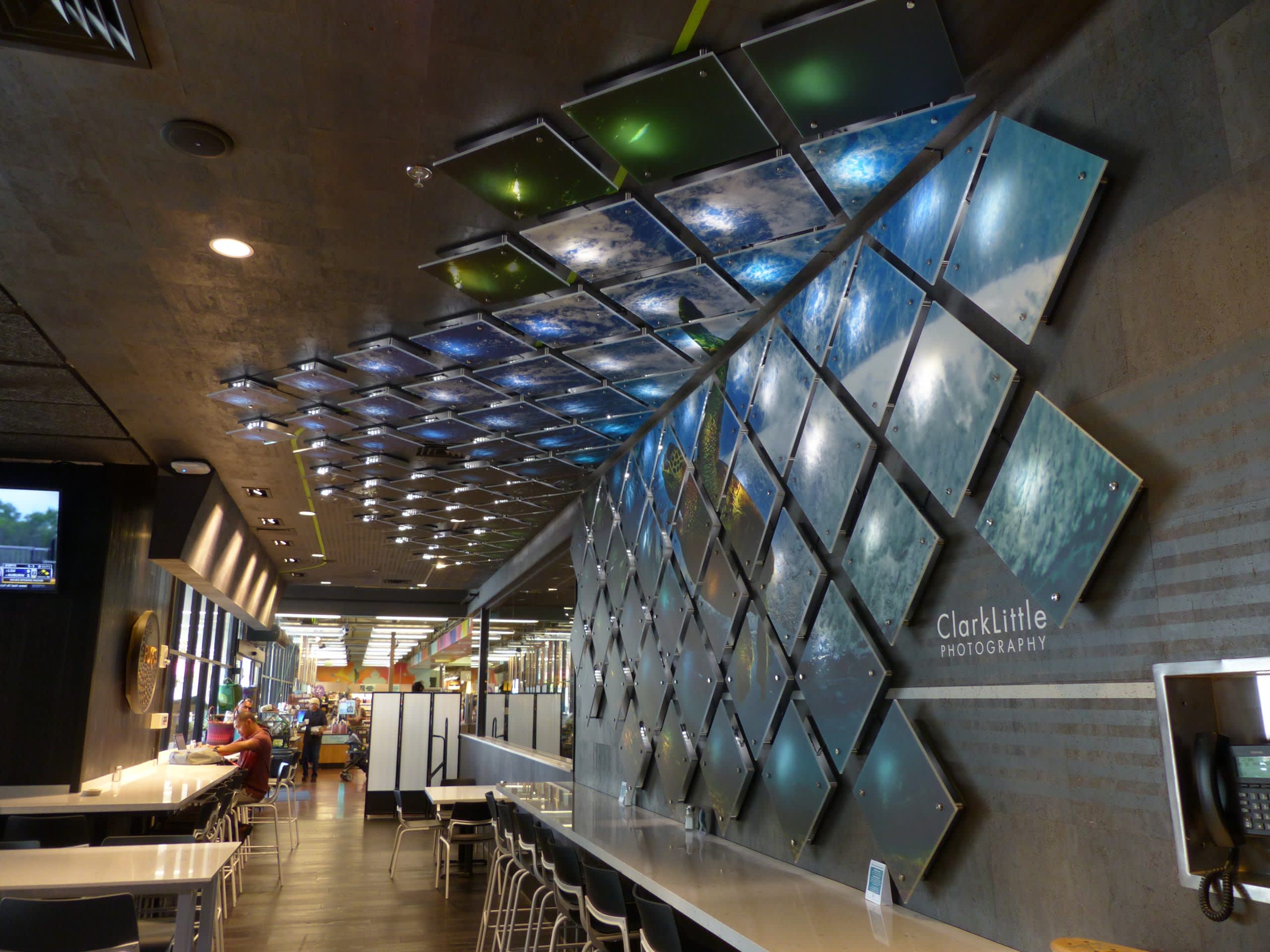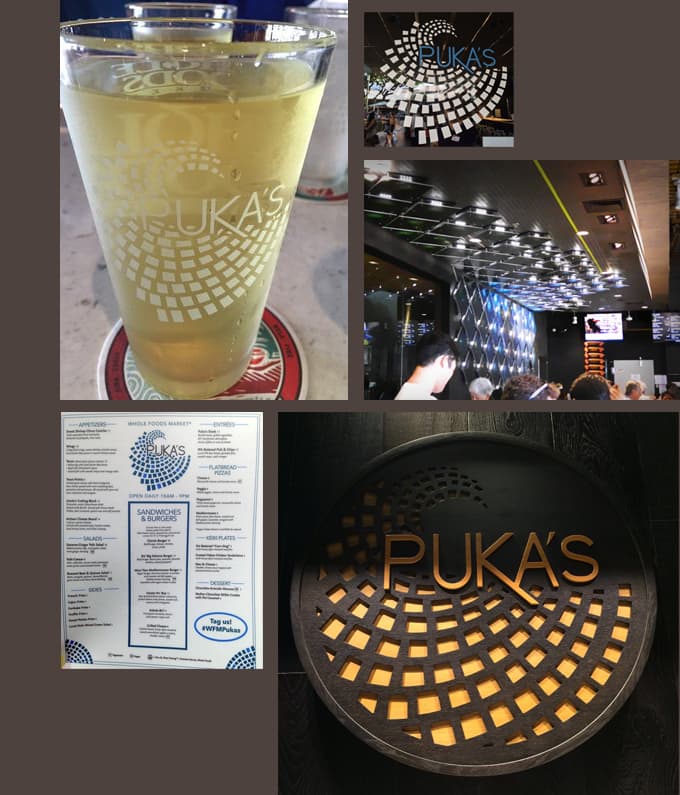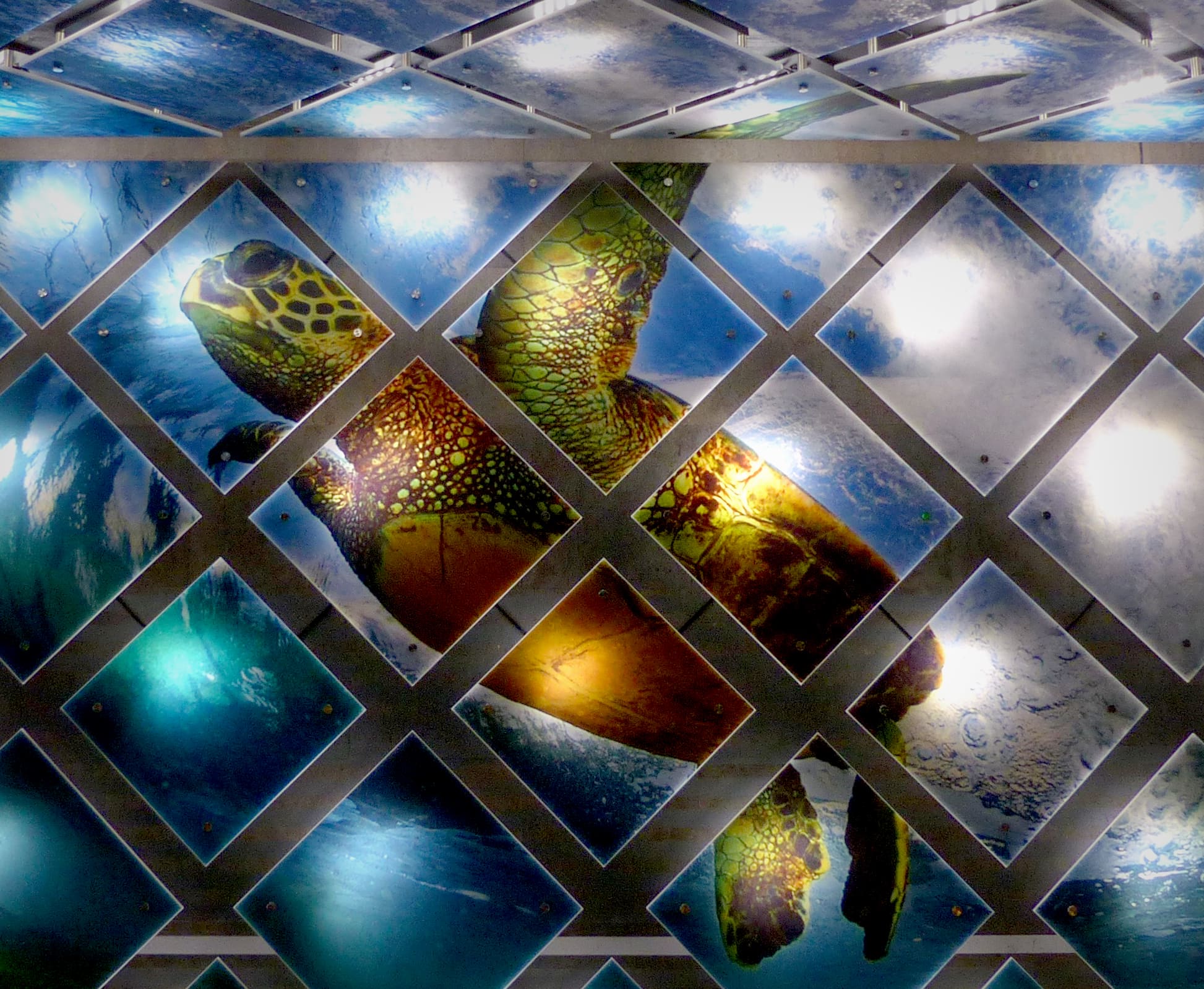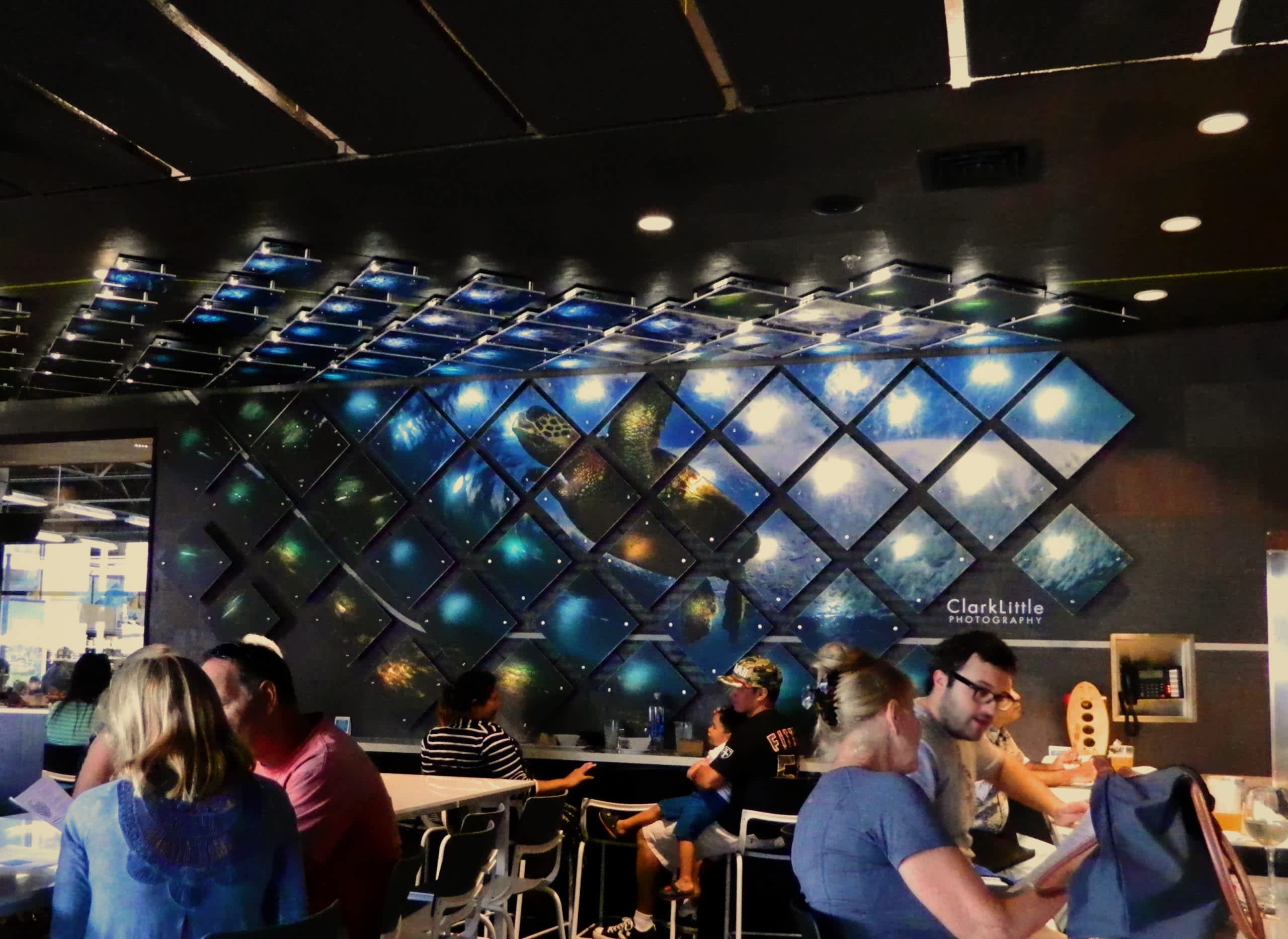 Project
Client: Whole Foods Market
Location: Kahala, United States
Completion date: 2015
Project Team
Interior Designer
Paul Geary
Whole Foods Market
Industry Resource
Nicomia
Interior Designer
Carlo Carbajal
​​​​​​​​​​Dcorum Retail Decor Design
Overview
The mural at Puka's Bar and Restaurant in Whole Foods Kahala is a lighted mosaic comprised of 125 individually backlit acrylic panels, which climb the wall and spill over the ceiling of the seating area, in the suggestion of a curling wave. The photograph is "Ocean Eagle" by world-renowned Hawaiian photographer Clark Little, showing a native Green Sea Turtle swimming behind a North Shore wave. The mural covers approximately 300 square feet of wall and ceiling.
Goals
Whole Foods Market is the anchor tenant for Kahala Mall in Honolulu, and from the beginning Puka's bar was imagined as a respite from the bright sun and hubbub of the mall. Originally the site of a tiny Cinnabon store, the space's limitations in terms of size and lighting were seized on as assets, inspiring the store and the designers to market the bar as a cozy "hole-in-the-mall." Following this idea, the lighted mural, which was originally conceived simply as a way to open up a dark alcove, began to be viewed as a way to impart a sense of hiding out in the deep, where it is cool and dark. There was also the desire to make a departure from the tropical décor that is typical of the region. The décor of the pub continues the underwater-cave theme, with dark cork walls, natural surfaces, and a dramatic color scheme that were chosen to accent the design piece. Architecture and other design elements carry the curling wave analogy.
Process
Art Director Paul Geary wanted to break up the image to add interest and further suggest the effect of fragmented light shining into the deep. Designer Carlo Carbajal developed a grid for the mosaic that would work for both the bar logo and the ceiling. They then came up with a size frequency for the diamond-shaped tiles that would continue the image and also introduce distribution changes—tighter and looser—to convey movement, turbulence. To keep individual LED lights from creating hot spots behind the panels, fabricator Nicomia engineered a system in which custom holders point lights in two directions, one through the panel, and the other at a 45-degree angle across the back of the panel, to eliminate any shadow. For the mural itself they turned to local photographer Clark Little for an ocean image containing enough texture and color variance for each panel, but which also had a central subject for focus. The "honu," or Hawaiian sea turtle, is the ideal focal point for the mural, as it is familiar throughout the islands as a symbol of wisdom and luck. To counterpoint the realism of the photograph, an illustration is stenciled onto the photo panels, wall and ceiling.