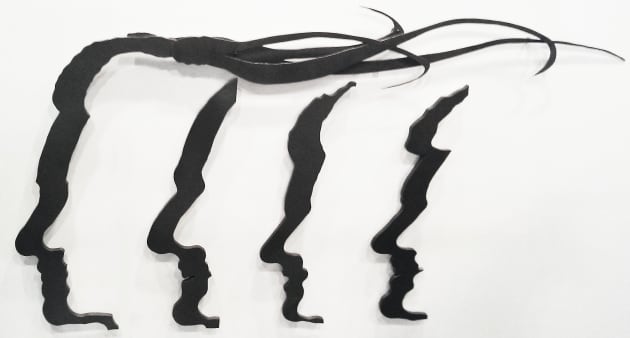 Photo: PNGray
Client: Baldassari
Location: Chicago, United States
Completion date: 2013
Artwork budget: $3,000
Project Team
Artist
Cynthia Gessele
Metal-i-Genics Studio
Overview
Calligraphic profiles are derived from concept specified by the designer from individual family photographs, and fabricated, per the client's preference, from materials such as wood, MDF, steel, etc. With a specially created color finish, profiles are mounted off the wall to create a three-dimensional effect and shadows. Custom sizes were created for the space selected. The example shown is 40 square feet for 4 profiles with extensions; each profile in the example is 4 feet high and approximately 2 feet wide.
Goals
To create an individual and unique non-representative sculptural piece of art expressing a close knit family. The piece was to fill a space along a stair case that extended 3 floors and had to be visible from the dining, living and patio areas. The integration of this specific art into the overall design of the space was critical to be cohesive with the client's current art collection and spatial design.
Process
The artist, Peter N. Gray, principal in Metal-i-Genics Studio, is a sculptor and custom fabricator in steel, bronze, wood and other materials specializing in personal projects that exceed the expectations of each client. The designer, Cynthia Gessele, owner of Enhance Design is a creative residential interior designer specializing in high end residential properties and designs some of her own furniture as well as art for specific clients. Cynthia and Peter have collaborated on several commercial and residential projects.
Additional Information
The designer wanted to show a specific relationship with the family as depicted in the project. Close interaction between designer, artist, and client was integral to the creation process. This relationship enhanced the overall outcome and resulted in an exceptionally pleased client.