Photo: XEX / XCEED
Photo: XEX / XCEED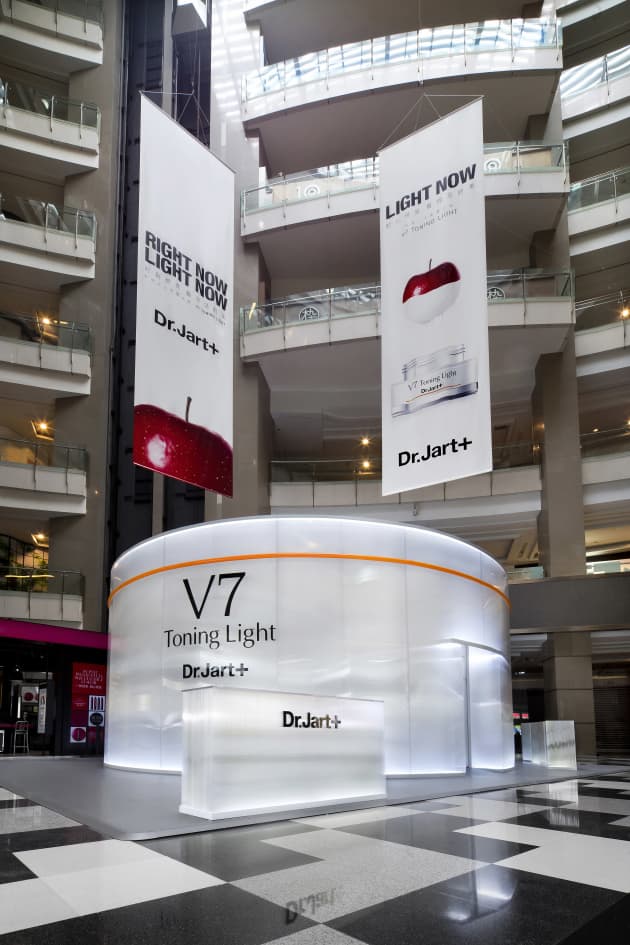 Photo: XEX / XCEED
Client: Dr.Jart
Location: Shanghai, China
Completion date: 2017
Artwork budget: $500,000
Project Team
Artist
Ellene Choi
Dr.Jart+
Public Art Agent
Alvin Lim
GPB Shanghai
Overview
Inspired by light rays travelling in diamond with brilliant cut – a form that produces phenomenal brilliance with maximized light directed through its top, Prismverse is built with a 10-meter-wide LED floor and the complex-geometrical tessellated mirrors wall. The highly illuminated interior becomes a metaphor for the instant tone-up effect of Dr.Jart skin-brightening product "V7 Toning Light". Visitors will be immersed in splendors of our mother nature, ranging from the galaxy and distant stars, rare gemstones, glistens of flowing water, and refracted light beams. These resembles the brightening, moisturizing, protective and vitalizing effects of the product once applied on skin.
Goals
To enhance its brand position in China market and to introduce its iconic skin-brightening product "V7 Toning Light", global skincare brand Dr.Jart launched "Light Now Exhibition" for the first time in Raffles City Shanghai, China and commissioned us to create an immersive art installation for experiencing. The brand aims to bring forward its product concept, "Light Now. Right Now." and the product's instant brightening, moisturizing, protective and vitalizing effects once applied on skin.

The journey to unprecedented sceneries of glimmers begins at the touch of the product centered in the space. Every mirror inside Prismverse is precisely aligned so that no matter where the visitors go, light reflections brighten up their faces. Produced by Japanese sonihouse, sophisticated omnidirectional speaker "scenery" is equipped to create a surrounding ambient soundscape, resulting in a highly immersive experience for the visitors. Visitors are expected to pace around, explore visuals and soundscapes in every corner. Prismverse is therefore immersing the visitors in an all-rounded kaleidoscopic view of sparkles, giving the visitors a new experience of light.

Prismverse's experience introduces a modern and exuberant image of the international brand Dr.Jart . It's a playground for the senses, inviting visitors to stay and discover.
Process
With just three nights, the interactive system, the LED floor and the tessellated mirror wall were fully constructed and calibrated in the Raffles City Shanghai. The swift and demanding construction as well as the highly impeccable interactive experience is believed to deserve the visitor's recognition and to bring forward the brand's vibrant and contemporary image among the China market.
Additional Information
Prismverse teaser: https://www.youtube.com/watch?v=T7R-5h_IQho Prismverse 360 immersive video (For iOS users to get the best experience of the VR 360 video, please view it in YouTube App): https://www.youtube.com/watch?v=498wnzikmqU