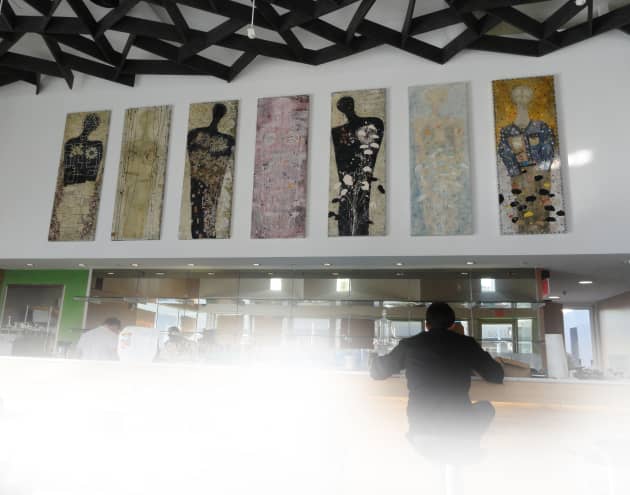 Photo: Karrie Ross

Photo: Karrie Ross

Photo: Karrie Ross

Photo: Karrie Ross
Client: Muddy Leek
Location: Culver City, CA, United States
Completion date: 2012
Artwork budget: $6,300
Project Team
Overview
Local restaurant/bar specializing in ginger drinks, and healthy foods. Opening night and for 6 months installation. Intention was to catch the attention of news and industry. The owners were well known caterers taking their expertise to the public. The location was written up in the LA Times, Thrillist, Patch, Zaggot and several culinary magazines, blogs and newspapers. Part of the cable show Roy Donovan #10 was shot in this location.
Goals
Last minute decision from the owners. The artwork series was just being finished so there was no commissioned aspect to this project. The owners saw what I was doing and related to it and we worked up an agreement for the work to be seen in their space for 6 months. The Portrait images reflect emotions more than any recognizable human, similar to eating healthy foods, is not always recognizable or immediately pretty.
Process
I pretty much was both, since there was no commission aspect there was no interior designer. The owners and myself decided upon the best solution for their needs since this was literally a rush to get installed.
Additional Information
It was very well received. I as artist was approached by several other interested parties leading to two sales and a private commission.