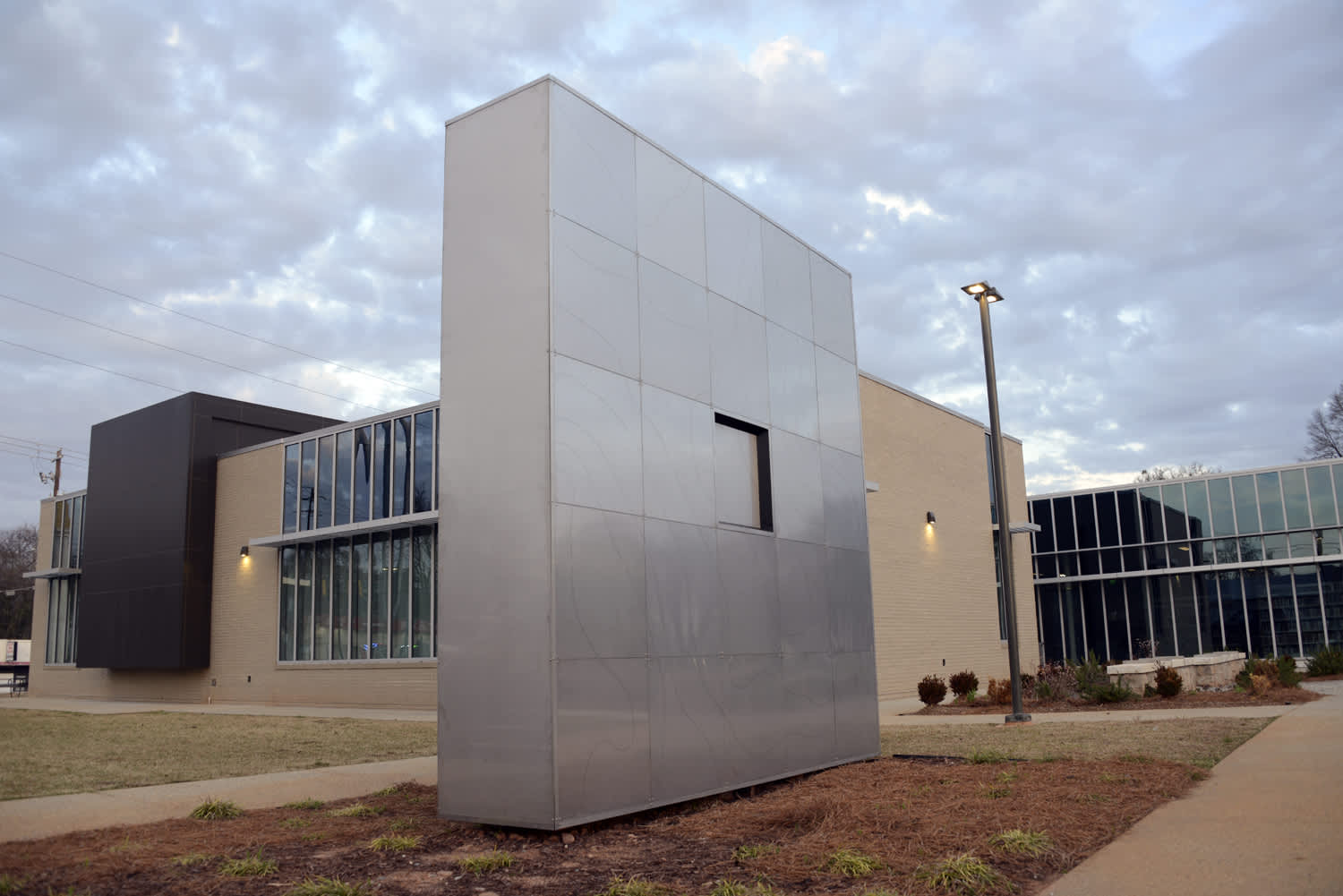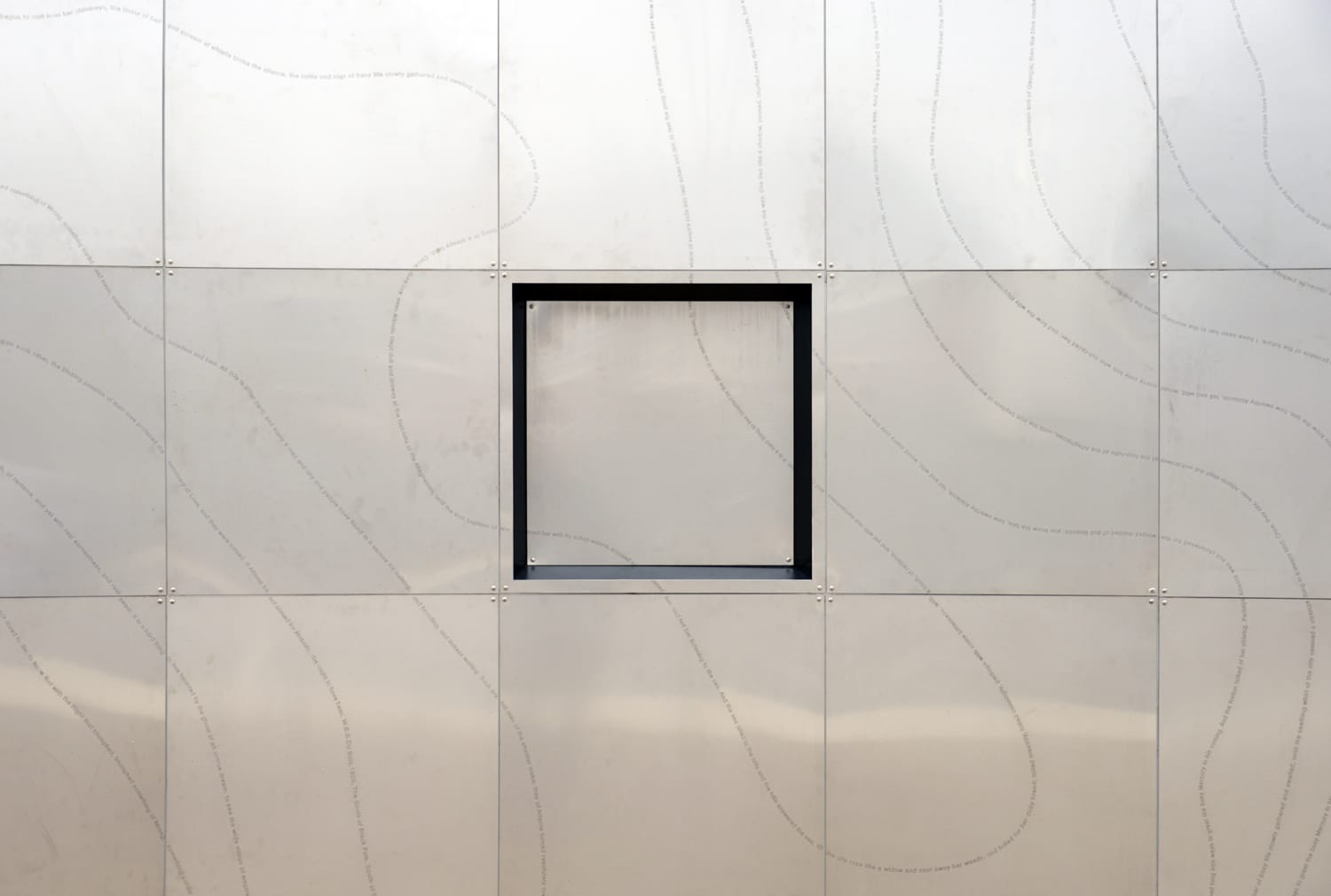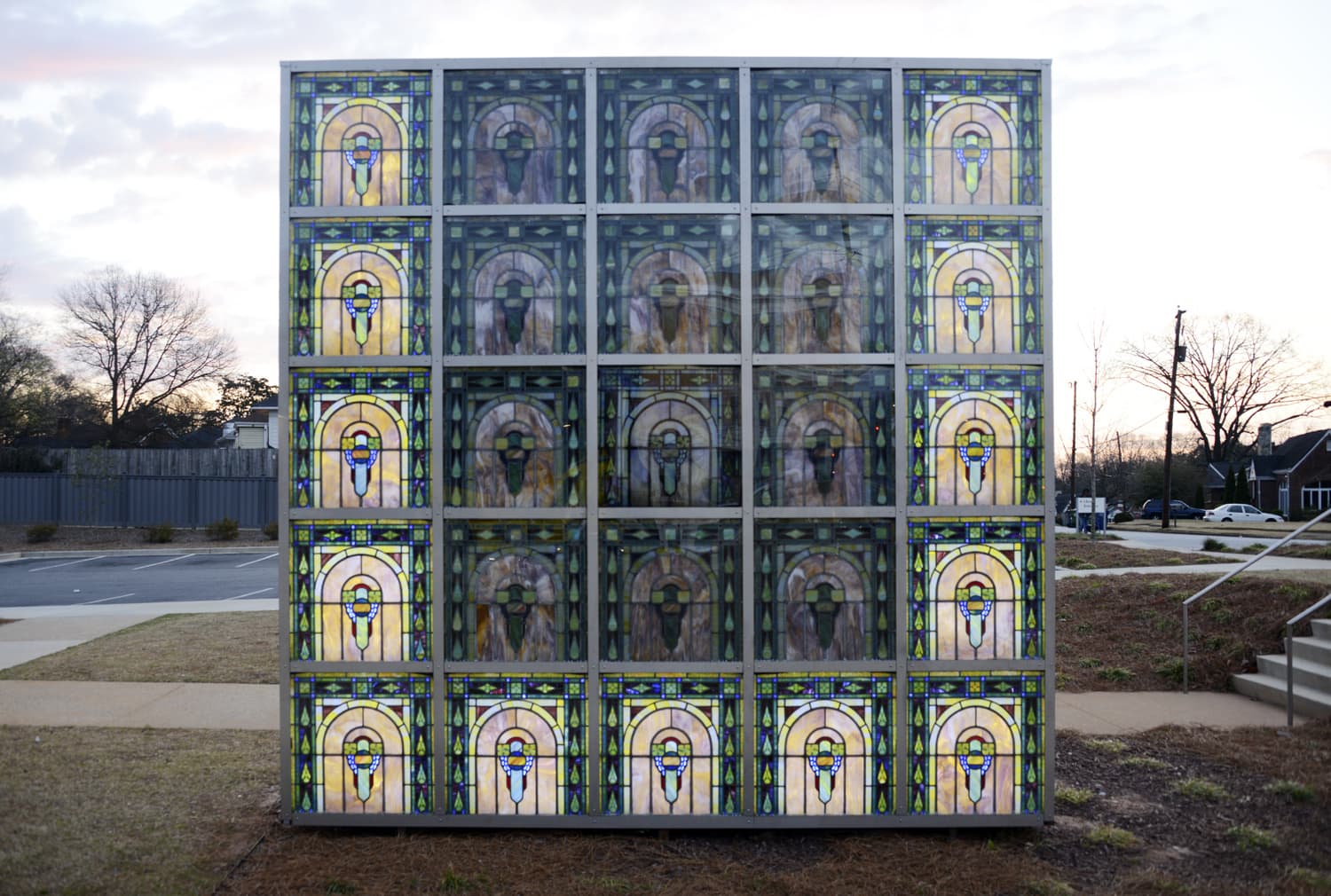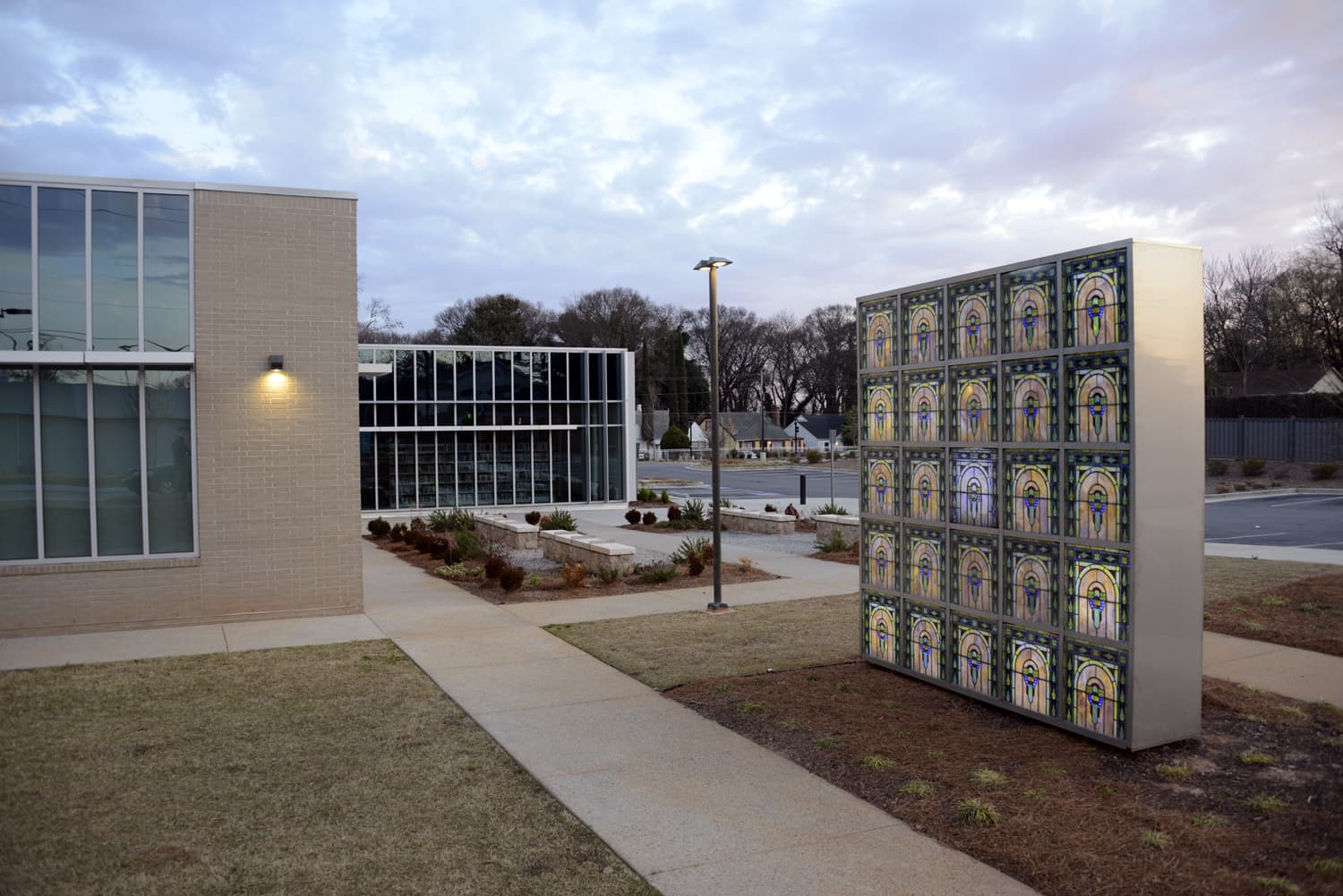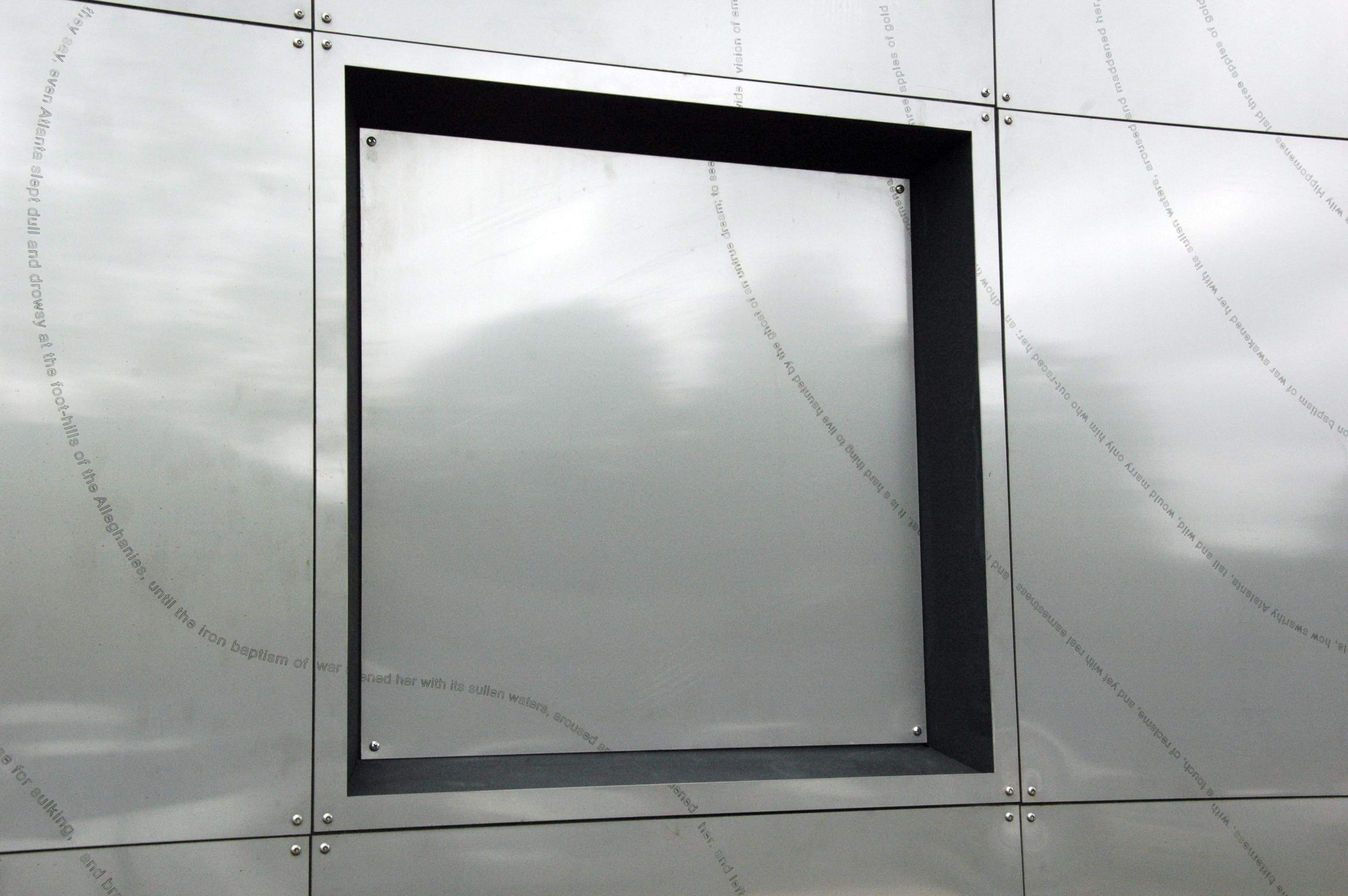 Project
Client: Fulton County Arts & Culture and Atlanta-Fulton Library System
Location: Atlanta, United States
Completion date: 2016
Artwork budget: $80,000
Project Team
Industry Resource
Andrew Crawford
Andrew Crawford Ironworks
Industry Resource
Myron Lo
Overview
Etched on stainless steel panels on the east façade of the wedge-shaped 12' x 12' x 3' sculpture, contour lines of the area's topography are formed by text from a passage of W.E.B. Du Bois' essay describing Atlanta's hills. The framed and recessed center panel highlights the location of the library on the resulting contour map. The west façade features a lightboard grid of 25 repurposed stained-glass. Illuminated before dawn and after dusk, this lightboard displays the time every quarter hour, followed by a two-minute pattern sequence before returning to spelling out letter-by-letter descriptive passages from novels on Atlanta's topography.
Goals
One of the primary goals set by the community review panel was to re-purpose materials from the Capitol View Baptist Church that was destroyed to build the library. I utilized the stained-glass windows that were part of this church. Another goal was to activate the plaza space and serve as beacon to the library. This was done with the illuminated movement of the programmable lightboard. Conceptually, another goal of the installation was to promote the notion of a library and books as portals— as a means of entrance into other dimensions, times or places. The metaphor of books as a form of illumination is also emphasized along with the facility becoming a beacon. The existing design of the church windows depict arched portals. Incorporated into the sculpture, these windows are presented as a colorful analogue-meets-digital lightboard.
Process
I worked with Andrew Crawford Ironworks on the structural design and fabrication. The dimensions of the grid were determined by the preexisting size of the repurposed stained-glass windows. Myron Lo served as the lighting engineer and designed all technical aspects relating to sequencing and illuminating the lightboard.