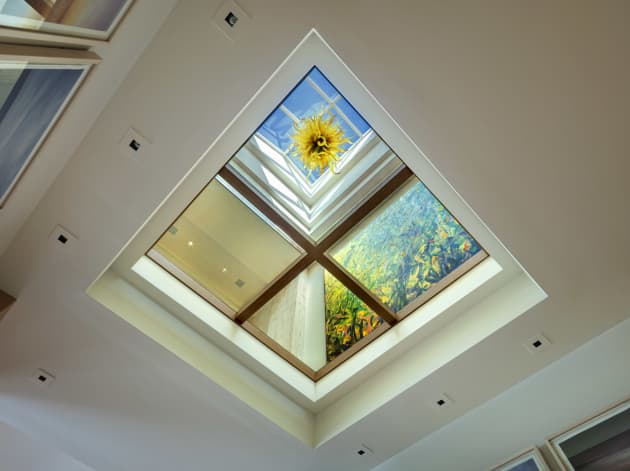 Photo: Jim Haefner
Client: Minster
Location: West Bloomfield, MI, United States
Completion date: 2011
Project Team
Architect
Lou DesRosiers
DesRosiers Architects
Interior Designer
Dan Clancy
PERLMUTTER-FREIWALD
Overview
This 9,000 square foot lake front home was designed with an extended foyer as a result of the very deep and narrow lot. One of the key design features was to allow light to penetrate the central part of the home even to the lowest level. Therefore, a large skylight was placed over the central roof and a glass floor below allowing the natural light to reach the lower level.
Goals
The glass sculpture inspired by the work of Chihuli was designed to be a central focal point and is suspended beneath the central skylight allowing it to be seen not only from the entrance and main level but also from the lowest level.
Process
The Architect, Interior designer, and Artist coordinated their creative efforts to design this unique Chihuli inspired glass sculpture that represents the relationship between art and architecture.
Additional Information
The natural sunlight throughout the day cause unique and excited reflections throughout the central core of this house. At night it is equally interesting with ten halogen lights showcasing the glass sculpture.