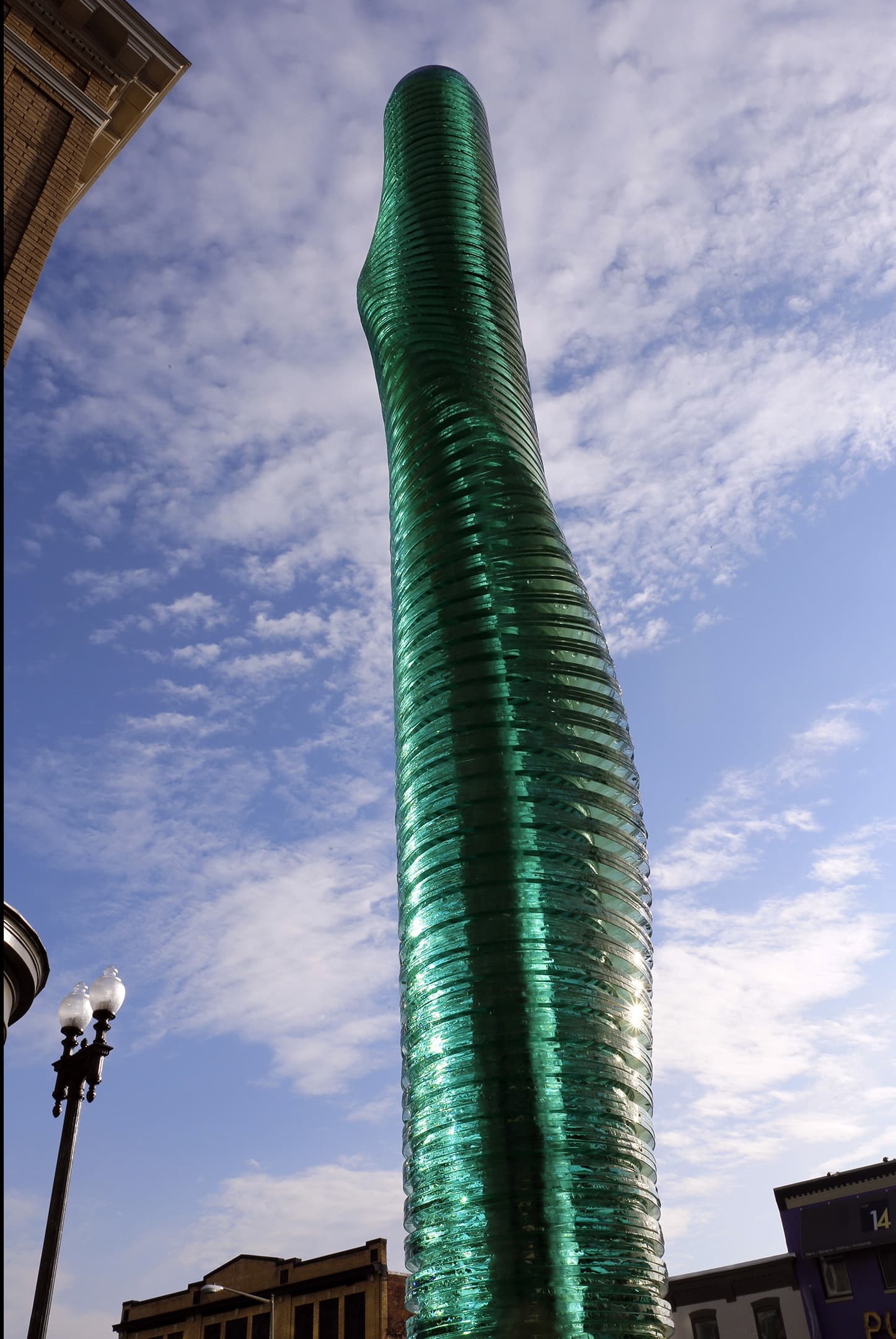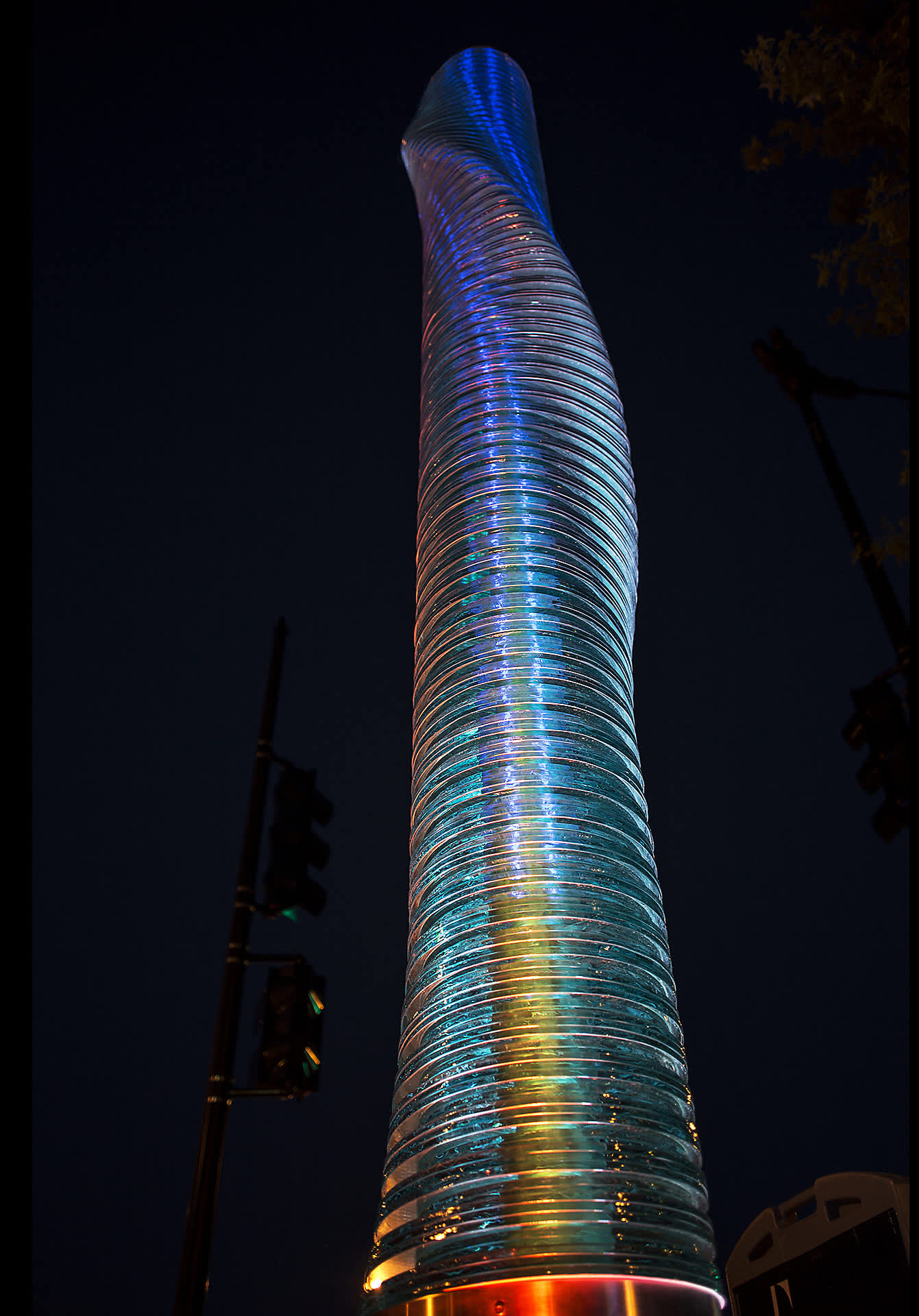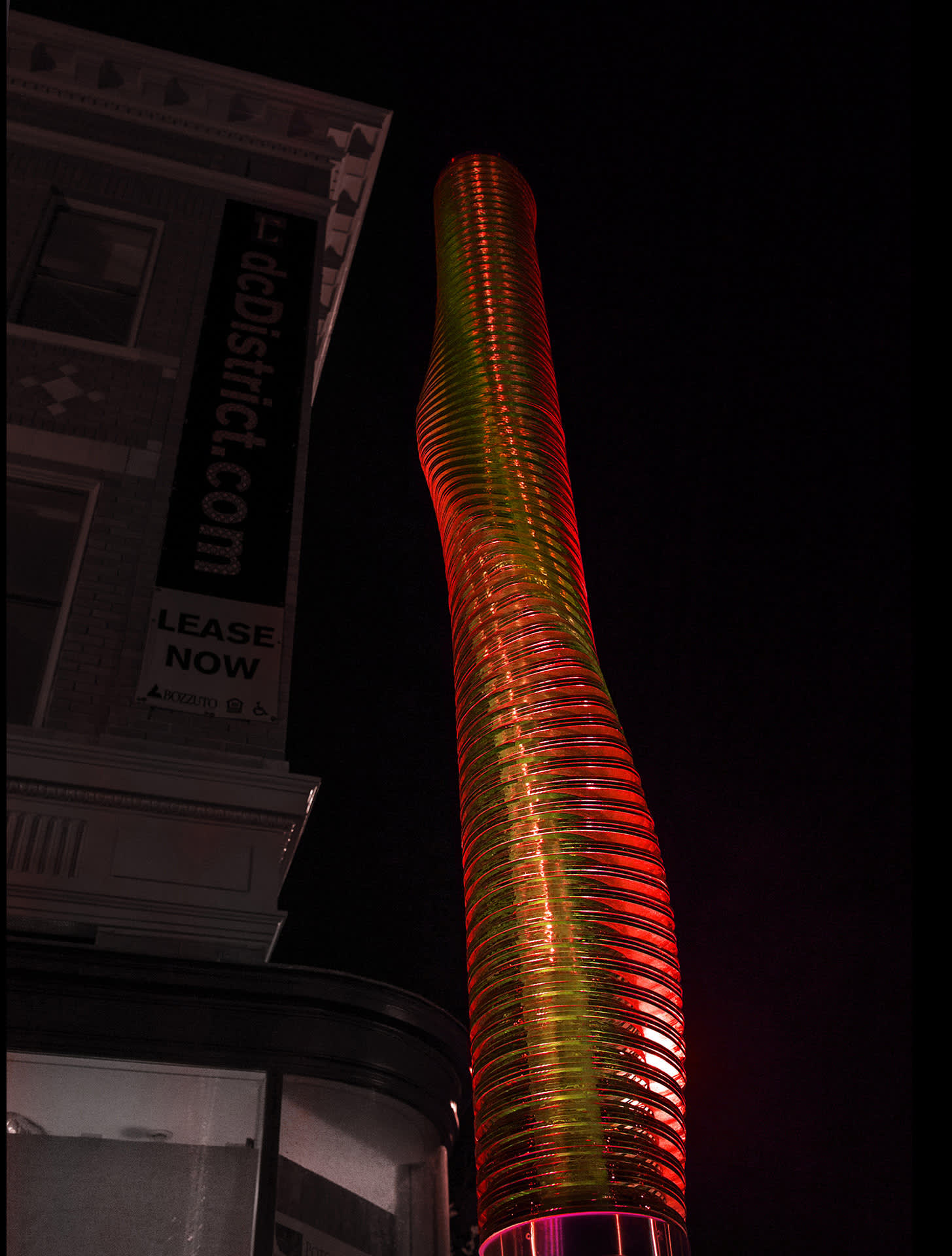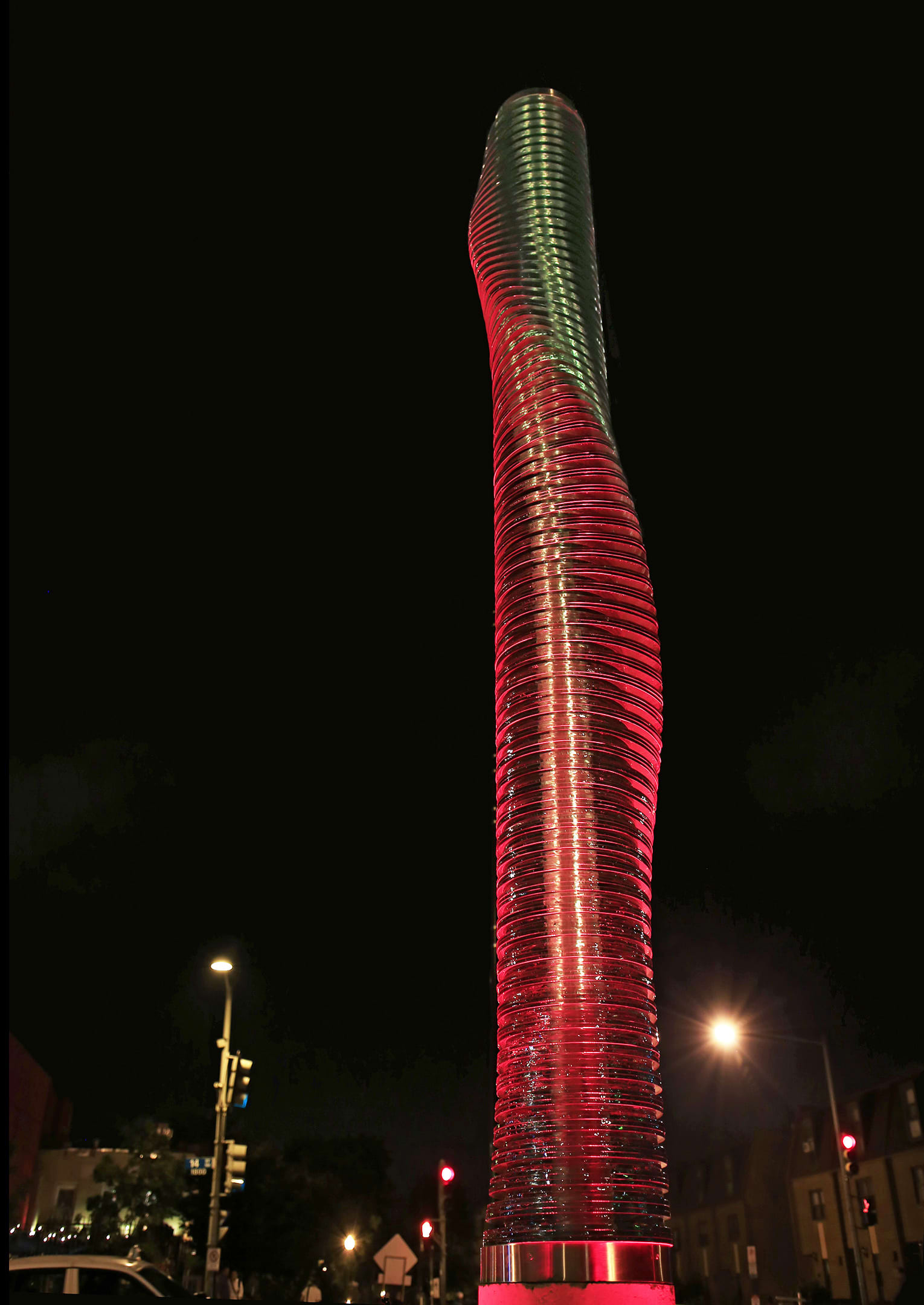 Project
Client: JBG Companies, Inc and Grosvenor America
Location: Washington DC, United States
Completion date: 15/04/2013
Artwork budget: $80,000
Project Team
Artist
William Cochran
Cochran Studio
Other
John Coventry Lighting (lighting consultant)
John Coventry Lighting (lighting consultant)
Architect
Christopher Hildebrand
Tektonics Design Group, metal fabricators
Other
Service Glass Industries
Service Glass Industries,
Architect
Shalom Baranes Associates
Shalom Baranes Associates
Overview
Pillar of Fire honors the courage and compassion of healthcare workers during the early days of the HIV/AIDS pandemic. At the old Whitman Walker Clinic, extreme pressure locks 365 egg-shaped layers of glass into a 16' transparent, durable glass column as heavy and strong as granite.
Refraction creates the illusion that the column holds two shapes reaching for each other. The column changes appearance depending on the viewer's position and time of day. Thanks to an intelligent interior/exterior lighting system, at night these metaphors of affirmative creation and communion merge into a slowly-changing abstraction of the rainbow flag.
Goals
The primary goal was a dignified, highly visible, cutting edge artistic tribute to the healthcare workers who risked everything to build a state of the art healthcare facility for thousands of people rendered invisible and at risk by societal stigmatization. This includes the imbedding of multiple layers of meaning in the work, such as the egg-shaped layers of glass spiraling up while holding two forms reaching toward each other, the ephemeral responsiveness to light and the position of the viewer, and the extreme tension that holds the seemingly fragile stack of glass upright by leveraging its unsuspected compression strength. It was also to create a strong artistic contrast with the rather dowdy original building during its adaptive integration with a much larger new upscale residential highrise. The goal, finally, was to create a soaring symbol of the rebirth of Washington DC's 14th street corridor, a seedy district known for drugs and prostitution when the clinic was founded, now exploding with enormous new economic strength and cultural energy, and recently voted Washington's primary gay neighborhood. Technically, the goal was a slender, luminous, transparent tower that holds ventilation, lighting fixtures, wiring and steel supports within itself with complete invisibility.
Process
The artist worked closely with the client and architect to site the work and develop its scale and successful integration with the streetscape, including honoring the architect's request for a free-form sculpture to play against the orthogonal forms of the buildings. The artist also collaborated closely with a structural glass engineer in the refinement of the technical aspects, with a metal fabricator in the development of the 100% custom hardware, and with a lighting consultant to develop the ever-changing lighting display that illuminates the work with complimentary colors from inside and outside the sculpture simultaneously.