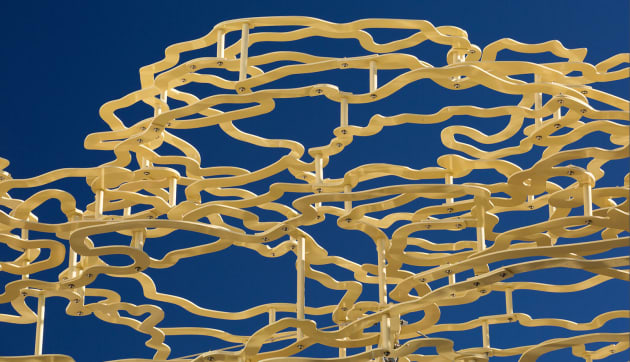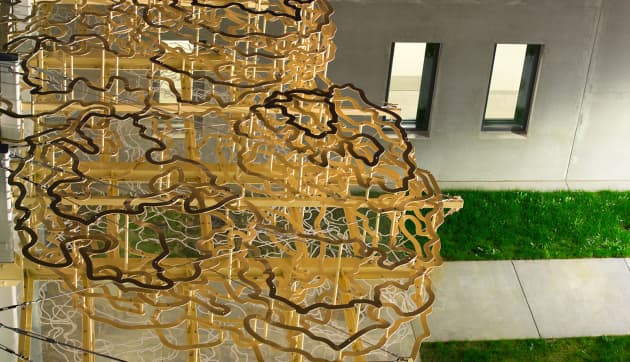 Photo: Ema Peter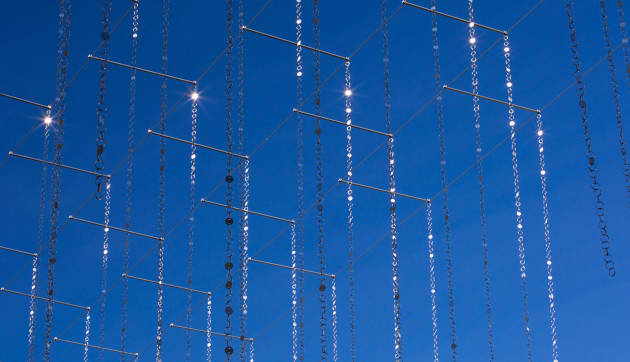 Photo: Ema Peter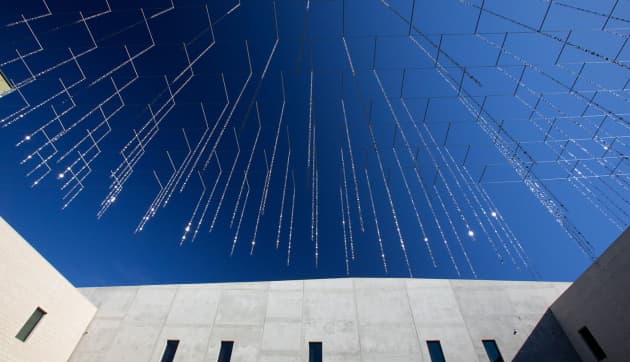 Photo: Ema Peter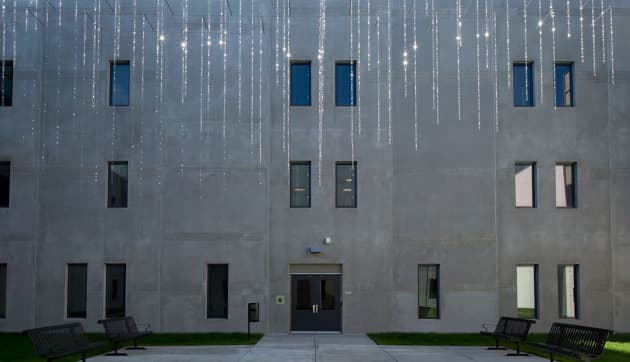 Photo: Ema Peter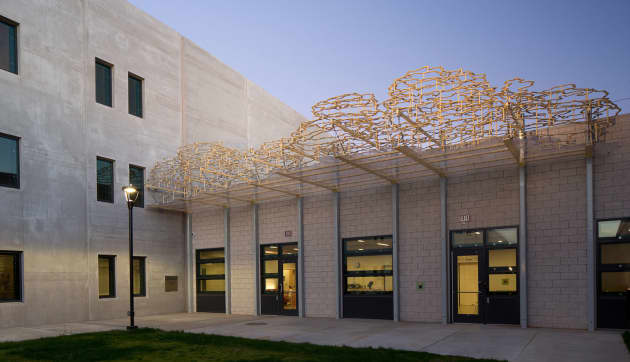 Photo: Ema Peter
Client: Oregon State Hospital, Junction City, OR.
Location: Junction City, OR, United States
Completion date: 2015
Artwork budget: $320,000
Project Team
Artist
Catherine Widgery
Widgery Studio
Industry Resource
Isadore Michas
LostMachine Design LLC
Industry Resource
Jonathan Estabrooke and Aaron Burkhardt
KPPF Consulting engineering
Art Consultant
Meagan Atiyeh
Oregon Arts Commission
Client
Jodie Jones
Oregon State Hospital Replacement Project – Owner's Authorized Representative
Client
Greg Roberts, Superintendent
Oregon State Hospital
Industry Resource
Cade Lawrence
Hoffman Construction Company
Art Consultant
Dan Dowel
CH2M Hill, Inc.
Architect
Jon Mehlschau
SRG Partnership, Inc
Overview
Designed for the Oregon State Hospital in Junction City, a psychiatric hospital, Passing Storms portrays the changing weather as metaphor for unpredictable and shifting states of mind. There are two parts: Rain and Cloud.
When the viewer looks at Rain out over Prairie Quad, there appears to be a storm of silver rain moving through the space, glittering bits catch the light animated by the wind.
Cloud is a shape-shifting form deconstructed into a series of profiles that define its outer surface with the edges and planes catching the different light qualities of day and night.
Goals
The architecture of the hospital is quite severe with virtually no visible ornamentation to soften the hard geometry of the buildings. My hope was to create organic form woven into the spaces and the planes of the architecture as if the wind, rain and clouds had been caught in the courtyards. The most important goal was to provide patients at the hospital with an experience that was always changing and interesting, both from inside the rooms looking out onto the open spaces and from within the courtyards themselves. The patients couldn't physically interact with the works so it is light and wind that animate and interact to create a visual experience that is meditative and essentially calming. Storms, clouds and rain had more resonance for the patients who considered these works than a more conventional idea of what would be "cheerful". Their enthusiasm for Passing Storms was an important component in getting all the parties to agree to do them.
Process
Collaboration existed on many levels for this project: aesthetic, technical/engineering and logistical to fit into a swiftly moving construction schedule. It required a great deal of collaboration with a team from the hospital due to the constraints and special requirements of a psychiatric institution. Patients were on the team and they discussed and reviewed the work with hospital administrators, architects, engineers and construction crews to coordinate the on site work. On my design team was Isadore Michas the 3D modeling expert who created the files to build Cloud virtually, a 3D puzzle where each part was custom cut for assembly. The fabricator Andy Tibbetts of Lost Machine Design worked closely with engineers Jonathan Estabrooke and Aaron Burkhardt from KPFF Consulting Engineers to coordinate what became a 'tour de force' structure: a 54' long and 18.5' deep cantilevered structure poised 17' above the patio with no free standing supports. Cloud was attached to a wall not originally designed to receive this kind of load so we had to build additional structures to support it. Cloud was assembled piece by coded piece from bucket lifts and people standing on scaffolding within the forms.
Additional Information
Cloud is 22.75' high, 54' wide, 18.5' deep, made from water-jet cut aluminum that has been powder coated. The support beams are galvanized steel with stainless steel cable and hardware as well as acrylic sheet that is beneath the entire form and makes this cloud canopy a rain shelter. In an amusing twist, only beneath the cloud can you stay dry. Rain is 28' high, 90' wide, 27' deep and made from stainless steel: cable, tensioning hardware, rings and discs. Rain is 28' high, 90' wide, 27' deep, made from stainless steel: cable, tensioning hardware, rings and discs.