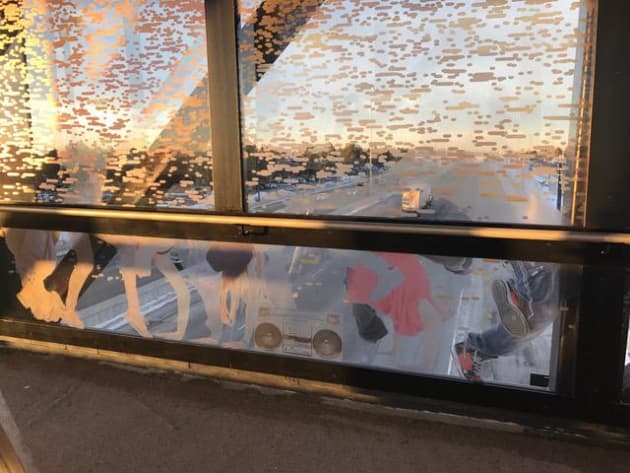 Photo: Warren Pope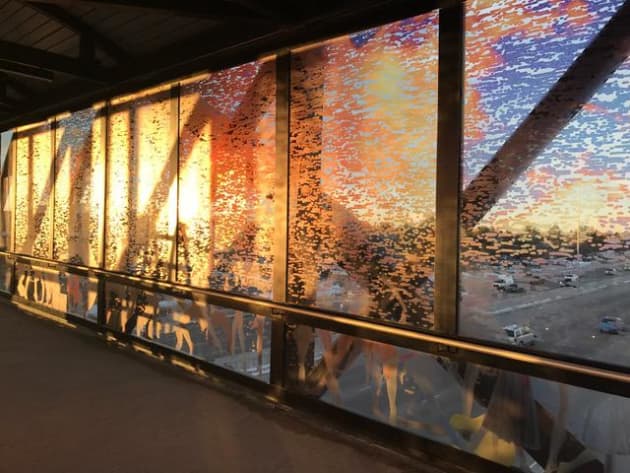 Photo: Warren Pope
Photo: Warren Pope
Client: City of Aurora RTD Florida Station Pedestrian Bridge
Location: Aurora, CO, United States
Completion date: 2017
Artwork budget: $86,500
Project Team
Artist
Koryn Rolstad
Koryn Rolstad Studios
Public Art Agent
City of Aurora Florida Station Pedestrian Bridge
Architect
Warren Pope
Warren Pope Design
Industry Resource
Shara Johnson
SSG/MEP Inc.
Industry Resource
Michael Gardner
Seattle Pro Audio
Industry Resource
Kevin Rolstad
Kevin Rolstad Music
Industry Resource
Tregg Young
Tregg Young LLC
Industry Resource
Electricall LLC
Electricall LLC

Overview
Utilizing existing clear poly carbonate panels of both sides of the bridge – images are layered in groups of visual storytelling printed in various patterns and translucencies as they move from one end of the bridge to another on both sides. Audio storytelling is also utilized with an original composition created to enhance images with natural sounds of the images depicted. For example, tap sounds near the image of tap dancers tapping. During the evening- ambient lighting of the bridge allows clear panels to glow with a nighttime experience from the street to the interior of the bridge.
Goals
My main focus for Our Community Dance for the Florida Station Pedestrian Bridge installation, was to form an interactive language that is joyful, accessible and acts as a visual identity, allowing for opportunity to continually change throughout the day and seasons. I wanted the story of movement formed by all types of citizens, community activities, medical personal, and native animals (as examples), which populate this diverse area and represent the Colorado culture. This theme was produced by images of all types of active motion images: from the canter of a horse to the toe shoes of a ballet dancer to children playing, and researching the inclusion of all types of activities in-between. I wanted to provide an environment that surrounded the moving population, to and from their destination, through an immersive visual story of their unique neighborhood and state. This interaction with the imagery included stories by the viewer and was designed to engage, delight and educate all ages and walks of life, I imagined families with children entertained while walking towards their destination within these medical facilities with a positive feelings of support and delight.
Process
All of my projects are successful because of collaboration. KRS studios works with our own technical architectural designers developing drawings from presentation through fabrication details. Since we use multiple fabricators building the component parts, each of the elements in our projects are fabricated separately. The installers were hired in the area who each had special skills. The installation of the printed film was a mathimatical feat of engineering since the bridge arcs upward and then down. The music was written with animal sounds by Kevin Rolstad Music and loaded into each of the drivers and speakers. The final completion included electrical and audio engineering to balance the sound and allow for the project voices to change as the pedestrian moves along the bridge to their destination.
Additional Information
As a public artist, I involve the community by forming my understanding of the site and its role to support visual goals. By giving voice to all stakeholders, the artwork can be accessible and responsive, extending my visual language while connecting with those who interact with their environment. My background in architecture, engineering, and fine arts has lead to a philosophy of extensive exploration implementing a kit of parts concept, incorporating components into elements, installed as continuous systems for larger coverage and visual interest.