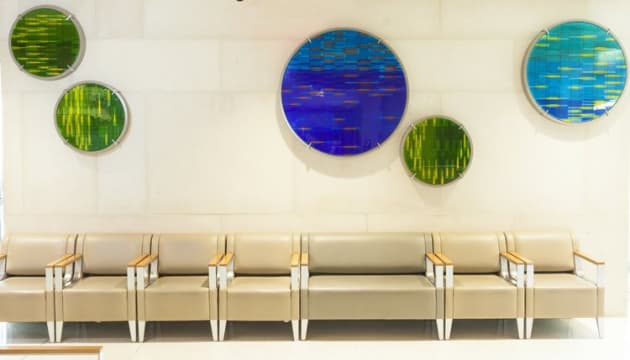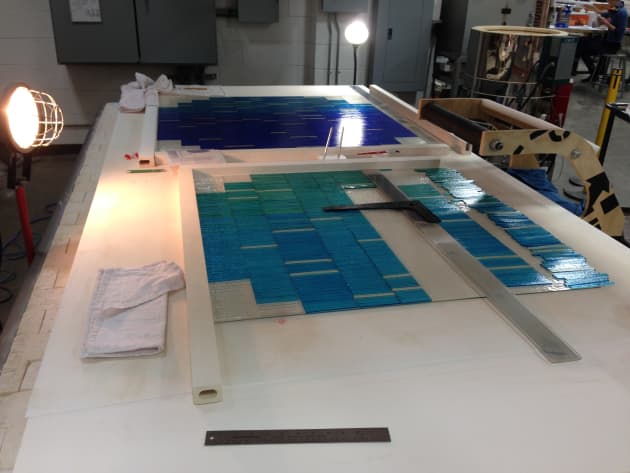 Photo: Image Courtesy Bullseye Glass Co.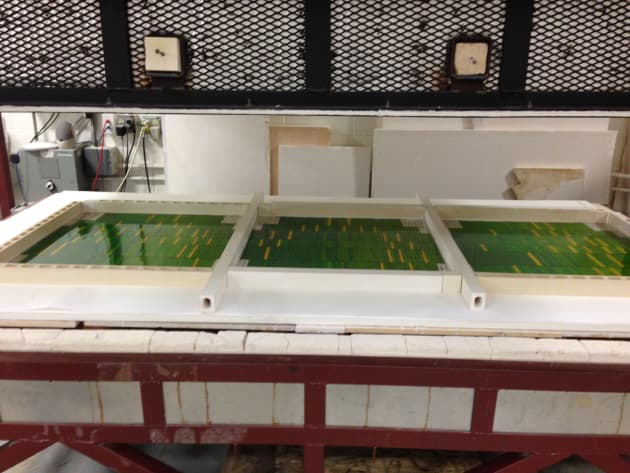 Photo: Image Courtesy Bullseye Glass Co.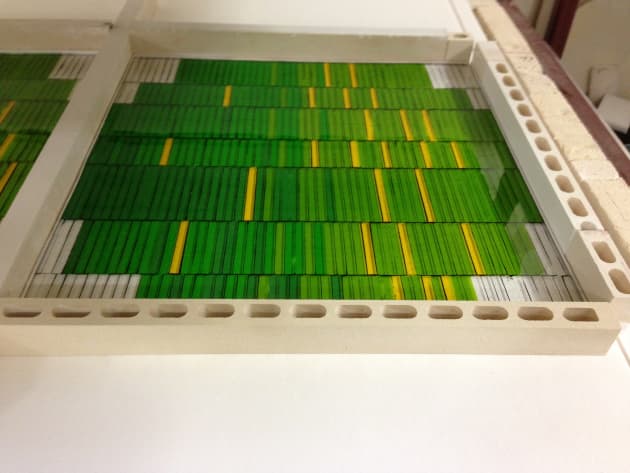 Photo: Image Courtesy Bullseye Glass Co.
Client: Laurel Porcari
Location: Bronx, NY, United States
Completion date: 2017
Project Team
Montefiore Fine Art Program
Overview
"Our Celestial Bodies" is the second of a two-part project designed by artist Laurel Porcari for the Weiler Hospital located at Montefiore Medical Center in the Bronx, NY. The work consists of a series of five discs hung on a wall to the left of the main hospital entrance. Intended to visually anchor the waiting area, the discs are made of fused art glass in circular, monolithic appearing surrounds. Dimensions: (1) 48″ diam, (1) 38″ diam, (3) 26″ diam.
Goals
The two parts of this Laurel Porcari project needed to speak to each other thematically and visually. "We Are Stardust" was to speak to humanity and our place in the universe, while its sister piece, "Our Celestial Bodies" (featured here) was to speak to our individual and unique souls that form that galaxy. The glass discs are reminiscent of portholes that look through the wall to something greater, while the patterns, both complex and captivating, encourage people to study them and their optic qualities, achieving moments of contemplation and calm in an otherwise busy and stressful setting. Both projects are made of the same glass material, same colors, and were made by the same kilnforming processes.
Process
Multiple material techniques came together in this project. The artist's full scale glass design drawings, depicting the exact color and location of each of the thousands of pieces of glass, were used by our fabrication team realize the work. Two layers of cut down elements of our colored sheet glasses, in specific color styles, were laid out, dusted with black glass powder, and laminated together to achieve the desired light reflection, color richness, and depth.
Additional Information
Information on the first half of this project, "We Are Stardust," can be found on both our CODAworx profile and that of the artist's, Laurel Porcari. For more information about Montefiore Medical Center's Fine Art Program, please visit: https://montefiorefineartprogram.squarespace.com/