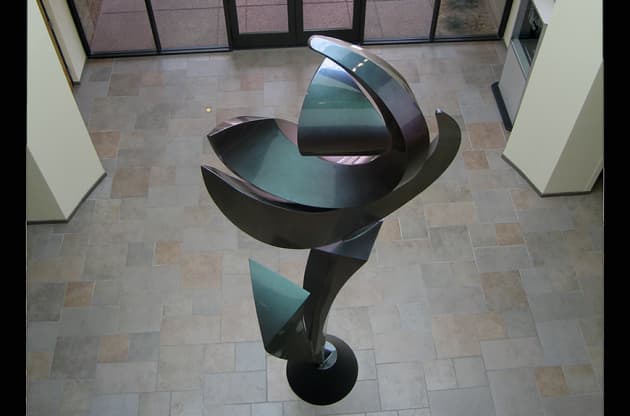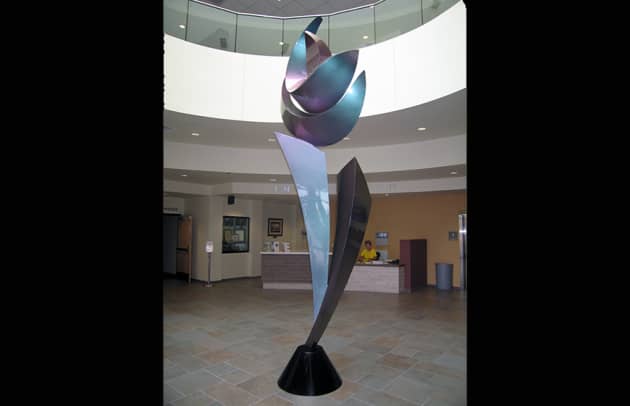 Client: TOWN OF FOUNTAIN HILLS, AZ
Location: FOUNTAIN HILLS, AZ, United States
Completion date: 2004
Artwork budget: $85,000
Project Team
Public Art Agent
Mayor and City Council of Fountain Hills AZ
Overview
The town of Fountain Hills Arizona wanted a sculpture to welcome and entertain visitors to their new Town Hall entry rotunda. I won a competition with my proposal for the 'Oracle of the Lake' sculpture. The 14' high piece was fabricated in my studio in aluminum and painted with a magenta/green color shifting paint. I felt this color range represented to intense colors of the surrounding Sonoran Desert.
Goals
The sculpture was central in creating a non controversial and welcoming spirit in the beautiful rotunda with it's incredible oculus skylight directly overhead the piece.
Process
I did submit a CAD created color rendering with several paint schemes and the magenta/green color shift was deemed the most appropriate.