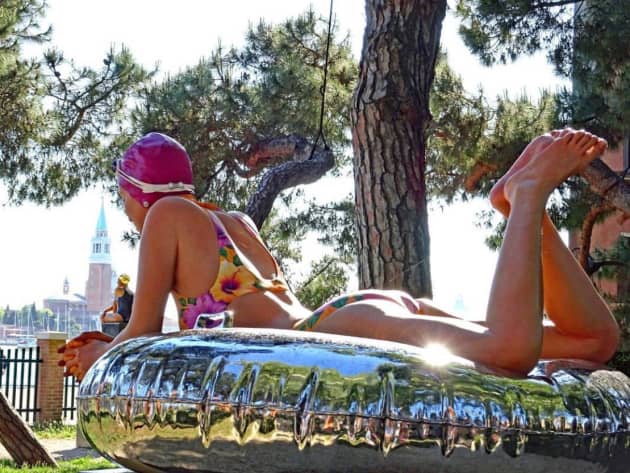 Photo: Carole Feuerman
Client: GAA
Location: Venice, Italy
Completion date: 2019
Artwork budget: $238,000
Project Team
Other
Francois Chabanian
BelAir Fine Art
Overview
I created Next Summer in Bronze and Stainless Steel for the exhibition In Giardini Della Marinaressa held during the Venice Biennale. I was invited by ECC, European Economic Council and hosted by Global Art Affairs.The sculpture is 39 x 54 x 50 inches.
Goals
The exhibition was all about integrating my sculptures into the park. I sent 12 sculptures. The exhibition could be viewed 24/7 days a week by the public and the park is open daily.
Process
The collaboration with ECC was a great honor. I send an essay about what the sculpture means to me. They published a hard cover catalogue with all art being exhibited including other artists art at Palazzo Bembo and Palazzo Mora. The GAA Foundation confirms the inclusion of maximum twelve sculptures of Carole Feuerman in our Contemporary Art Exhibition "Personal Structures 2017", held in Palazzo Bembo, Palazzo Mora and Giardini Marinaressa in the context of
the Venice Art Biennale 2017 which ran from May 13 until November 26, 2017.
2017 and ends 5 December 2017.