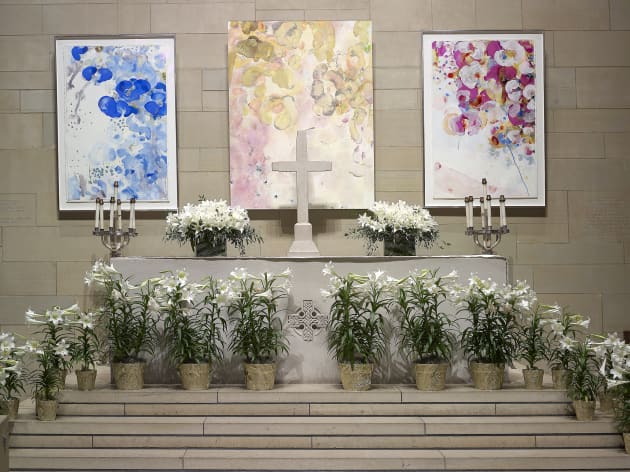 Photo: Transfiguration Altar Triptych, Photography by Roz Akin Photography
Client: The Episcopal Church of The Heavenly Rest
Location: New York, NY, United States
Completion date: 2009
Project Team
Client
The Episcopal Church of The Heavenly Rest
Overview
The triptych was inspired by my study of Raphael's monumental Transfiguration (an altarpiece of ca. 1516, housed in the Pinacoteca Vaticana of the Vatican Museum), and in particular by its radiant mandorla of blue-gray clouds framing Jesus as he rises heavenward in a transfigured state.
Goals
The three panels in the triptych—a large oil on canvas in the center (71 x 55 inches flanked by smaller ink-on-paper works (each 60 x 40 inches without the frame) —form a unified composition. Striking in its sweeping upward movement, the work speaks directly to the Christian season of Easter and its theme of Resurrection, of which the Transfiguration is a foreshadowing in the Gospel accounts. A visceral sense of "rising up" with the flow of a design frequently manifests itself in my works on canvas and paper.
Process
It was a very easy uncomplicated straight forward process with only 2 additional people involved. One of them, The Reverend Elizabeth Garnsey and the other Mr. Jonathan Bloom, collector and writer of the accompanying essay. The Reverend navigated through the communications between the decision making parties at the Church and Mr Bloom and The Reverend worked in collaboration on the essay. Later in the process my representing gallery at the time Spanierman Modern (under Ira Spanierman and his team) joined in with an email blast advertising the event to their clients.