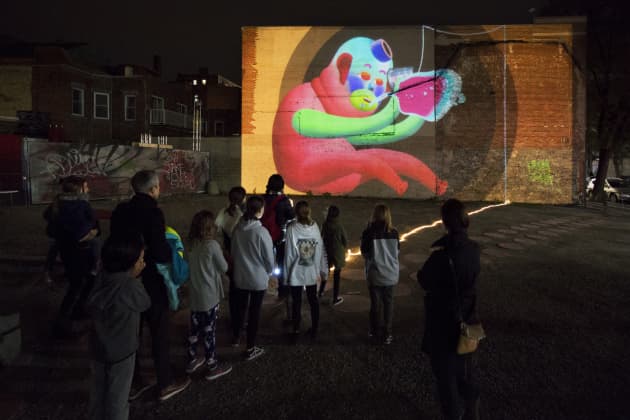 Photo: Martine Doyon
Client: Partenariat du Quartier des Spectacles, MUTEK & MAPP_MTL
Location: Montreal, QC, Canada
Completion date: 2018
Artwork budget: $5,000
Project Team
Artist
HUB Studio
HUB Studio
Artist
Sacha Perez del Solar
HUB Studio
Overview
MurMur is an interactive installation that creates a relationship between passersby of all ages and an endearing cartoonish character projected on a wall. Invited to converse with this gentle giant with the use of a microphone, the public can experiment with the device that re-enchant the public space in a fun way.
Goals
Our goal is to beautify the public space. With this project, we wanted the public to take action on their surrounding. While interacting with a gentle giant projected on a wall, we address the question of the interaction in the public space. Is it possible to break the silence in the public space by interacting with each other?
Process
MurMur won the international competition of interactive architectural mapping by Le Quartier des Spectacles, MUTEK & MAPP_MTL. We created a character that would speak to everyone. Our system recognizes the viewer's voice in order to answer its dynamics. We decided that the giant speak a symbols language. That way, he can interact with everybody.
Additional Information
Our work has a voice recognition system. When the public asks a question, it generates a distinct answer each time. Its content is adapted to the person who interacts with the creature. The interaction is very simple and intuitive: a microphone transforms the voice and allows a connection with the projected giant on the wall. The project exists outside its wall as it is shared on social media (fb, instagram…)