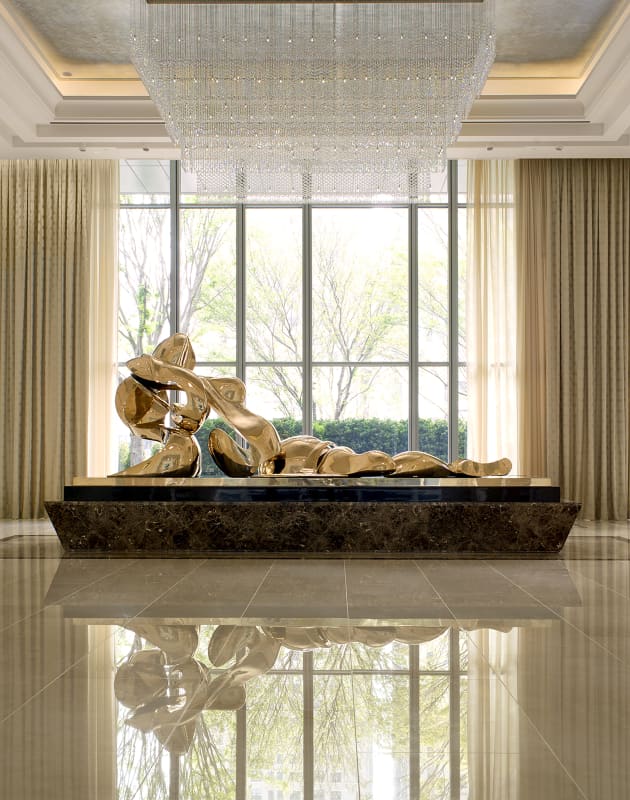 Client: Pao Huei Property Development
Location: Taichung City, Taiwan
Completion date: 2015
Artwork budget: $600,000
Project Team
Artist
Alexander Krivosheiw
Alexander Studio'sLLC
Art Consultant
Matthew Whitaker
Canvas Art Consultants
Overview
"Moore Canova" monumental measures 10 feet in height by 25 feet in length by 8 feet in depth. This 3-ton sculpture, cast out of silicon bronze, was commissioned by Pao Huei Property Development for a luxury residential high-rise just steps from the Opera House in the prestigious Seventh District of Taichung City, Taiwan.
Goals
The integration of sculpture was of EXTREME importance to the developer as the building, Solitaire on the Park, was specifically branded as an "Art Infused Masterpiece." This residential high-rise was designed to feature original artworks showcased in a gallery-style public space.
Process
Canvas Art Consultants worked closely with me in sharing the building's interior design elements which featured an airy, neutral color palette, marble flooring and gold accents. In this environment, it was clear that mirror polished bronze would compliment the opulent aesthetic.
Additional Information
Inspired by the works of Henry Moore and Antonio Canova, "Moore's Canova" pays homage to Canova's 18th century masterpiece "Psyche Revived by Cupid's Kiss." Alexander combines the delicacy of Canova's neoclassical style with Moore's maverick boldness of form to celebrate this mythological love story. Alexander chose to focus on the female; the reclining abstract figure is that of Psyche, who has awakened from a death-like sleep by Cupid's kiss. When creating the maquette, Alexander focused on creating the composition of Psyche's body in separate shapes. This unique fabrication process accelerated the process of creating the monumental size version while also simplifying the installation process. It also speeds the production of related editions by isolating and casting the discrete elements of the piece to create smaller, individual components.